By Hong Soon-do, Beijing correspondent, AsiaToday – The Chinese People's Liberation Army (PLA) is on the alert as the situation on the Korean peninsula is showing signs of unforeseeable tension. As a result, 150,000 soldiers have gathered on the North Korean border near the Yalu and Tumen rivers since April 7. In addition, China has seemingly conducted secret training for the flood of North Korean refugees, which are likely to occur in case of emergency.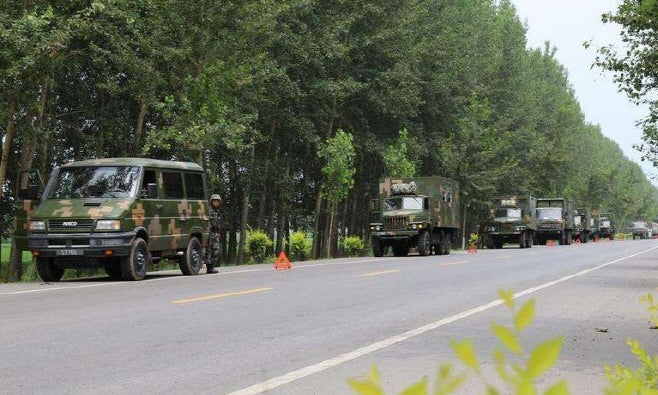 This assertion is not an exaggeration considering the characteristics of 150,000 soldiers on the border. According to Beijing sources familiar with Chinese military information, most of them are 39th and 40th Army Groups, which are formed in the Northern Military District to guard against an unexpected situation of the Korea peninsula. The 39th Army Group is a heavy mechanized unit and the 40th is the rapid deployment force. Both of them boast the country's best combat power and firepower. This means that China is taking the situation quite seriously.
The situation is quite serious considering the fact that the brains of the PLA ordered the entire Northern District to fully prepare for combat. Obviously, follow-up measures are being taken. First, they deployed a new Kongjing-500 early warning aircraft to the border to intensify aerial surveillance. In addition, Dongfeng-31A missiles, 12 Dongfeng-03 ballistic missiles with a range of 2,800km, and 24 Dongfeng-21 "Carrier-killer" missiles are recently deployed at the 51st Base under Rocket Unit stationed in Shenyang of Liaoning province. Aiming at North Korea, United States Forces Korea and Japan, the missiles are reportedly ready to be fired. Mr. Dou, who retired as an instructor-level officer of the Rocket Unit, said, "The brains of the PLA were surprised by the United States' sudden Syria missile strike. They cannot help but think the U.S. could exercise armed force against North Korea in the future. They realized U.S. threat to North Korea looking at the implementation of US-Korea military drills such as Key Resolve exercise and the reality of half of US Pacific carriers heading towards Korean Peninsula. It would be rather strange not to respond."
In this situation, we must pay attention to the training for the flood of North Korean refugees. Currently, the training is said to be conducted mainly in Yanbian Korean Autonomous Prefecture in Jilin Province and Dandong of Liaoning Province. Sources say that the training is primarily aimed to stop North Korean refugees from pouring in, but it's also preparing for the worst case if the situation goes out of control. The tension in the North Korean border is actually becoming a reality.
Popular in the Community