By Hong Soon-do, Beijing correspondent, AsiaToday - The relations between China and India, the two countries with the largest population in the world, are worsening rapidly. Unless the situation changes dramatically, the two countries could even go through armed conflict against each other. It would be no strange thing if this really happens, because they really went through armed conflict due to Sino-Indian border dispute in the early 1960s.
According to July 25th report of Global Times under the People's Daily, the official newspaper of the Chinese Communist Party, such atmosphere can be seen from the fact that the Indian government recently has expelled three journalists of the Chinese official news agency, Xinhua. Considering the role of Xinhua as the official residence for Chinese in countries without Chinese embassy, such situation is quite extraordinary. Besides, this is the first time for New Delhi to expel Chinese journalists that could kick off a diplomatic row between China and India.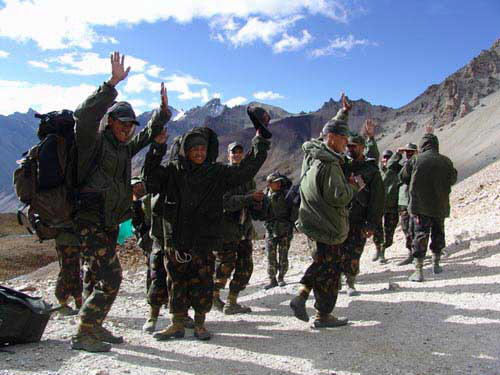 [Chinese soldiers in Sino-Indian border./ Source: search engine Baidu]
India's military buildup near Chinese border also shows that the situation has become a tinderbox. It has been revealed that the Indian Army has moved over 100 Russian tanks T-72 to Ladakh, a disputed border between IIndian state of Kashmir and Tibet under Chinese rule. Both countries are preparing for the worst situation they could face in the midst of deteriorating relations. In addition, Indian Navy has sent three warships to the disputed South China Sea to plan training with Malaysian Navy, showing that there's nothing strange with seeing any military conflicts between the two countries.
Of course, China is also preparing for the worst. According to military sources in Beijing, China has deployed more troop along the India border, showing off its will to respond immediately if the worst really happens.
The reason behind such confrontation between the two countries is not complicated. First, their disputed borders are the major cause of tensions between them. They even had a war against each other 50 years ago, but failed to make any progress on the border dispute. Besides, the gap between the positions of China and India over Tibet is wide. While China sees Tibet as one of its local governments, India sees it as a government in exile. Other reasons such as China's expanding footprint in Nepal and its ambition to keep Southeast Asia under its control, are also driving the bilateral relationship to the gate of armed conflict. Perhaps, the relations between the two countries should pass the crisis in order to find a string of efforts for normalization.
Related
Popular in the Community