This Valentine's Day, a group of gay and lesbian Chinese activists and their American allies are hoping to bring a little more love to a country that has an estimated 60 million LGBT people, most of them still in the closet.
A series of ads appeared on social media sites in China on Friday. They show gay, lesbian and straight couples relaxing at home. In one, a man adjusts his boyfriend's tie. In another, two women hold hands at a kitchen table. The text beside the photos reads: "Love is not a choice. We did not choose to be homosexual. We just are. Happily, the world is big enough for all of us." (The text accompanying the photos of straight couples reads, "We did not choose to be heterosexual.")
David Li, 35, is one of the lead organizers of the China LGBT Awareness Campaign. He said he hopes the ads will generate a public conversation about LGBT issues in China and encourage LGBT people to come out.
"The majority [in China] still think being gay is either perverted or a kind of illness," Li told the Huffington Post. "And of course, due to the general censorship, it's extremely difficult to get positive LGBT information out to the public."
The Internet does help, Li said. Back in 2001, he came across a website that described a gay couple's love story. "It was really rare for a gay couple to share their love story in public," he said. "That's how I identified myself as a gay man."
Moly Mao, who is 32 and lives in Shanghai, posed for a photo with her wife in the hopes that others will be inspired to come out of the closet. (The two women wed in Hawaii last year, but their marriage is not recognized in China.) "We want to tell them, 'We are out and we can live a very happy and light life, not just stand in the shadow.' That is no use for us," she told HuffPost.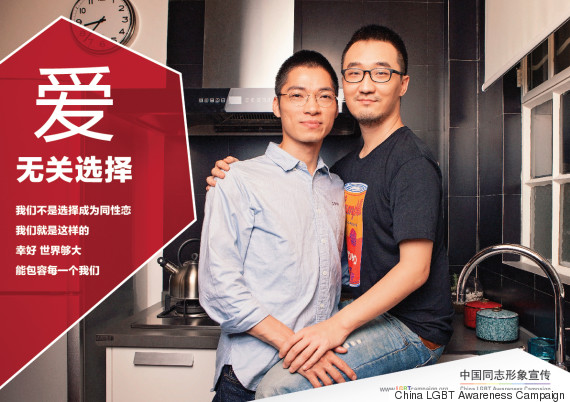 On the ad campaign's website, there is a space asking couples, gay and straight, to submit photos and videos of themselves kissing. In addition to the launch on social media, Li said that organizers will be on the streets in eight cities around the country asking people to support the campaign, and encouraging people to take photos of themselves holding the campaign posters.
Li has been involved with the LGBT movement in China for more than a decade, volunteering with the Aibai Culture and Education Center, a nonprofit with locations around the country. In 2008, he went to the United States to participate in an unprecedented initiative -- the Los Angeles LGBT Center's new Emerging Leaders Program, designed to train and support Chinese LGBT activists. Li, the program's first graduate, works today as a full-time staff member, recruiting new participants and supporting the growing number of alumni now doing advocacy work in China.
He and a few other program graduates have been working on the China LGBT Awareness Campaign for over a year, with support from the L.A. LGBT Center. They conducted an online survey of more than 2,500 LGBT people and 500 self-identified straight allies in China. Fifty-three percent of the LGBT respondents said they were not out of the closet, and half of the respondents said they believed that being out at work would result in discrimination. Twenty-one percent reported that they had already experienced discrimination, and 35 percent said they'd been subject to slurs, jokes, threats or physical attacks because of their sexual orientation or gender identity.
China, like the United States, has no national law protecting gays and lesbians from discrimination. No laws to legalize same-sex marriage are on the horizon.
Les Pappas, the president of Better World Advertising, based in San Francisco, helped Li and the other program graduates develop the survey and organize focus groups of straight Chinese men and women to hone the campaign's messaging. Over the course of their research, Pappas said, "this picture began to emerge of people who don't really know very much about LGBT issues. Everything is underground."
One thing the graduates heard again and again was that many people in China view being gay as a choice. Pappas said he thinks of the campaign as a way to clear a path for the nascent LGBT movement in the country. "It's really about doing the groundwork and building the foundation and really changing the hearts and minds of people so that these things can become things that are debated publicly," he said.
Li said he considers himself pretty lucky. He lives with his boyfriend in Beijing, where he says it is much easier to be gay than in a small town. He is out to his family, and they have slowly come to accept his identity. Still, he says, the absence of legal protection is scary.
"The biggest challenge that LGBT [people] have right now in China, I think, is the lack of safety that we feel all the time," he said. "We fear that our identity might be exposed and trouble will come along with that: education, job, hospital, [renting] an apartment. All kinds of trouble."

Before You Go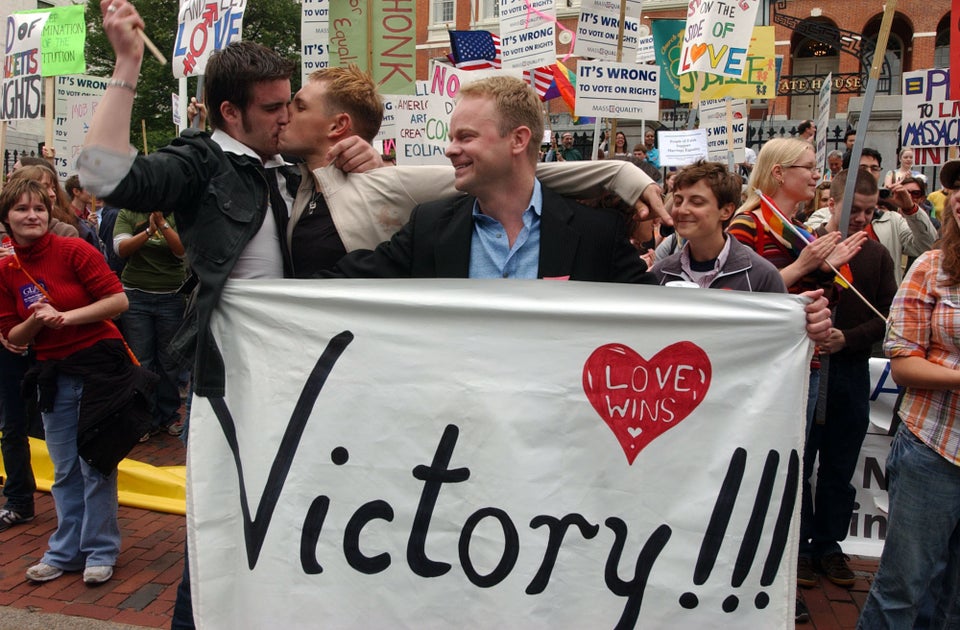 10 Incredible Improvements For LGBT People Since The First State Legalized Gay Marriage
Popular in the Community