By Hong Soon-do, Beijing correspondent, AsiaToday - It seems that China is ready to launch its first indigenous aircraft carrier (CV), the Type 001A, by the end of the year. As a result, China, which operates a rehabilitated ex-Soviet aircraft carrier, is expected to become a full-fledged aircraft carrier operating country soon. Furthermore, it's certain that the country will continue to bring more domestic aircraft carriers into service to turn itself into an aircraft carrier superpower.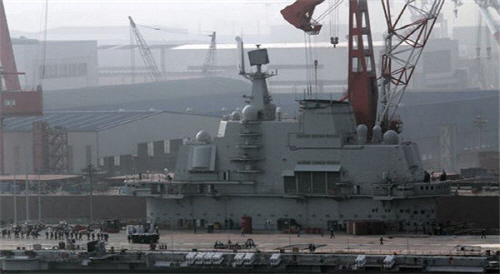 [China's first domestic carrier 001A is at the last stage of construction. It might be deployed as early as the end of the year./ Source: search engine Baidu]
Such observation is not an exaggeration considering the recent images and videos of the Type 001A, which shows that it is almost complete in outward appearance. In fact, some of the state-owned media outlets claimed Sunday that the 001A is at the final stage of construction, added that the era of domestic aircraft carrier is here.
The fact that China is constructing a domestic aircraft carrier is not a surprise. In a news conference at the end of last year, China's defense ministry spokesperson Yang Yujun announced that its navy is building China's second, but the first indigenously-built aircraft carrier in Dalian shipyard. Furthermore, it has been also revealed in mid-June that the installation of the ship's ski jump, one of the major parts, has begun.
However, it's a quite different story, considering the fact that the Type 001A is China's first domestically built carrier. For instance, the United States, who once looked down on China's technology before, is now keeping an eye on the carrier's construction process.
Moreover, China's second locally designed and built aircraft carrier is under construction in secret in a shipyard near Shanghai. The Chinese Navy's plan of deploying 6 aircraft carriers including 2 nuclear-powered ones by 2025 is not an empty boast.
At present, the Chin's military strength falls far behind those of the United States, its potential enemy. However, the gap will be narrowed down significantly if China's indigenous aircraft carriers begin to enter service. This is why the U.S. is keeping an eye on China's recent action.
Popular in the Community