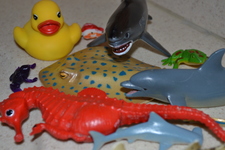 My four and 6-year-old children were happily splashing in the bath when they noticed the small print on their seahorse: Made in China. They methodically checked the frog, dolphin, great white shark and the rest of the marine ecosystem in our tub coming up with the same result every time: Made in China. So my 4-year-old posed the question, "Mommy, why is everything made of china?" I tackled the "of" versus "in" issue first, admittedly through stifled laughter. Then I tried my best to explain in an age appropriate way why all of their bath toys and many other manufactured items come from China.
Much is written about China's manufacturing capabilities across industries whether in toys, consumer electronics, apparel or otherwise and we have heard even more about it during this election season. Massive operations dubbed "cities" in remote areas where assembly plants are complete with dormitories and cafeterias to house and feed thousands. The ability to find the requisite number of engineers or laborers within days to win new contracts. Government subsidies for requisite facilities. Component factories that support assembly. And a labor force willing to work 12 hours a day, six days a week, for wages low compared to American standards (though rising, with manufacturing starting to move to other countries). Brands repeatedly cite this flexibility and responsiveness as unmatched. When the sum of these parts equals a higher profit margin, all of the ocean toys bobbing in my bathtub come from China.
Of course I made it even more simplistic for my children, but that funny moment with them left me thinking about all of the reasonable adults I have met who understand perfectly the global economy, China's rise as a manufacturing haven and labor issues, yet are surprised about the occurrence of forced labor and labor exploitation within it and generally in today's world. I mention human trafficking and they earnestly ask me to tell them what my organization does against sex trafficking, thinking that is the only form of human trafficking.
To me, that's a great opportunity to connect the dots. I explain that the Global Freedom Center -- as an organization training professionals to identify and prevent human trafficking -- does not limit its focus solely on sex trafficking, rather we cover all forms of human trafficking that claim men, women and children from every country. I also share that forced labor is far more prevalent than sex trafficking at 78 percent versus 22 percent respectively according to the International Labour Organization. And, unlike sex trafficking, forced labor is present in our daily lives; in the products we purchase for work and home (including bathtub) and in the services in our communities whether they be our neighbor's domestic worker, the janitor at our workplace, the agricultural worker harvesting our food, or the restaurant dishwasher.
What really brings it home though is to point out the red flags in the manufacturing "city" scenario: 1) individuals far from home and family for long periods of time, 2) living quarters adjacent to the workplace and controlled by the employer, 3) limited communication, 4) reliance on the employer for food, 5) long hours and low wages, 6) surveillance in some cases, and 7) and all of this occurring in an environment with limited labor rights and protections.
Total control over employees and drive for profit is a recipe for forced labor. In China, artificial flowers, bricks, Christmas decorations, coal, cotton, electronics, fireworks, footwear, garments, nails and toys are all known to be produced by forced labor, according to the U.S. Department of Labor. And China is far from being the only country on the list.
Corporations know the risks and many are trying to mitigate them with supply chain risk assessments, third party monitoring, unannounced audits and corporate policies. Consumers, too, can do their part. I was also raised a price comparison shopper. Just be sure to add in the labor factor and pause when you see a $9 beaded blouse or a $7 blender. After all, not everyone's teachable moment occurs in the bathtub.
____________________________________________________
REAL LIFE. REAL NEWS. REAL VOICES.
Help us tell more of the stories that matter from voices that too often remain unheard.