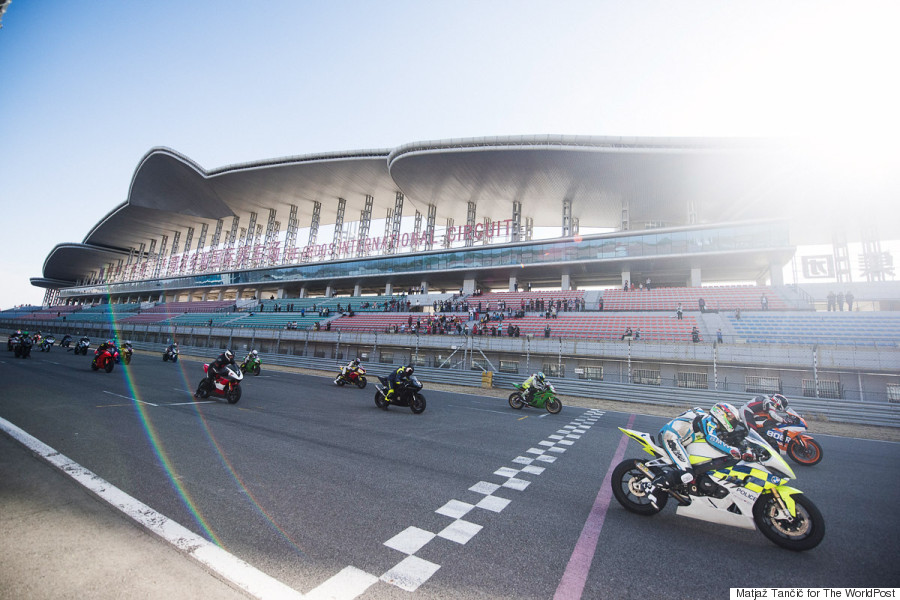 ORDOS, China -- The man running the Genghis Khan Grand Prix fits the bill. With a healthy paunch of a belly and a bearded face always threatening to break into a smile, Max Chou looks like a cross between depictions of Genghis Khan and Santa Claus. The mullet, tightly braided in back, really ties the look together. He swaggers around the control room of the Ordos International Circuit, joking with his team and keeping one eye on the wall of monitors as motorcycles jump from screen to screen. This weekend's races are a gathering of the tribes in Chinese amateur motorsports, and as one of the godfathers of Chinese racing, Chou is in his element. Riders and drivers have come from around the country to race in the grand prix and party in the city of Ordos, a place where all proportions are a bit off-kilter. This freshly minted metropolis in the deserts of Inner Mongolia was built on the back of a coal boom. Flush with new cash, coal barons and local officials built a brand-new city for 1 million future residents, only a fraction of whom ever showed up. The gaudy structures and empty streets quickly earned Ordos the title as China's most famous "ghost city."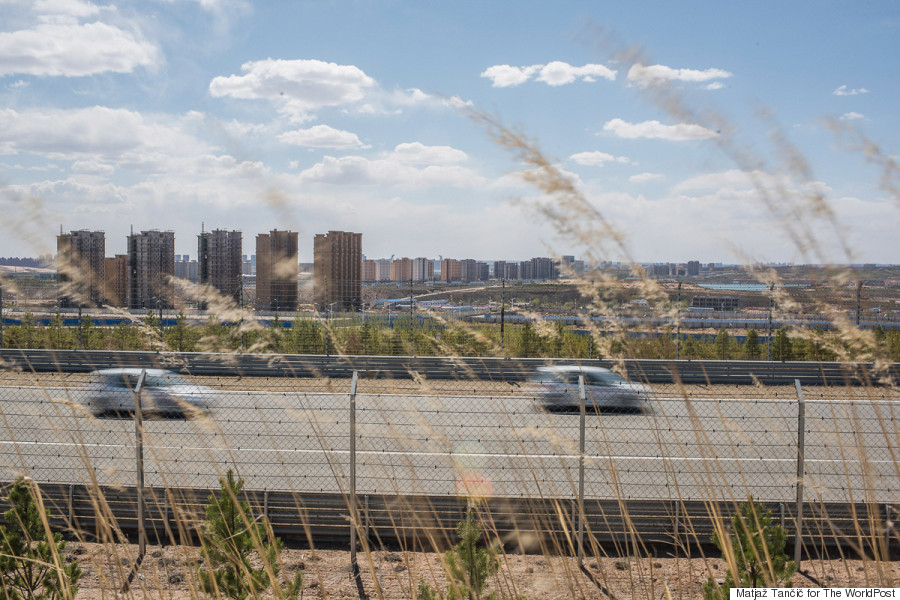 The Ordos International Circuit is the billion-RMB vanity project of a local coal boss whose other notable ventures include a museum of strange rocks. Grandstands at the circuit stand ready to hold 10,000 screaming fans, but it's a great day if one-tenth that number shows up. Like so many investments in Ordos, it's a money-losing venture. But even a race track that stands empty for much of the year has its own logic. "This track is his business card," Chou told The WorldPost. "How many coal bosses are there in Ordos? Tons. How many real estate tycoons? Tons. But there's only one with a race track." Originally from Taiwan, Chou has spent the last 30 years introducing motorsports to the Chinese-speaking world as a publisher, team manager and TV commentator. In 2012 he took the reins at the Ordos International Circuit and poured his energy into the Genghis Khan Grand Prix. The six-part racing series draws a mix of experienced amateur drivers and total beginners giddy to drive a world-class course.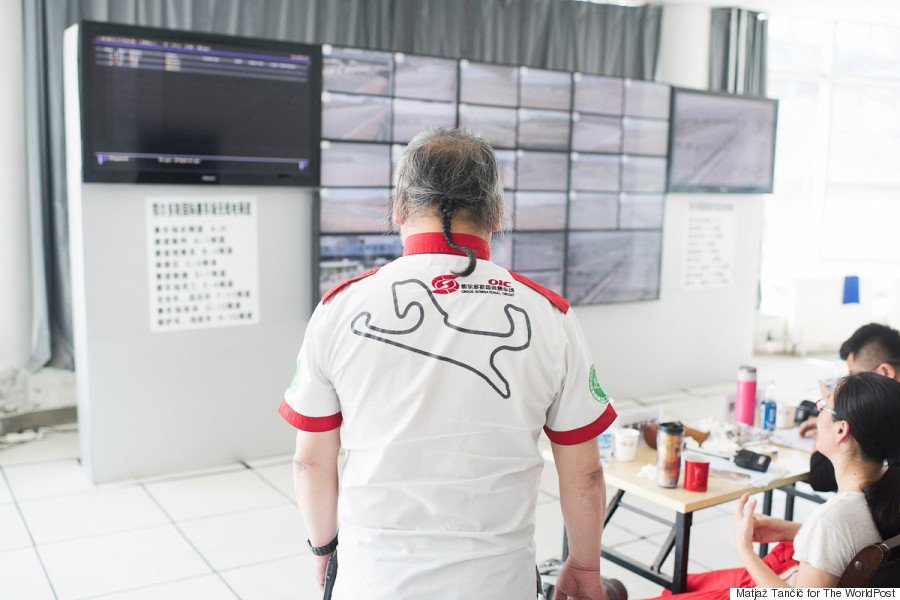 Chou's move out to Ordos fulfilled his dream of running a racetrack, but it came at a cost. Racing culture out in the deserts of Inner Mongolia proved a huge step down from Singapore and Beijing, where Chou served as a Chinese-language commentator for ESPN. "It's like I have to go from a Ph.D. down to being an elementary school kid," Chou said. "I have to grow up together with them. It's painful, but you have to do it." This weekend's events include a "Fast and the Furious" category in which wealthy drivers flaunt their own sports cars, a more skill-based race in which all drivers compete in identical Peugeot 307s, and three classes of motorcycle races. Friday is dedicated to practice rounds, while Saturday and Sunday see two qualifiers and championships for each category. Drivers come from different backgrounds, but they share a brand of machismo that can be hard to find in this country. Chinese high schools aren't ruled by jocks because they have no sports teams. What they do have is a fiercely competitive test-taking environment and a crystal clear academic hierarchy. Patience, humility and rote memorization are often the recipe for success. For grown men, one of the most-praised traits is the ability to "eat bitterness" -- to quietly grind out a living for one's family by working long hours at monotonous jobs.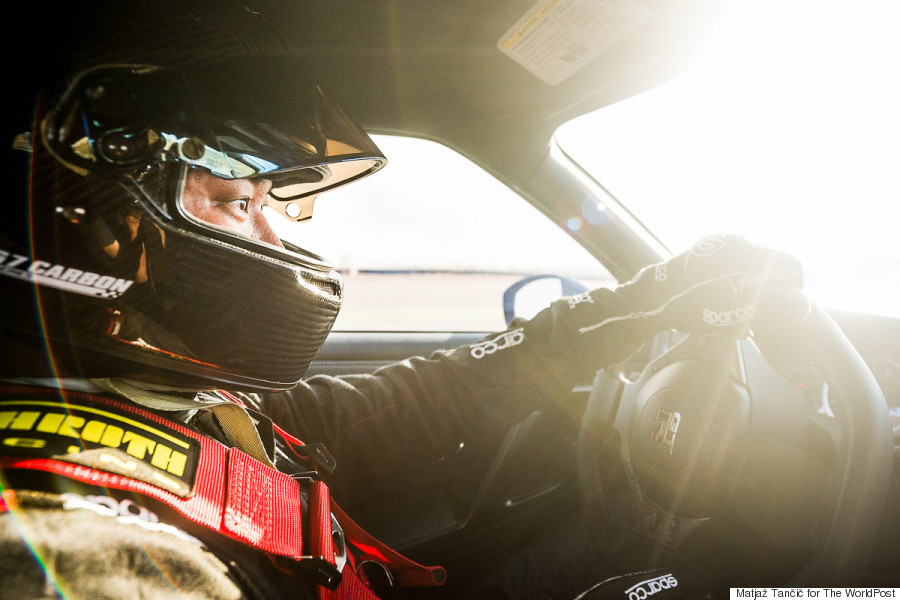 But the men out here have gotten a taste of an adrenaline high and they want more. At the track, Eminem blasts from garages as tattooed arms pamper motorcycles and muscle cars. The aesthetic and the mystique owe a debt to movies like "The Fast and the Furious," the seventh installment of which just became the highest-grossing film ever in China. Uli Sanne has been racing cars for decades, starting with South African rally championships. Now working as BMW's CFO in China, he swept first place in all the Peugeot races last year, partly by steering clear of young drivers who rely more on adrenaline than actual skill behind the wheel.
"I always say that drivers have a switch here connected to their brains," Sanne says, pointing his index finger horizontally at his temple. "When the switch is up that means their brain is engaged. When they pull the helmet down, it turns that switch off."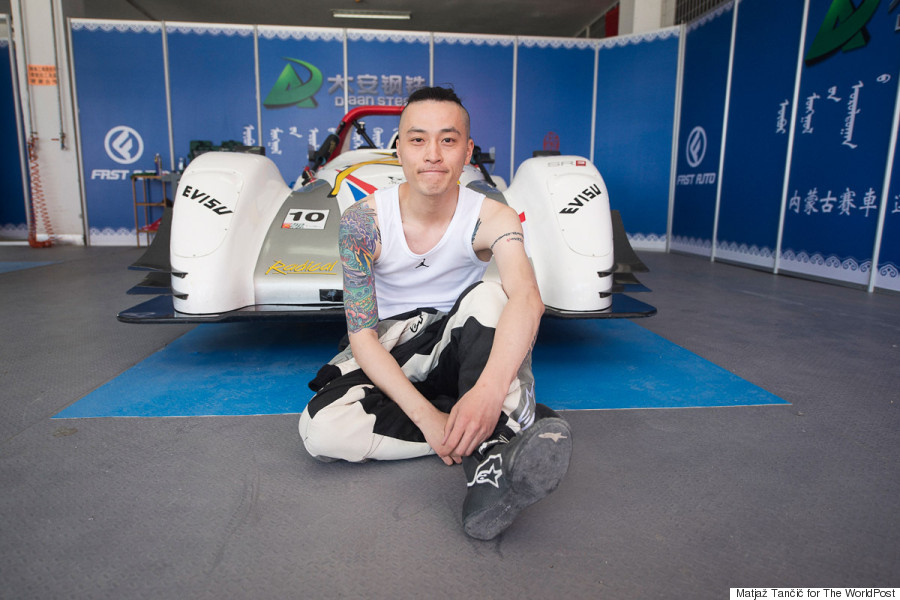 Twenty-nine-year-old Liu Changhai is signed up to drive his Radical SR3 in the Fast and the Furious race. Liu is the son of a steel tycoon from a nearby city, and his Air Jordan tank top reveals a skinny arm covered in tattoos: his first car (a Mitsubishi), magic mushrooms, and a classical Chinese phrase extolling filial piety as the highest of all virtues. "What draws me to racing is that it forces me to keep a very calm heart even when I'm going at top speed," Liu told The WorldPost. "You have to temper yourself, and that's something you can't find in other sports." Liu comes from money but says he's on a mission to bring motorsports to the people in his home province. He worries that many people still see racing as a hobby for rich kids with 1 million RMB (roughly $160,000) to throw at a shiny sports car. He hopes to show people that they can compete in a car costing just 300,000 to 500,000 RMB. The low end of that range is approximately a decade's worth of disposable income for the average resident in Inner Mongolia.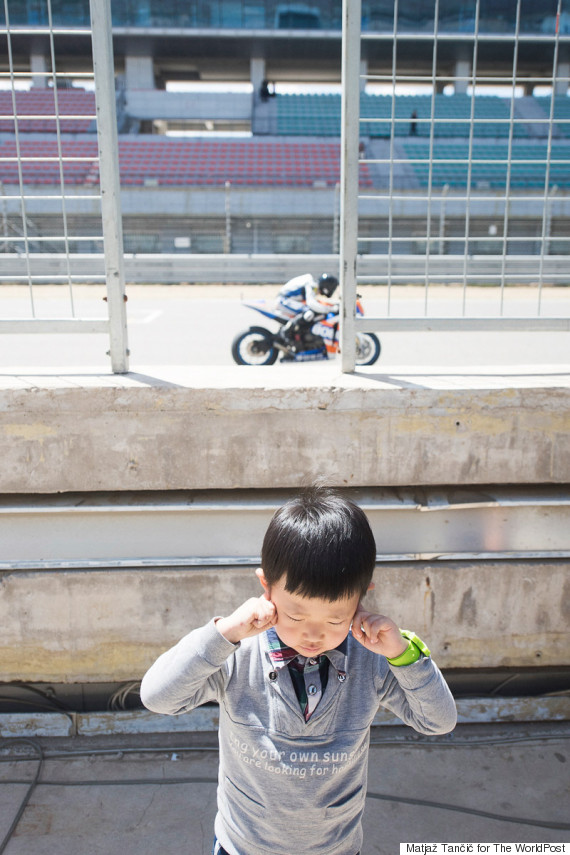 As Saturday's qualifiers begin, a couple hundred fans trickle into the enormous grandstands flanking the start line. Ordos is trying to reinvent itself as a mecca for major events and competitions. The city has built out massive sports complexes and hosted the Miss World competition in hopes of drawing spectators and tourism money to the city. But the Genghis Khan Grand Prix is a more low-key affair -- many of the spectators are locals who were given tickets through work, and a large coterie of male "fans" keep their eyes and iPhones glued to the long-limbed models strutting around the track. "We give away a bunch of tickets, but that doesn't guarantee people will come," laments Chou from his chair in the control room.
Motorcycle races are Chou's favorite, and here they're also the most competitive, drawing experienced riders dedicated to their machines and their craft. Adrien Macera comes from a French-Italian background, but grew up in Beijing, where he founded the custom motorcycle shop Black Bridge Motorcycles. During Saturday's qualifiers, he clocked the fastest time on the track, hitting straightaways at over 150 miles per hour. But just hours before Saturday's championship he was riding a miniature "monkey bike" near the track when his back wheel skid on a patch of sand. Teammates said he wasn't going faster than 15 miles per hour, but he also wasn't wearing a helmet and his head smacked the pavement hard. Face bleeding and eyes glazed over from the impact, Macera sat hunched on the pavement asking what happened.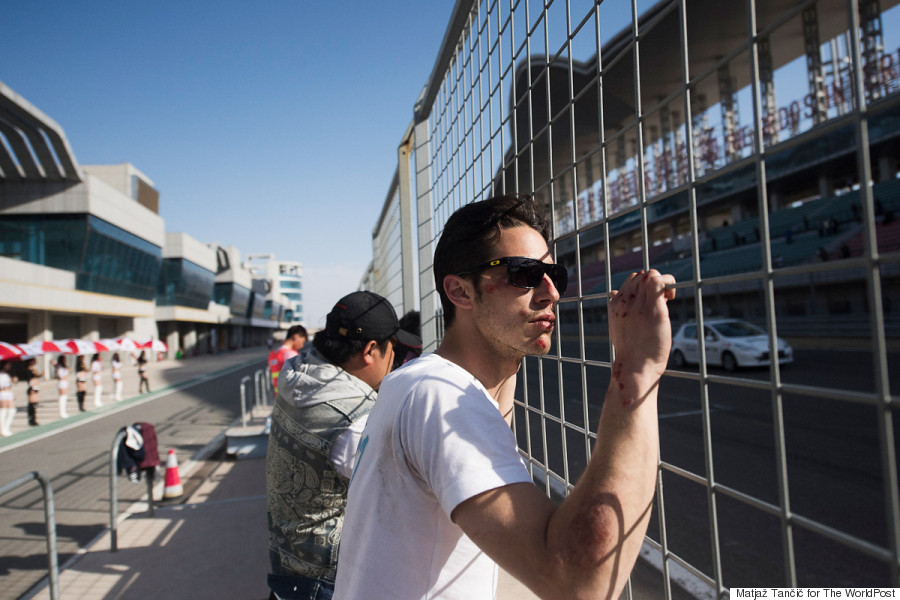 A trip to the hospital ruled out damage to his brain, and Macera returned to the track to watch his teammate Montague Fendt hoist the trophy that he had been gunning for. "When you're up there it's like you're in a dream," said Macera as he watched the winners spray fleeing models with Champagne. "You're still running on adrenaline for like 20 minutes after the race is finished. Maybe you go home and think, 'Oh that was dangerous, maybe I should take it easy.' But after three days there's nothing you want more than to just get back out on the bike. It's like a drug."
Not all crashes prompt that same level of introspection. Du Wenkai is a big-boned firefighter from the central Chinese city of Taiyuan. This weekend was his second time racing in a Peugeot, and while fighting for inside position, a love tap sent his wheels onto the divider and his car flipping onto its back.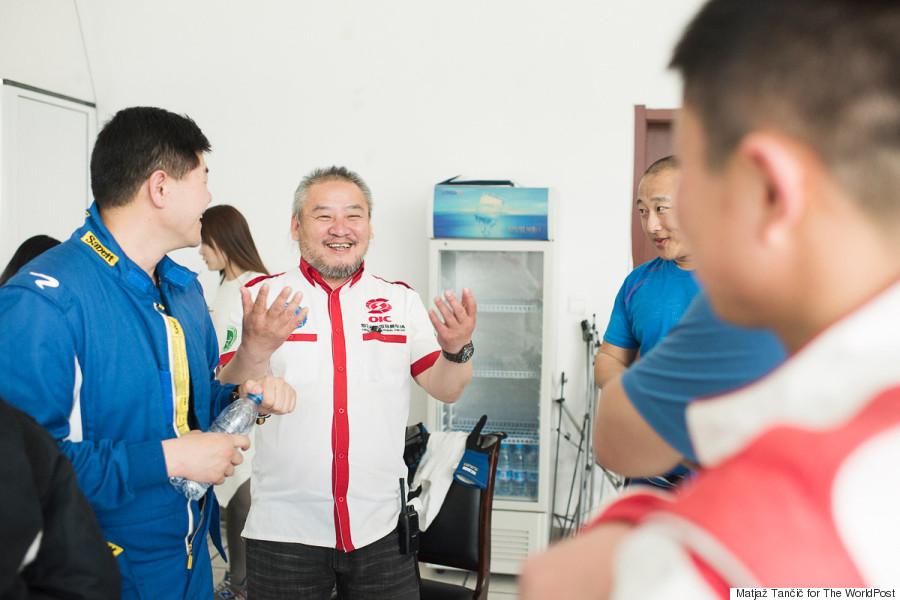 Du scrambled from the car unhurt, and he returned to a hero's welcome in the control center. Participants recounted the accident from every possible angle and celebrated the first-ever flipping of a car at the circuit.
One fellow driver shook his head in awe of what he'd just seen: "I was watching them go at it from behind … It was just like a movie ..."
As the shadows crept over the track on Sunday afternoon, Macera walked into the control room with a handwritten letter for Chou. Less than 24 hours after his concussion, he wanted to get back out on the track. The letter absolved the organizers of any responsibility for further injuries, and Chou nodded his assent for Macera to ride in Sunday's championship.
With bruises covering his arms and blood on his face, Macera donned his helmet and hit the track. He pledged he would take it easy, aiming for third place rather than fighting it out for first. A couple of onlookers groaned with unease when they saw him pop a wheelie during a warm-up lap, but he largely stuck to the plan and did just enough to make it onto the podium.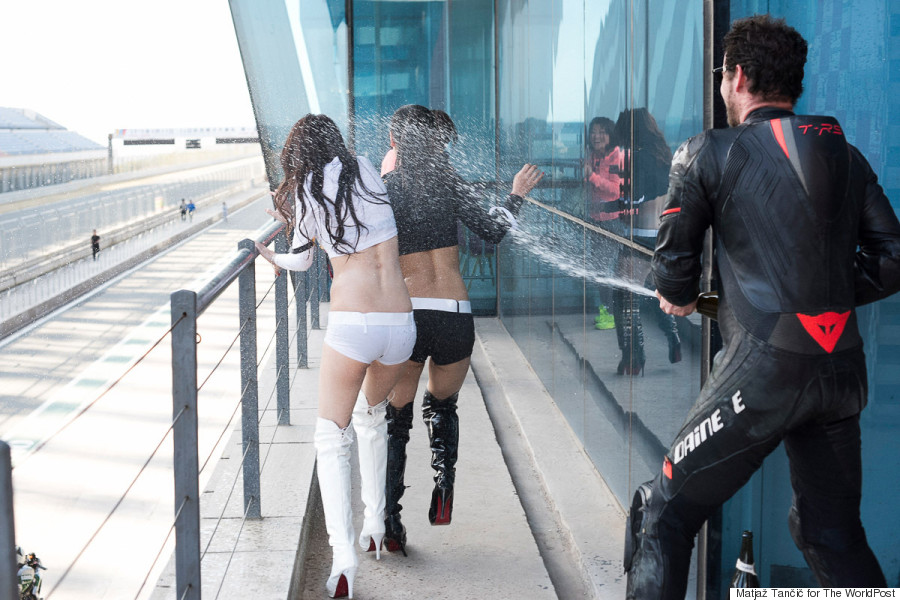 By the time of Sunday's awards ceremony, a sandstorm is threatening to descend on the track and Chou calls a select few models up to the second floor to help hand out the hardware. Uli Sanne kept his streak alive with another win in the Peugeot race. Liu Changhai came in second of three in the Fast and the Furious category. He finished behind the son of a convenience store magnate, but all three drivers who completed the race were spraying Champagne on the podium at the end.
As the racers pack up, Chou sits back down in the control room to reflect on the weekend. The stands may have been largely empty and some of the driving amateurish, but Chou says he's thinking in terms of a 10-year timeline to create a world-class event. "Three years ago we didn't have fans," he said. "Yesterday we had a few hundred fans. It may not have been many, but that's OK. The point is we had fans."
Related
Before You Go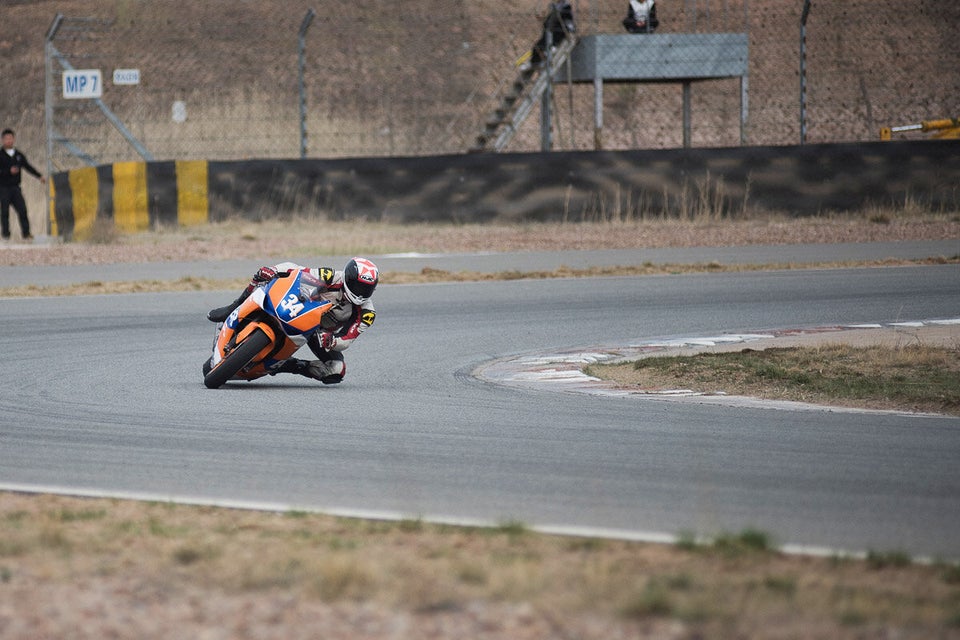 The Genghis Khan Grand Prix in Ordos, China
Popular in the Community