China is known worldwide for its pandas, its cranes, and unfortunately, its forged goods. According to a UN report, 70 percent of the world's counterfeit goods produced between 2008 and 2010 originated from China. The forgeries have found their way into markets and stores around the world, and even, it was revealed this month, into China's own museums.
On Monday, authorities in Hebei Province shuttered Jibaozhai Museum after announcing that many of the Chinese historical artifacts it displayed were forgeries. An official from the Hebei Provincial Cultural Heritage Bureau told Global Times that the museum's license had been revoked and its managers were currently under investigation.
The deceit was initially revealed in a July 6 blog by Chinese writer Ma Boyong on the Sina blogging platform. As Shanghai Daily reports, Ma had posted photos of the forged pieces, which included items purportedly signed by Huangdi, the Yellow Emperor, in simplified Chinese characters. However, such characters did not come into use until the 20th century, 4,500 years after the Yellow Emperor died.
According to the report, another vase had a label identifying it as dating back to the Tang Dynasty-era (618–907 AD), even though the five-color wucai technique it displayed was not invented until the Ming Dynasty (1368–1644 AD).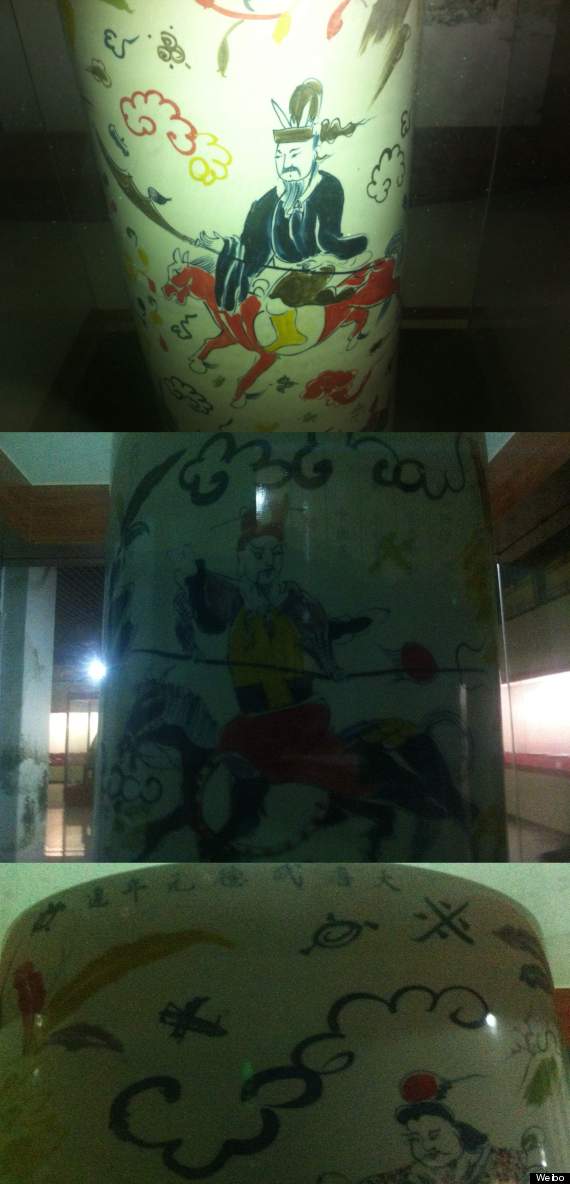 A view of the wucai vase, supposedly from the Tang Dynasty. (Ma Boyong/Sina)
Perhaps the most striking counterfeit was an alleged Qing Dynasty vase that actually depicted modern Chinese cartoon characters.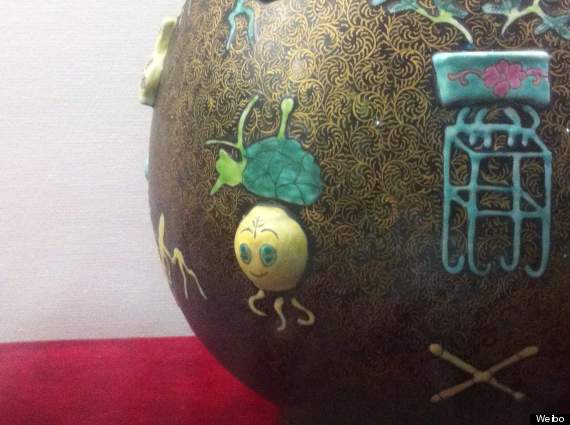 A view of the alleged Qing Dynasty vase, replete with cartoon characters. (Ma Boyong/Sina)
Some Erpu residents have accused the museum's curator, local party chief Wang Zongquan, of misappropriating the funds and covering it up with cheap counterfeits.
"Most of the historic relics are fake, but the real ones are in Wang's home," Erpu resident Liu Xin-liang told Global Times.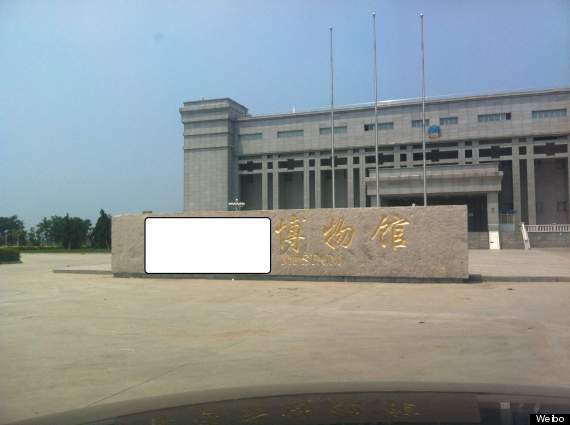 A view of the Jibaozhai Museum in Hebei Province. (Ma Boyong/Sina)
Shao Baoming, the museum's deputy curator, told Shanghai Daily that half of the artifacts in the museum were real. Even if that was true, the museum would still contain around 20,000 counterfeit items.
For his part, Wang claimed that "even the gods cannot tell whether the exhibits are fake or not."
This is not the first time a Chinese museum has been caught fudging its artifacts. According to CNN, Chinese experts estimate that 80% of the marine reptile fossils on display in Chinese museums are "altered or artificially combined to varying degrees."
If only China could find a way to fake fossil fuels as easily.
Calling all HuffPost superfans!
Sign up for membership to become a founding member and help shape HuffPost's next chapter
BEFORE YOU GO