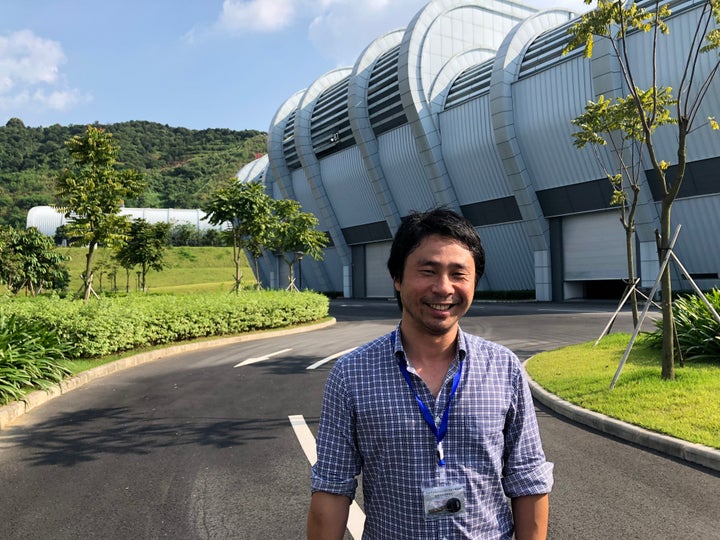 DONGGUAN, China — Tong Xin is still jet-lagged. He just arrived here five days ago. Sweat beads on his forehead, and stubble shadows his chin; a new job and the task of moving to the opposite side of the planet with his wife and three young children has been all consuming. 
But his new job helping spearhead the China Spallation Neutron Source was an opportunity so good, it was worth the hefty pay cut and international move.
Tong, 36, is the new senior scientist at this sprawling, atom-smashing laboratory complex, which opened in late August. Nestled in the lush foothills of Guangdong, the southern provincial hub of China's manufacturing and technology boom, the facility is the world's seventh major laboratory capable of producing powerful neutron beams, used to study the molecular structure of materials. The lab puts China in an elite club with the United States, the United Kingdom, Japan, Switzerland, Australia and South Korea.
The applications for this technology are seemingly limitless. Inside the lab, giant particle accelerators fire protons at nearly the speed of light into a metal target. The neutrons that scatter after impact, known as spallation, are used to reveal the molecular dimensions of anything from the lithium used in batteries that power electric cars and store renewable energy to cancer treatments to airplane wings.
The machines have to be vaulted in thick concrete to guard against radioactivity and are housed in a building the size of an airport hanger. Operating and maintaining them is wildly expensive; upgrading just one of the proton power sources at the Oak Ridge National Lab in Tennessee, where Tong previously worked for 10 years, was estimated last year to cost about $200 million. The price of building a second metal target station reached about $1 billion.
The Oak Ridge lab charges private companies about $35,000 a day to conduct tests with its neutron beams as a way to offset the cost. But, as at the other six labs that possess neutron scattering equipment, the government funds scientific research and allows scientists to use the instruments free, requiring only credit for discoveries made there. For the United States, the annual spending on the laboratory — equivalent to about 14 of the 90 new F-35 fighter jets that the military recently ordered for $8.2 billion — secured a position at the forefront of scientific breakthroughs.
That is, until President Donald Trump, a man notoriously distrustful of science and bent on dramatically shrinking the size of the federal government. The expense of maintaining the lab seemed expendable. Last year he proposed slashing the Department of Energy's budget for funding such programs, threatening cuts that would have led to layoffs of roughly 1,600 of Oak Ridge's 4,800 employees. Whereas once the United States was the unrivaled leader in scientific research, uncertain budgets and the emergence of well-funded laboratories abroad have changed that. That's particularly the case in an area of research as expensive and difficult to plan as neutron scattering.
"What's significant about this administration is their extreme ideology about government role in R&D … starving applied R&D and limiting federal R&D to basic research," said Robert Cowin, the director of government affairs at the Union of Concerned Scientists, a nonpartisan research advocacy group. "The direction they are trying to take the agency, in time, could have a significant adverse impact on U.S. technological innovation."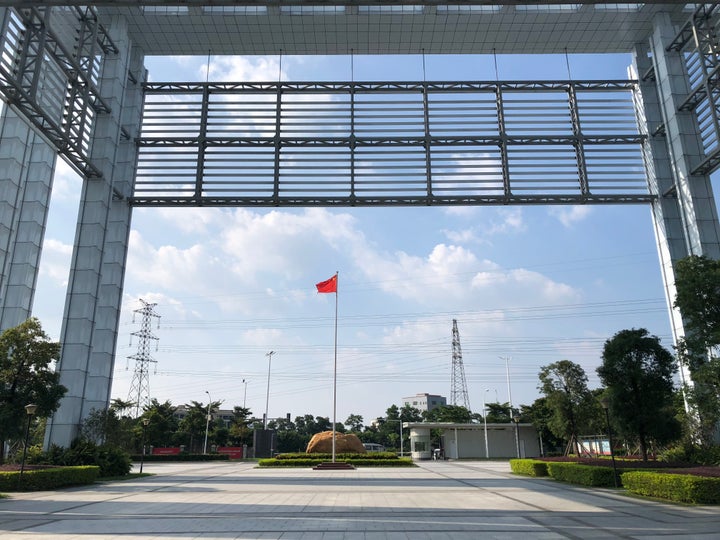 Congress ultimately overruled the White House and roughly maintained funding for Oak Ridge, at nearly $1.3 billion in its 2019 budget. But for Tong, that turmoil sweetened an offer from the China Spallation Neutron Source that would allow him to return to his homeland and help lead a new project of seemingly limitless ambition.
"This country has changed, from a scientific perspective, so much," he told HuffPost during a tour of the facility in September. "It's everything ― the support you get, the funding. It's enormous, especially compared to the United States."
Ch-ch-ch-changes
The research world's magnetic center began to shift from the United States westward across the Pacific in the mid-2000s. At an annual conference for the neutron scattering field, the Australian government unveiled plans for a new spallation reactor in Sydney. A decade later, the facility drew researchers from around the world, including Oak Ridge, with funding, 15 instruments and a beautiful location on Australia's sunny east coast.
"People from all over the world come to the United States to pursue better opportunities for research … and that has started to change," said Wang Xun-Li, the chairman of the City University of Hong Kong's physics department and a former Oak Ridge employee. "I saw with my own eyes people starting to leave prestigious institutions like Oak Ridge, and it's not just junior scientists."
That was before the Trump administration started playing hardball with federal research budgets. Over the past two years, Congress has countered the White House's proposed cuts by maintaining funding. But the administration's proposals put pressure on research outfits, making it harder to plan long-term projects, which require three to five years of development, even if the funding hasn't ultimately changed from year to year.
"When you have budget uncertainty, it's very hard to plan," Wang said. "When it's hard to plan, how do you execute?"
Morgan McCorkle, a spokeswoman for Oak Ridge, said more than 1,200 scientists from around the world use the lab's equipment each year. She directed to the Department of Energy any questions about how the budget and proposed funding cuts affected long-term planning. The DOE said "its 17 National Laboratories plan and carry out funding as directed by our appropriators in Congress."
"U.S. leadership in science and technology, while still robust, has shifted and evolved over the decades," Joanne Carney, the director of government relations at the American Association for the Advancement of Science, said in a statement. "Other nations, including China, are increasing investments in science and technology."    
'Attacks On Science'
The Trump administration's zealous rollback of greenhouse gas regulations, justified by antagonistic rejection of nearly all mainstream climate research, has prompted repeated outcries over what many see as attacks on science itself.
The Environmental Protection Agency formed the speartip of the agency's scientific agenda. A month after the Trump administration confirmed now-former Administrator Scott Pruitt, the EPA reversed a ban on a pesticide linked to brain damage in children, in defiance of its own scientists. The move delivered a controversial, if telling, shot across the bow.
In October the agency issued an order restricting who may serve on its science advisory boards, giving favor to industry-backed researchers. In April the EPA proposed a rule limiting what public health research may be used to craft regulations. In August the newly appointed acting Administrator Andrew Wheeler, a former coal and mining lobbyist, launched the administration's most ambitious assault on climate regulations yet, proposing rules to weaken fuel economy standards and replace the Obama administration's signature policy to reduce power plant emissions, all based on climate projections untethered from scientists' warnings.
When you have budget uncertainty, it's very hard to plan. When it's hard to plan, how do you execute?

Wang Xun-Li, City University of Hong Kong
The Department of Energy illegally withheld $91 million from Advanced Research Projects Agency-Energy, a government division responsible for major renewable energy studies, the Government Accountability Office found in December. In April, the DOE froze funding for already approved grants.
That shift demonstrates the direction that proponents of the administration's agenda say the agency should head under Trump.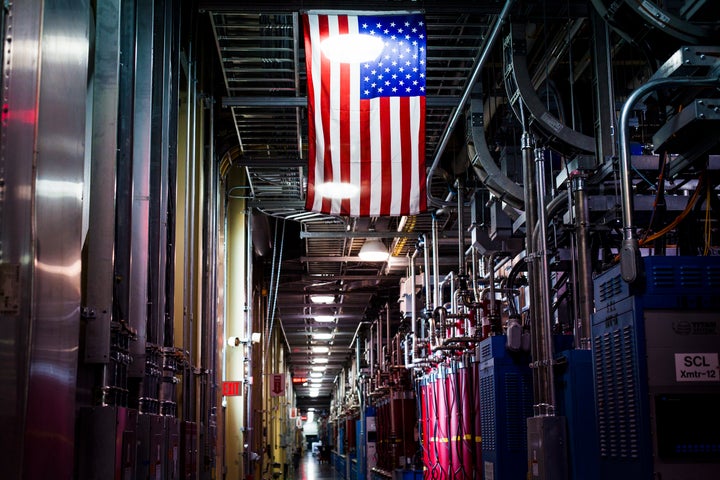 "If it's just basic scientific understandings or something for a national security purpose, there's a lot of value in that," said Nick Loris, a research fellow on energy and environmental policy at the conservative Heritage Foundation. "But if it's to make an electric vehicle be cost competitive with oil or another source of fuel, that's not really where I think the DOE should be spending their money."
Labs like Oak Ridge could find ways to increase funding from private companies, he said. In 2013 the Heritage Foundation published a report with the liberal Center for American Progress proposing changes to the fees labs charge private companies, allowing for more competition and potentially higher prices for using equipment.  
"You can get more creative with some of the ways that these user facilities are funded," Loris said.
Stop, Collaborate And Listen
To physicists, the opening of the China Spallation Neutron Source signals a rising tide for their research more than the start of a Cold War–style competition.
"Neutron scattering has always been very international," Wang said. "You always help each other. Whenever someone is building a facility, you have to help the facility to build up the instrument. We can go to Europe. They come to the United States. Chinese scientists go to Japan or Australia."
The DOE declined to comment on how its national labs could cooperate with the Chinese facility. 
But the $331 million facility already has plans to expand its campus. Asked if he planned to poach any of his former colleagues from Oak Ridge to join him in Dongguan, Tong smiled and declined to comment.
"You cannot stop people from leaving for better opportunities," he said.
This story has been updated with comment from DOE. 
Calling all HuffPost superfans!
Sign up for membership to become a founding member and help shape HuffPost's next chapter
BEFORE YOU GO
PHOTO GALLERY
Science Museums We Love