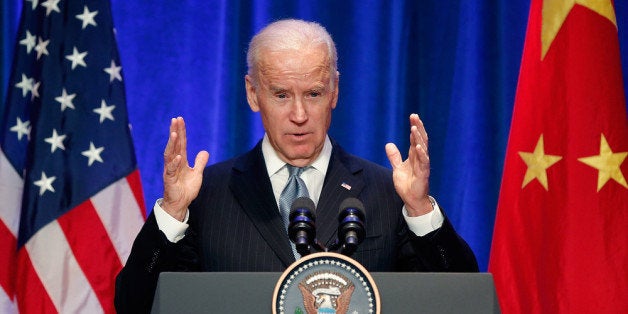 NEW YORK –- White House Press Secretary Jay Carney said Thursday that the U.S is "deeply concerned" about the ability of foreign journalists to do their jobs in China, shortly after New York Times reporter Austin Ramzy was forced to leave the country over visa issues.
"Foreign journalists in China continue to face restrictions that impede their ability to do their jobs, including extended delays in processing journalist visas, restrictions on travel to certain locations deemed 'sensitive' by Chinese authorities and, in some cases, violence at the hands of local authorities," Carney said. "These restrictions and treatment are not consistent with freedom of the press -- and stand in stark contrast with U.S. treatment of Chinese and other foreign journalists."
Carney's statement is the latest in an ongoing rift between the U.S. and China over press freedom. Vice President Joe Biden met with foreign journalists in Beijing last month as two dozen faced expulsion because the government had not yet granted them visas for 2014. Biden raised concerns with Chinese leaders, and shortly after his visit, authorities began processing applications and most China-based journalists fearing expulsion received 2014 visas.
But issues with press freedom remain. China, which tightly controls its domestic media, has blocked the The New York Times and Bloomberg News' websites in retaliation for coverage of ties between the country's political and business elite. Last year, Bloomberg News reportedly withheld a critical story out of concerns over further angering the Chinese government and risking the company's business interests.
Meanwhile, several journalists currently working outside China who have long sought accreditation haven't been granted visas. And Ramzy, who has been based in China for six years, was forced to leave Thursday.
A Chinese Foreign Ministry spokesman said Monday that Ramzy had violated restrictions by traveling in and out of the country using a visa issued to him before leaving Time magazine for The New York Times. But the Times reported that the Chinese government had never canceled the visa issued to Ramzy while at Time magazine or raised any concerns about his working status until he applied for a new visa in December.
A Times spokeswoman said Monday that the paper had been working with China's Foreign Ministry since the summer to transfer Ramzy's accreditation and expressed hope that the matter would be resolved. But on Thursday, Ramzy tweeted that he was leaving China.
"Heading out shortly and wanted to say thanks for all the kind thoughts," he wrote. "Sad to be leaving Beijing. Hope I can return soon."
Following Ramzy's departure, Carney said the U.S. is "very disappointed" he was forced to leave.
"We remain concerned that Mr. Ramzy and several other U.S. journalists have waited months, and in some cases years, for a decision on their press credentials and visa applications." he continued. "We have raised our concerns about the treatment of journalists and media organizations repeatedly and at the highest levels with the Chinese government, and will continue to do so. We have consistently and clearly expressed our expectation to Chinese authorities that China issue and renew visas for journalists working for U.S. media outlets in China."
In December, amid growing fears about foreign journalists' ability to work in China, some China experts and members of the media argued that the U.S. should reciprocate by holding up Chinese journalists' visas .
Carney didn't suggest such reciprocation is on the table in his statement. But he did say that the U.S. and China "should be expanding media exchanges to enhance mutual understanding and trust, not restricting the ability of journalists to do their work."
"We urge China to commit to timely visa and credentialing decisions for foreign journalists, unblock U.S. media websites, and eliminate other restrictions that impede the ability of journalists to practice their profession," Carney said. "Around the world, the United States strongly supports universal rights and fundamental freedoms -- central among them freedom of speech and freedom of the press."
Calling all HuffPost superfans!
Sign up for membership to become a founding member and help shape HuffPost's next chapter