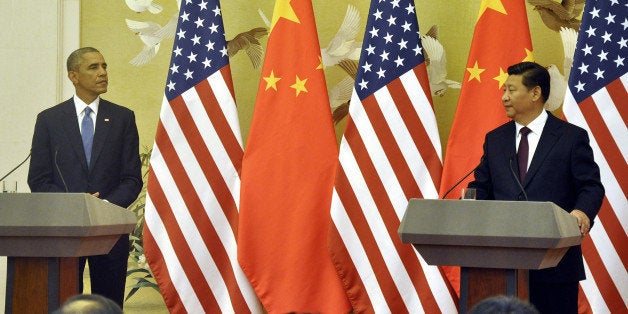 NEW YORK -– Chinese President Xi Jinping suggested Wednesday that international news outlets are at fault when it comes to problems securing visas for journalists working in China, in response to a question from a New York Times reporter.
As Obama wrapped up his remarks, the president acknowledged that the two leaders had agreed to each take one question from reporters. White House Press Secretary Josh Earnest called on The Times, which a U.S. official told Politico was an intentional move, given the challenges The Times has faced in China.
Obama responded to The Times' Mark Landler, but a moderator then turned to a Chinese state-run news outlet before Xi could answer Landler's question, which was about extending the same visa rights to foreign correspondents that are afforded to businesspeople and students.
Xi eventually circled back to Landler's question and said that "media outlets need to obey China's laws and regulations." He then suggested, somewhat cryptically, that news organizations such as The Times are to blame for visa issues and should examine their own policies.
"When a car breaks down on the road, perhaps we need to get off the car to see where the problem lies," Xi said, according to a White House transcript. "And when a certain issue is raised as a problem, there must be a reason. In Chinese, we have a saying: The party which has created a problem should be the one to help resolve it. So perhaps we should look into the problem to see where the cause lies."
In his own report from the conference, Landler noted on Wednesday that the Chinese saying can also be translated as, "Let he who tied the bell on the tiger take it off."
Joseph Kahn, the international editor for The New York Times, tweeted in response, "The 'bell' he referred to is journalism of the kind we and other good news organizations do everywhere else."
The Times, which found its main website blocked in China in 2012 following an investigative report on the ties between wealthy families and the Chinese government, is unlikely to self-censor to in order gain access. So some tensions can be expected as long as The Times continues to report on areas that the authoritarian Chinese government doesn't want to see covered.
But the paper expressed a willingness Wednesday to further dialogue with authorities over resolving press issues. Kahn indicated in a statement to The Huffington Post that The New York Times is open to discussions with the government about issues related to reporting in China.
"President Xi said today, 'We need to step down and see what the problem is,'" Kahn's statement said. "We are willing to work closely with the Chinese authorities to resolve the issues that have created a backlog of unprocessed journalist visa applications for our correspondents."

"China is an important country and a big part of our international report," Kahn continued. "We are enormously proud of our coverage of the country. Allowing us to have a full complement of correspondents there will enhance our ability to tell China's story fully and fairly."
The Obama administration has faced ample criticism from journalists over its unprecedented use of the Espionage Act to to target news media leaks, as well as over its continued efforts to compel Times reporter James Risen to reveal a source.
Yet over the past year, top administration officials have gone to bat for U.S. journalists trying to report from China. In December 2013, Vice President Joe Biden publicly addressed press freedom in Beijing and also met privately with foreign correspondents to discuss a then-urgent visa situation.
Landler said in his report that "the White House had lobbied intensively for reporters' questions to be taken, and the Chinese authorities relented only a day before the leaders stood together in the Great Hall of the People."
Journalists were clearly pleased that Landler was able to pose the question about press freedom directly to China's leader.
The Washington Post's David Nakamura, who is also covering Obama's trip to Asia, wrote Wednesday that the Times reporter was met with a round of applause from the White House press corps at a hotel following the news conference.
Support HuffPost
The Stakes Have Never Been Higher
Related
Popular in the Community