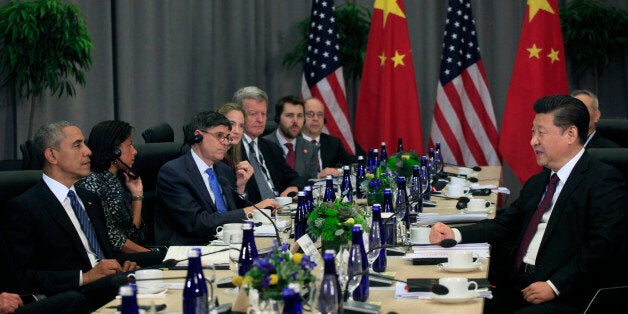 As the curtain of the fourth Nuclear Security Summit finally dropped on April 1 in Washington, Xi Jinping, the president of China, alongside leaders from 51 other countries and four international organizations -- including the International Atomic Energy Agency and the United Nations -- were there. Together, they focused on strengthening the global nuclear security architecture in order to seek a more coordinated and effective approach to the world's lingering nuclear security challenges. The summit bore fruit with a joint China-U.S. communique, plus five separate action plans from different participants.
At present, terrorism is the most severe security challenge to the international community. Worse, it will be a nightmare for all mankind if nuclear materials are used by terrorists or if nuclear terrorists abuse cyberspace and other high-tech areas. Six years ago, the first Nuclear Security Summit was initiated in Washington. Now, the NSS process has contributed to strengthening the international nuclear security architecture and upholding international peace and security.
There are three central aspects of the NSS that are worth looking at:
The NSS served as a platform for sharing experience. Taking this opportunity, leaders from various countries shared their opinions and best practices on nuclear security issues, discussed simulated crises and debated different solutions with a view to learning from each other and mutually making up deficiencies.
The NSS enhanced global capacity for emergency responses. Under the guidance of the NSS process, participating countries have taken concrete steps toward that goal -- closely monitoring and evaluating the global nuclear security situation, formulating policies and laws and streamlining administration and procedure, all of which are beneficial to avoiding nuclear security accidents, preventing nuclear terrorist attacks and continuously consolidating our defense to nuclear terrorism.
The NSS promoted international nuclear security cooperation. Established international institutions and new initiatives are complementary to one another. Multilateral and bilateral cooperation are mutually reinforced. The nuclear security cooperation framework with the IAEA as its core gained universal recognition around the globe and plays a significant role in integrating and coordinating global resources and actions.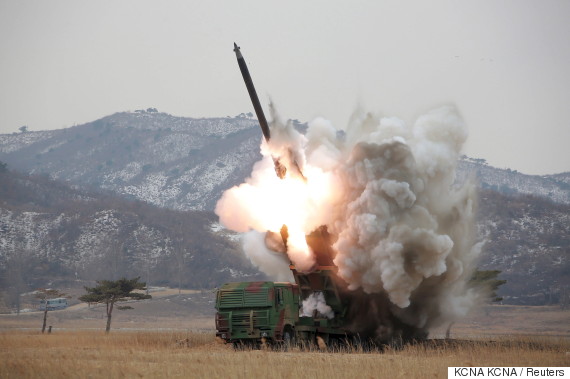 A new multiple launch rocket system is test fired in this undated photo released by North Korea on March 4. (REUTERS/KCNA)
China plays an active role in establishing, constructing and upholding this international nuclear security architecture. China supported the NSS process by participating in and carrying out the outcomes of the previous summits. In The Hague in 2014, President Xi put forward a Chinese approach to nuclear security for the first time, which provided an important and useful perspective to promote international nuclear security. At the 2016 summit, President Xi delivered a speech that fully demonstrated China's policies and initiatives. I believe that speech will be welcomed by the international community, becoming another significant contribution to promoting international nuclear security architecture and global nuclear order.
As a responsible member of the international community, China fulfills its commitments and takes the foremost responsibility for improving its domestic nuclear security. In recent years, China placed more emphasis on the overall planning of nuclear security and made great efforts in various fields -- from the improvement of administration to the formulation and amendments of laws and regulations, the development of advanced technology and the fostering of nuclear security culture. By doing so, China achieved movement forward in developing nuclear security, which constitutes an important contribution to the international nuclear security architecture.
We will build an international nuclear security architecture featuring fairness and win-win cooperation.
At the same time, China fully participates in global nuclear security governance. Alongside other countries, China is committed to promoting a healthy and sustainable development of the international nuclear security process. China firmly supports the work of the IAEA and the U.N., and continuously benefits from the deepening exchange and cooperation with other countries on nuclear security. China takes an active role in rule-making in the field of nuclear security and plays a constructive role in influencing the nuclear security governance and establishment of nuclear order. In the end, China adds its share to the cause of global nuclear security by utilizing its experience and capacity.
Though this is the conclusion of the NSS process, the endeavor to promote global nuclear security will never stop. The small steps we made will lead to great advances in the field of nuclear security. We will build an international nuclear security architecture featuring fairness and win-win cooperation and will embrace a world with shared nuclear security.
PHOTO GALLERY
The Red Button: Inside A Nuclear Sub
Calling all HuffPost superfans!
Sign up for membership to become a founding member and help shape HuffPost's next chapter