WASHINGTON ― President Donald Trump, whose presidential campaign featured plenty of tough talk about China, took a more cordial tone with Chinese President Xi Jinping while visiting Xi's country this week.
Another subject on which Trump apparently hasn't offered China much resistance: freedom of the press.
But it was a sharp departure from prior U.S. presidents of both parties, whose administrations pushed back on China's demands for curtailed access.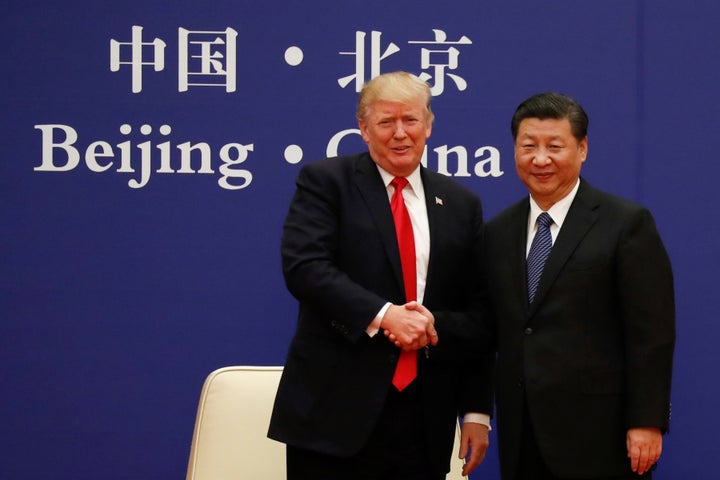 When asked by reporters covering Trump's trip why he and Xi did not take media questions, White House press secretary Sarah Huckabee Sanders said that "it was at the Chinese insistence there were no questions today."
"The Chinese try this every time. It's a test of will and principle," Obama's first White House press secretary, Jay Carney, tweeted Thursday morning. "Letting them dictate press access is an embarrassing capitulation."
"They always insist, Sarah," former United Nations Ambassador Susan Rice tweeted in response to Sanders. "The trick is to use diplomacy to extract that concession as a matter of principle, despite their resistence [sic]."
"With respect to press attitudes towards America or me in particular, I am always working on the assumption that the press giving me a hard time is true wherever I go, whether in the United States or China," Obama said. "That's part of being a public official."
Xi appeared to ignore Landler's question, before saying that "media outlets need to obey China's laws and regulations."
"China's future is for the Chinese people to decide. Yet no nation is exempt from the demands of human dignity," he said. "All the world's people, including the people of China, should be free to choose how they live, how they worship, and how they work."
Trump, by contrast, has made little mention of these issues, mostly lavishing praise on his Chinese counterpart. And he agreed to work with "Beijing's sweeping efforts to control the message of his heavily choreographed visit," according to The Associated Press.
White House social media director Dan Scavino on Thursday used Chinese state media coverage to promote Trump's visit.
Calling all HuffPost superfans!
Sign up for membership to become a founding member and help shape HuffPost's next chapter