A senior Chinese cabinet official told state-run Xinhua News Agency on Monday that last month's order to partially lift a 25-year ban on the two animal products had been "postponed after study." The official, Ding Xuedong, did not specify, however, how long the deferment would last.
Ding said only that China remained committed to wildlife protection and the country "will not ease the crackdown on illegal trafficking and trade of rhinos, tigers and their byproducts and other criminal activities."
"The 'three strict bans' will continue to be enforced: strictly ban the import and export of rhinos, tigers and their byproducts; strictly ban the sale, purchase, transport, carrying and mailing of rhinos, tigers and their byproducts; and strictly ban the use of rhino horns and tiger bones in medicine," Ding said.
China had provoked international furor last month when it announced its decision to ease its 1993 ban on rhino horn and tiger bone.
The cabinet clarified at the time that only certified hospitals and doctors would be allowed to use the animal parts ― and said the substances would have to come from farmed animals and not those in the wild.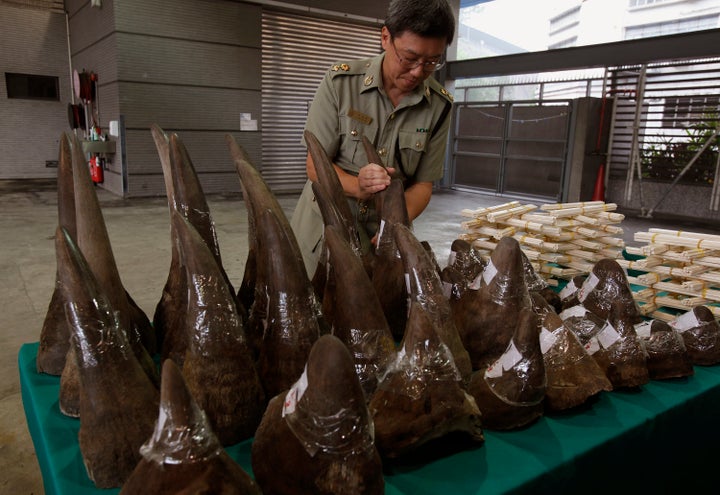 Conservation groups breathed a sigh of relief this week following China's decision to reinstate the ban.
Activists warned, however, that the move could still be reversed and urged the government to make the ban permanent.
"It's a positive sign that China has heard and responded to the overwhelming concerns from the international community," Leigh Henry, director of wildlife policy at the World Wildlife Fund, said in a statement. "It's critical now that the ban remains permanent and is expanded to cover trade in all tiger parts and products, and that a commitment is made to phase out China's tiger farms altogether."
Related
Popular in the Community