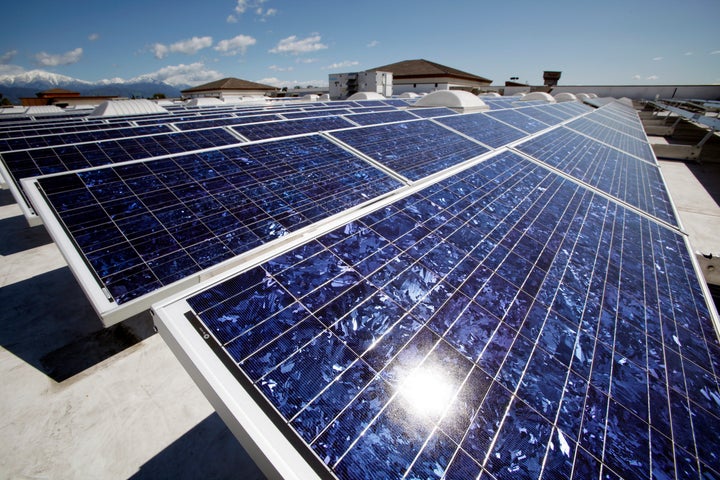 WASHINGTON -- This fall Rep. Cliff Stearns (R-Fla.) drew indignant headlines when he said "we can't compete with China to make solar panels and wind turbines." Turns out he's right, in a way.
Days after Stearns made the remark, American solar panel manufacturers filed a complaint with the United States International Trade Commission and Department of Commerce, alleging Chinese manufacturers are illegally "dumping" their solar panels into U.S. markets, or selling their products below cost so as to drive international manufacturers out of business and eliminate competition. If this continues, manufacturers say, China will have a veritable monopoly on the process.
But where Stearns was trying to argue broadly that the government shouldn't invest in new energy technologies, in fact solar may be approaching a tipping point.
While Chinese subsidies may be killing American solar manufacturers, the rate at which they have helped drive down the costs of rooftop solar is astounding. New research estimates that costs have come down 70 percent since 2009, making the renewable energy source readily available for millions more Americans. While solar currently only generates about 1 percent of U.S. electricity, that could soon change.
"The exciting point of where we are historically, is the costs have been pushed down enough that [solar] can compete," says Joshua Pearce, the report's lead author and an associate professor at Michigan Technological University. The study shows solar photovoltaic systems in many regions can make electricity that's as cheap -- and sometimes cheaper -- than what consumers pay in utilities. That's good news for the environment, but it's happening in no small part because of heavy Chinese subsidies for solar panels.
The U.S. solar industry is split on whether China's subsidized solar imports are hurting or helping its own growth. The answer depends where you are in the supply chain.
On one side stands solar panel manufacturer SolarWorld, which, with six other solar manufacturers, represents the Coalition for American Solar Manufacturing, or CASM. The group is against China's subsidies, which have rendered their manufactured products uncompetitive and forced a handful of companies into bankruptcy. In October CASM filed a complaint with the ITC and the Department of Commerce calling for new tariffs on China's solar exports.
One the other side is a group of 132 companies called the Coalition for Affordable Solar Energy, which opposes the lawsuit on the grounds that such subsidies have made it cheaper for Americans to go solar, increasing business for American installers and distributors. That coalition includes the American operations of China-based solar panel manufacturers such as Suntech Power, Trina Solar and Yingli Green Energy, and argues that a tariff would decrease, not increase, international competition.
Roughly a dozen domestic manufacturers have laid off workers in the last two years, according to SolarWorld spokesman Ben Santarris. Virtually all companies, even manufacturers in China, are reporting losses.
But Kevin Lapidus, senior vice president of legal and governmental affairs at SunEdison, says that solar manufacturing jobs make up just 14 percent of industry jobs domestically, with 2 to 3 percent coming from the large-scale companies that could benefit from the complaint. The installation business, he notes, makes up 52 percent of the jobs market in U.S. solar industry.
"What you have is a situation where you have one company who represents 2-3 percent of the job base is undermining the job growth for the other 97-98 percent of the market. That's the problem with the lawsuit," Lapidus said. The U.S. solar industry has 100,000 employees and has grown at 6.8 percent for the past year, he added. "This lawsuit threatens that growth."
Santarris counters that it's not about growth or who's helped, it's about what's legal.
"There's nothing inherently problematic with subsidies," Santarris said. "When subsidies become illegal, is when they are put in the service of exports that are then sold at artificially below-market prices for the purpose of hurting domestic manufacturers in foreign markets."
Manufacturers won a first round on Dec. 2 when ITC found a "reasonable indication that a U.S. industry is materially injured" by solar panels imports from China, and took first steps toward imposing tariffs to help level the playing field.
For the lawsuit to succeed, the Commerce Department must rule that Chinese manufacturers have been illegally "dumping" products into the U.S. at below-market prices. Such a ruling would impose offsetting tariffs estimated at anywhere from 50 to 250 percent to ensure the panels are brought to the U.S. at what the Department has deemed to be fair market value. It will also assess, in a ruling expected this spring, whether China's solar panels have been unfairly subsidized, which could result in an additional tariff of 100 percent.
China's Ministry of Commerce has hit back against the Dec. 2 ruling, arguing it was "made without sufficient evidence showing U.S. solar panel industry has been harmed" and warning the U.S. of "abusing trade remedies," which would affect bilateral trade.
The ministry has also announced an investigation into whether American subsidies of solar, wind and hydroelectric sectors have compromised China's own development of renewable energies. The May 25 deadline for their investigation would allow retaliatory action for any punitive tariffs imposed by the Commerce Department's anti-subsidy investigation, which will be decided by mid-May.
Of course, American consumers have a tremendous stake in the outcome, too, to say nothing of global citizens.
"The single largest barrier to growing solar demand has been the cost. Everything we've done has been around bringing down the cost," Adam Browning, executive director of solar advocacy group Vote Solar. The low prices enabled by China's solar subsidies have expanded the photovoltaics market, he said, making larger-scale solar projects possible. Yet he stopped short of condemning the lawsuit. "It's complicated," he allowed.
Even green groups are reluctant to take sides.
Asked for his position on the argument, Mike Johnson, a senior analyst at Greenpeace presented both sides of the argument, before describing the difficulties the Commerce Department faces in making its decision on whether China is "dumping."
"What is the market rate?" he asked. "If someone can produce a panel cheaper in China than, say, in Germany, the U.S. or Spain, then what the Chinese would say is, 'Why is that our problem, that we can produce a product of similar or better quality at lower price?'"
The Commerce Department's preliminary ruling is expected as early as Jan. 12.
Jordan Howard contributed reporting to this article.
Related
Popular in the Community