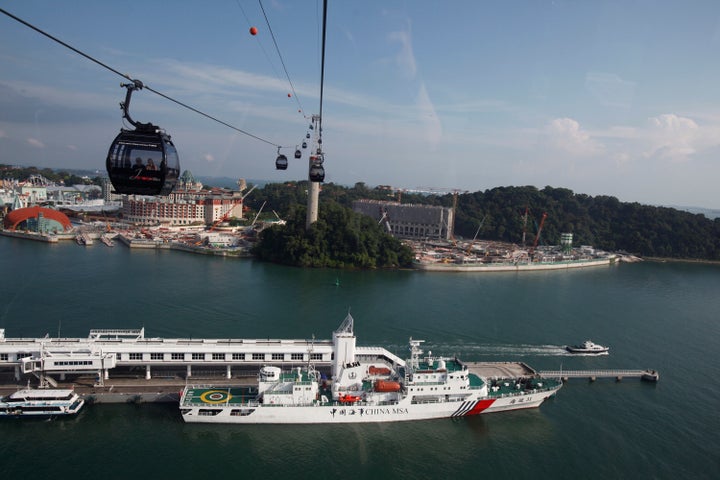 BEIJING (Reuters) – China urged the United States on Wednesday to leave the South China Sea dispute to the claimant states, saying that U.S. involvement may make the situation worse, its most direct warning to Washington in recent weeks.
Chinese Vice Foreign Minister Cui Tiankai's comments to a small group of foreign reporters ahead of a meeting with U.S. officials in Hawaii this weekend come amid the biggest flare-up in regional tension in years over competing maritime sovereignty claims in the South China Sea.
Tension has risen in the region in the past month on concern that China is becoming more assertive in its claim to waters believed to be rich in oil and gas.
Part of the waters are also claimed by Brunei, Malaysia, the Philippines, Taiwan and Vietnam.
"The United States is not a claimant state to the dispute in the South China Sea and so it's better for the United States to leave the dispute to be sorted out between claimant states," Cui said.
"While some American friends may want the United States to help in this matter, we appreciate their gesture but more often than not such gestures will only make things more complicated," he said.
"If the United States wants to play a role, it may counsel restraint to those countries that have been taking provocative action and ask them to be more responsible in their behavior," he said.
"I believe the individual countries are actually playing with fire and I hope the fire will not be drawn to the United States."While China has called for disputes to be resolved bilaterally, others, including the Philippines, have urged a multilateral approach.
Foreign Affairs spokesman Eduardo Malaya told reporters in Manila the disputes "affect not just the claimant countries but the entire region itself and beyond, and thus call for a multi-stakeholder approach." He did not mention the United States.
Cui, who will co-host this weekend's consultations with U.S. Assistant Secretary of State Kurt Campbell, emphasized that China was not responsible for the dispute and said it was greatly concerned by frequent provocations by other countries.
"We are troubled by some recent events in the South China Sea but we were not the party who provoked these incidents," he said.
"If you examine the facts closely, you will recognize who are the countries that have occupied islands under other countries' sovereignty by illegal means. It was certainly not China. Who are the countries that have done the most to explore oil and gas resources in the region? It was certainly not China.
"Who are the countries that displayed force or used force against the fishermen of other countries? Again, it was certainly not China."
China's claim is by far the largest, forming a large U-shape over most of the sea's 648,000 square miles (1.7 million square km), including the Spratly and Paracel archipelagos.
The latest spell of tension began last month when Vietnam said Chinese boats had harassed a Vietnamese oil exploration ship. China said Vietnamese oil and gas exploration undermined its rights in the South China Sea.
Cui said China has no intention of getting into military conflict with other countries, including Vietnam.
"We are now doing our best to maintain stability, to bring this problem back to dialogue and consultation between the relevant countries," he said. "If Vietnam has the same attitude and adopts a restrained and responsible stance, such military conflicts will not happen."
"If the U.S. takes the same attitude, such military conflicts are even more unlikely."
Navy ships from Vietnam and China held a two-day joint patrol in the Gulf of Tonkin, Vietnamese state media reported on Tuesday, in a sign that tension over the disputed maritime border may be easing.
On Tuesday, two Vietnamese vessels docked in the city of Zhanjiang in China's southern Guangdong province -- the second port call by Vietnamese ships to China since 2009, Vietnam's People's Army newspaper reported on Wednesday.
The Philippines, meanwhile, is set to start repairs on facilities, including an airstrip, on islands it occupies in the South China Sea after construction material was unloaded at Pagasa (Hope) Island over the weekend. The Philippines says the repairs are not a violation of a 2002 code of conduct agreed between China and the Association of South East Asian Nations.
(Additional reporting by Manny Mogato in Manila and John Ruwitch in Hanoi, Writing by Sui-Lee Wee,; Editing by Robert Birsel)
Popular in the Community