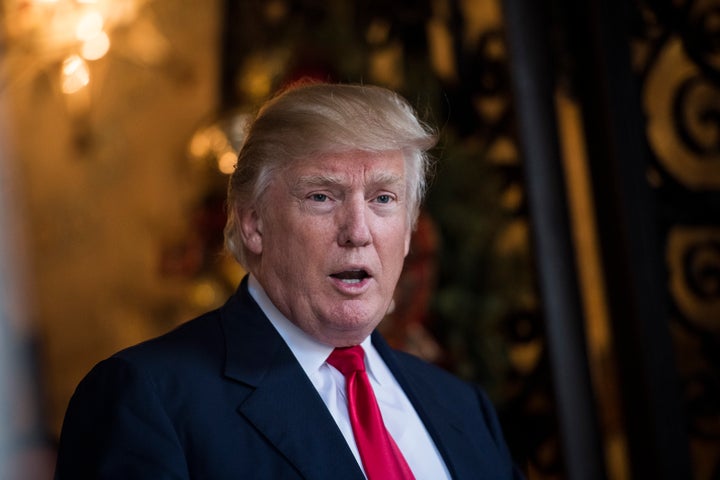 China's state-run tabloid the Global Times on Thursday warned President-Elect Donald Trump that his angry tweets targeting the country over trade had given Beijing officials plenty of time to prepare.
"There are flowers around the gate of China's Ministry of Commerce, but there are also big sticks hidden inside the door ― they both await Americans," the paper said.
The threat was made in response to Trump's selection of Robert Lighthizer, a vocal critic of Chinese trade practices, as U.S. trade representative. The editorial was published on the same day that China's foreign minister, Wang Yi, told U.S. Secretary of State John Kerry that the two countries should develop ties in the proper direction, amid unease in Beijing over Trump's comments on Taiwan and trade.
Trump, due to take office on Jan. 20, has angered China by speaking by telephone to Taiwan's president, Tsai Ing-wen, casting doubt on the incoming administration's commitment to only recognising the Beijing government, and not Taiwan, under a "one China" policy.
Trump has left open the possibility of meeting Tsai if she visits the United States after he is sworn in. He also has rattled Beijing by appointing people in his administration who are critical of China's trade practices.
Wang told Kerry ties were at an "important stage" and that cooperative achievements were "not easy to come by".
"Both sides should take great care to jointly safeguard and ensure the proper direction of development in bilateral relations," Wang said in a telephone call with Kerry, according to a statement on his ministry's website.
The ministry cited Kerry as saying maintaining the "one China" policy was the position of both of the main U.S. parties, the Democrats and Trump's Republicans.
China is deeply suspicious of Tsai, and thinks she wants to push for the formal independence of Taiwan, a self-governing island that Beijing regards as a renegade province ineligible for state-to-state relations.
The United States, which switched diplomatic recognition from Taiwan to China in 1979, has acknowledged the Chinese position that there is only "one China" and that Taiwan is part of it.
China has claimed sovereignty over Taiwan since 1949, when Mao Zedong's Communist forces won the Chinese civil war and Chiang Kai-shek's Nationalists fled to the island.
Tsai will transit through Houston and San Francisco during a visit this month to allies in Latin America, a stopover China has called on the United States to block.
Chinese policymakers are also wary of Trump's protectionist stance on trade, and he has promised a hard line on China, threatening to raise tariffs on its exports to the United States.
The Xinhua state news agency, which usually reflects government thinking, this week chided Trump for his proclivity for criticising China on Twitter, saying the social media platform "should not become a foreign policy tool".
The Global Times routinely prints provocative, hawkish editorials that other state-run Chinese media are typically too restrained to publish. The tabloid has increasingly taken aim at Trump in the last year, going as far as to call him "as ignorant as a child in terms of foreign policy" in an op-ed last month.