"Water, boxed lunches, face masks! Water, boxed lunches, face masks!"
Just a few miles from the site of China's most dramatic industrial disaster in years, volunteers are busy handing out the essentials outside a school turned shelter. It's been almost 48 hours since a fire and an earth-shaking explosion at a chemical storage facility rocked the northern Chinese port city of Tianjin, killing at least 50 and injuring over 700.
The massive blast occurred late Wednesday night at a Ruihai International Logistics facility, lighting up the night sky and sparking fears of toxic fumes descending over the area. Over the last two days, thousands of volunteers, along with cars full of emergency supplies, have poured in to help.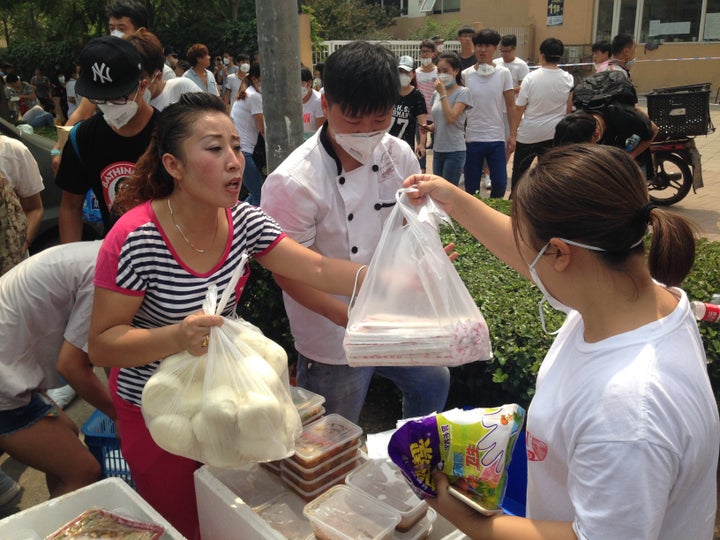 That desire was on display outside the main volunteer headquarters, where Guo Wei and a team of volunteers were registering those in need of shelter. A local elementary school served as the main shelter for families and those whose homes were damaged by the blast.
Guo, 28, who works in finance near the blast site, responded immediately following the explosions. After feeling the ground shake and seeing the news, he and a friend hopped in a car and headed to the site to give rides to the injured. Emergency responders turned the car away that night, but Guo returned the following morning and lent a hand where needed.
"There are so many people my age here because we're all part of one Chinese family," Guo told The WorldPost. "That makes me really happy. Every day we're signing up so many volunteers."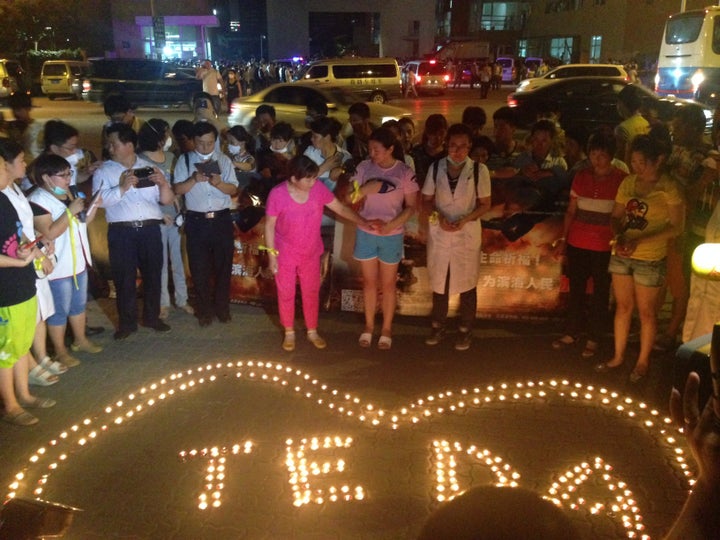 By midday Friday, so many volunteers had poured in that there was a shortage of tasks for them to do. Outside the shelter gates, hundreds of volunteers milled about in search of a way to help. 
When there weren't supply trucks to be unloaded, many young volunteers took up the tools they're most familiar with: cell phones and social media. With many people from the blast area still missing, volunteers formed groups on the popular app WeChat in which they posted the names of missing individuals and information about them. Members of the chat then frantically forwarded the information to their social networks, hoping to turn up a match that would reunite a family.
"There aren't many of these, so everyone take pictures and then forward it," said volunteer Jin Ling as she passed out paper versions of missing-person fliers.  
WeChat groups are also being used to coordinate supplies across a network of hospitals and shelters where the homeless, injured and their families are staying. One of these groups was formed Friday afternoon and quickly filled with urgent appeals from a variety of locations:
"I'm on the front lines of the blast site here, we need more face masks here."
"A doctor who will perform surgery on an injured firefighter tomorrow needs a place to stay today."
"Teda hospital needs fifty pairs of men's underwear urgently!"
As evening fell on Tianjin, new concerns arose about rain forecasted for that night. The chemical storage facility had been home to calcium carbide and other toxic chemicals that can combust when they come in contact with water.
With worries and rumors circulating, the volunteers' WeChat group started to include requests for a new item: umbrellas.
See more photos of volunteers working to help blast victims: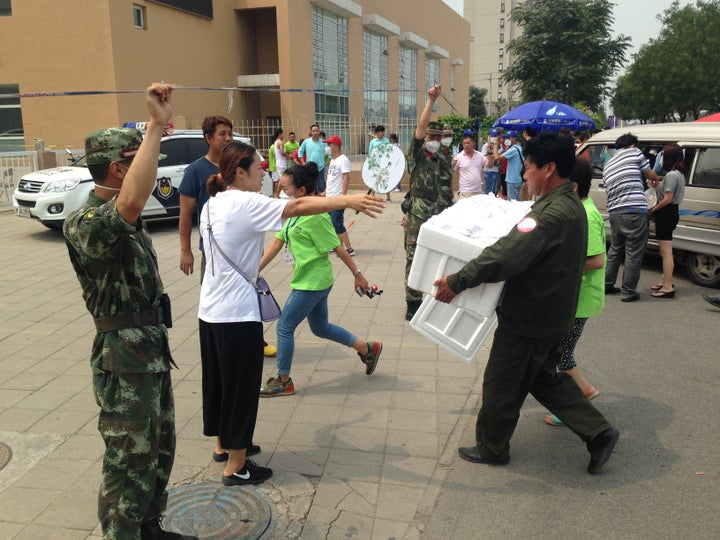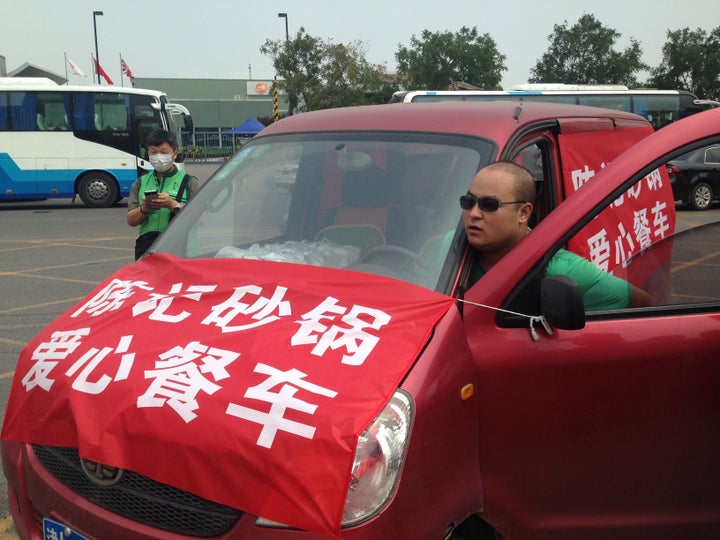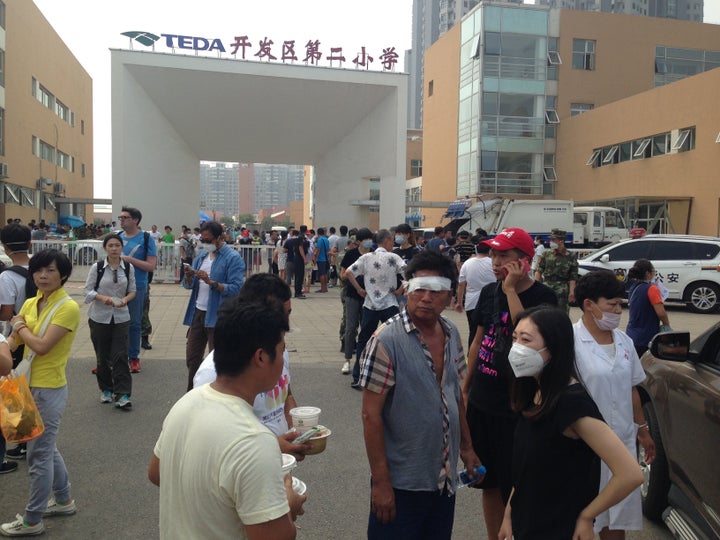 PHOTO GALLERY
Tianjin Blasts
Calling all HuffPost superfans!
Sign up for membership to become a founding member and help shape HuffPost's next chapter