The essential social media review to know and understand the world top market. #FrenchinChina is a weekly column from FRED & FARID agency reviewing Chinese social networks to identify big social trends. It is the essential tool to understand and love today's China.
Thanks to Zhuomin Qin, Feng Huang, Jalila Levesque, Jules Chaffiotte, Radouane Guissi, Ying Zhang, Aliou Maro, Louis Caudevilla, Dushan Karageorgevitch, Mathieu Jolivet, Jing Qian, Antoine Robin, Émilie Ohana, Zhejun Li, Vincent Arassus and Green United Music Asia for their participation to this chronic.
China to develop a super-high-speed 'flying train', three times faster than Elon Musk's Hyperloop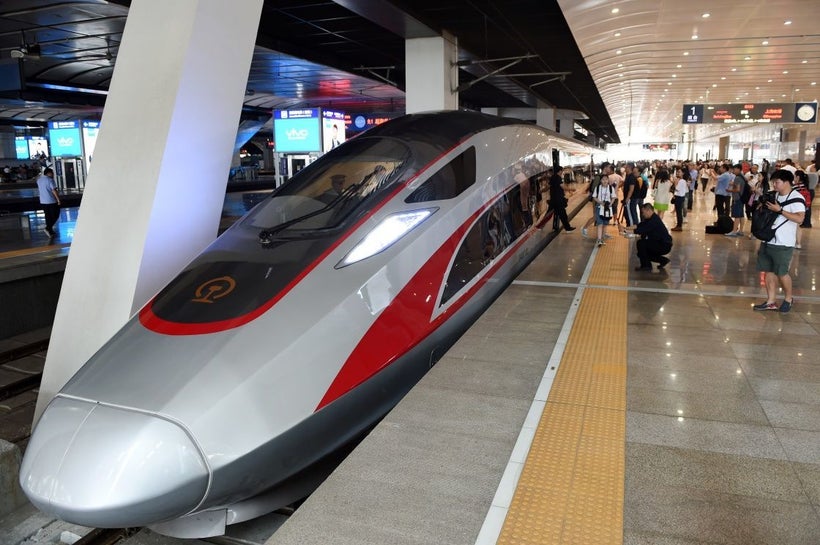 Chinese scientists have unveiled plans for an intercity train that will travel at 1000km/h, rivalling the hyperloop system proposed by the tech billionaire Elon Musk. The development was announced on Wednesday, August 30 by the China Aerospace Science and Industry Corporation (CASIC). CASIC claims its train would be capable of traveling at 4,000 kilometers (2,500 miles) per hour, 10 times faster than China's fastest existing bullet train.
Liu Shiquan, a deputy general manager at CASC, said their scientists would be looking to develop the super-fast trains of the future that could "fly on the ground". With connections to China's defense ministry, CASC has already been involved in developing satellites, rockets and missiles; now plans are afoot to turn its futuristic tech closer to home.
The first stage of the project operating between regional cities will run at 1,000 km/h, and would later be increased to 2,000km/h between key cities, with the final stage of 4,000km/h to connect countries involved in China's international "Belt and Road" trade initiative. Beijing-Shanghai could be traveled in 20 minutes.
People have felt astonished when they saw the news, with a lot of Chinese Pride on social media for a total of 30 millions views, and 50,000 discussions on social networks.
Tencent and WABC raise $2.27 million from paintings by mentally disabled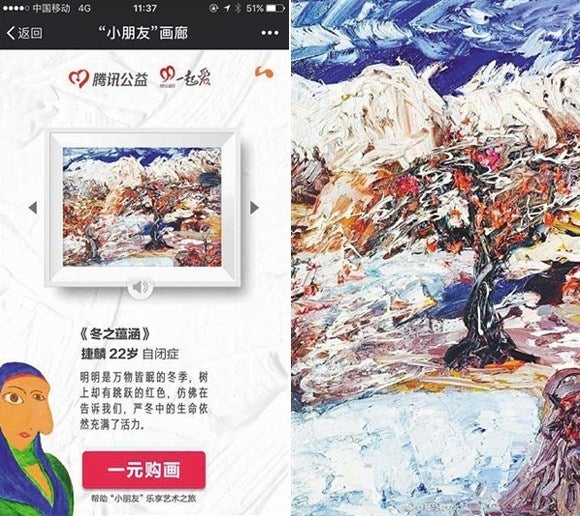 There are two HotBrands this week with Tencent and World of Art Brut Culture (WABC). On Tuesday 29th, a charity campaign named "Little Kids' Gallery" suddenly became viral in Chinese social media. This project was initiated by Tencent Charity platform in order to help people suffering from brain diseases.
Thirty six drawings painted by 25 painters diagnosed with autism, cerebral palsy and Down syndrome were presented and sold for 1 RMB per drawing. People could "purchase" their paintings for one yuan or any donation. After the purchase, the donor will get a voice message from the painter and will also be able to download the artwork from their mobile phones on WeChat. According to Tencent, the project was launched by the nonprofit charity organization, World of Art Brut Culture (WABC), on Tencent's charity platform, and the donations are received by the public offering foundation, Shenzhen Ai You Future Foundation. Seven hours later, the project had raised 10 million yuan.
When the campaign reached its goal of 15 million yuan raised in just the first 24 hours, Tencent closed the donation function. More than 5.8 million donors took part in the campaign, with many sharing images of the artwork they bought with their friends online, in turn prompting others to join in. The images can also be set as backgrounds on smartphones.
Back to school, on the road to Hogwarts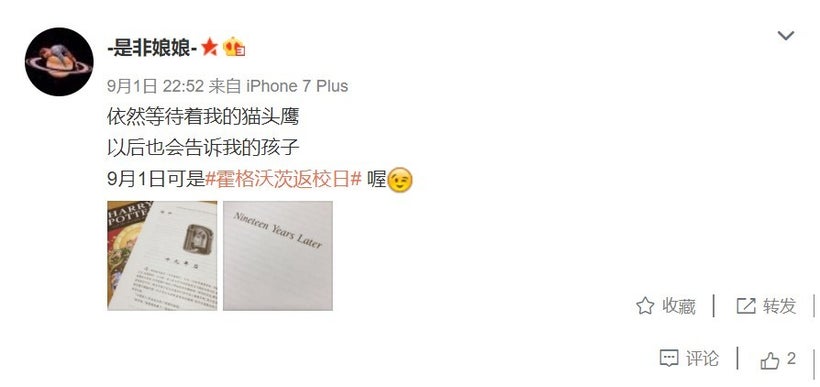 September 1st, 2017 marks a very magical date: as Muggles gear up for the fall, Harry Potter's 11-year-old son Albus Severus Potter is heading off on the Hogwarts Express to start his first day at Hogwarts School of Witchcraft and Wizardry after "19 years of the final war with the Deathly Hallows".
Fans all around the world celebrated with an amazing showing last Friday at King's Cross railway station in London. Depicted in the books and the successful films, King's Cross is where Harry memorably entered Platform 9 and 3/4 by running through what looked like a brick wall. On social media, fans shared photos and Harry Potter memories using hashtags like #BacktoHogwarts and #19YearsLater, with more than 100,000 views on WeChat.
Calling all HuffPost superfans!
Sign up for membership to become a founding member and help shape HuffPost's next chapter
This post was published on the now-closed HuffPost Contributor platform. Contributors control their own work and posted freely to our site. If you need to flag this entry as abusive,
send us an email
.