By Hong Soon-do, Beijing correspondent, AsiaToday – China's economic system is expected to operate four special economic zones (SEZ), eleven free trade zones (FTZ), and three new economic districts in the future. It means that the socialist market economy will become more sophisticated. We could say that China is examining to eventually pass through the last tunnel for a full market economy by shedding socialism.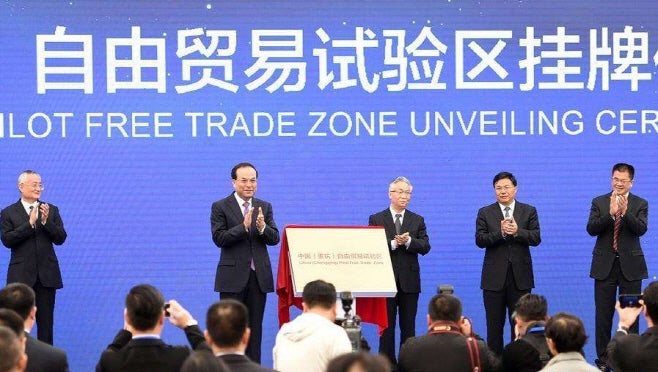 This assumption is not an exaggeration considering the fact that seven new pilot free trade zones (FTZs) have officially started operation on Saturday. The seven new zones are in the provinces of Liaoning, Zhejiang, Henan, Hubei, Sichuan and Shaanxi as well as Chongqing Municipality, according to the Chongqing Daily on Sunday. As a result, the new FTZs will bring the total number of zones to 11, with the existing four FTZs in Shanghai, Tianjin, Fujian and Guangdong provinces.
That's not all. Considering the fact that China will establish the Xiongan New District in Hebei Province, we should say that China is making a huge effort to enter a full market economy. In this case, the new economic districts will be expanded up to three, with two existing new districts in Pudong of Shanghai and Shenzhen of Guangdong Province.
China's efforts to upgrade the market economy are more than this. Since 1980, China has established four special economic zones (SEZs) including Shenzen Special Economic Zone for the promotion of reform and opening policy. In short, socialism is likely to remain as the best value that just has a political significance. We could also say that the word 'socialist market economy' will disappear ultimately.
As a result, the four special economic zones, eleven free trade zones, and three new economic districts will greatly contribute to the balanced development of the economy. In addition, they will create the necessary power to promote the "One Belt, One Road" initiative as a part of the country's strategy to become G1 of the 21st century. Zhou Ying, CEO of Blue Technology, said, "The Chinese economic system is now fully equipped to become a global economic powerhouse in the 21st century. There are still things to work out in detail, but I'm optimistic about the situation." China seems to have all the reasons to express its confidence to become number one in almost every field although the economy is struggling now.
Related
Popular in the Community