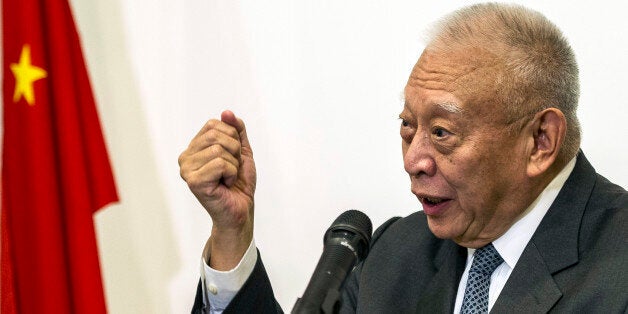 HONG KONG -- Over the past few decades, I have had the privilege of observing China's enormous success at close range -- the many twists and turns and the many hard lessons that were learnt. And all I can say is that the success of modern day China is not accidental. It is based on adherence to its many fundamental beliefs. One of these beliefs is the need for interdependence and collaboration with the outside world.
China's desire to put this principle into practice could not be better demonstrated than by the diplomacy championed by President Xi Jinping in the past two and a half months. Xi's message to the international audiences was loud and clear -- that China desires to pursue peace and shared prosperity under the principles of mutual respect, non-interference, while leveraging each other's strengths to create win-win situations. President Xi stressed China's recognition that we live in an interdependent world, a world that faces many challenges as well as changes; and it is only through collaboration that we can overcome the many difficulties the world faces, such as economic growth, fighting terrorism or overcoming climate change.
China's vision is to join the ranks of the developed countries of the world.
I would now like to elaborate on some of China's contributions internationally in recent years.
First, China played a significant role in helping the world to recover from the global financial crisis of 2008, contributing some 50 percent of the total global economic growth from 2009 to 2011. More recently, even though the economy has entered into a "new normal," growing at about 7 percent, the Chinese contribution to world growth still stands at about 30 percent.
Second, China has been playing a significant role in helping to resolve or mitigate crises in global hotspots, such as North Korea, Afghanistan and Iran. It also leads all other U.N. Security Council permanent member nations in providing U.N. peacekeeping forces around the world.
Third, China is looking for ways to bolster economic growth globally, but particularly in the developing world. Its "One Belt, One Road" strategy will not only help China, but also many countries in Southeast Asia, South Asia and Central Asia. Countries in the Middle East and Europe may also benefit. The support for the Asian Infrastructure Investment Bank suggests enormous interest of many countries to turn this initiative into reality. In Africa, at the recent China-Africa summit in Johannesburg, the two partners sought ways to leverage China's "new normal" economy, and Africa's effort to move away from overreliance on natural resources, to another win-win situation.
Fourth, we should all rejoice that the Paris climate change discussions have come to a successful conclusion. Since Copenhagen's unsuccessful conference, China's national policy has been to work toward a successful conclusion in Paris. Some two years ago, China and the United States, as the two largest emitters of greenhouse gases, agreed they would together take a strong lead to ensure the Paris conference will come to a successful conclusion. This has now come to fruition.
China's Vision Going Forward
To understand what China is going through, we need to know its vision of the future, and visualize its roadmap and blueprint that have been laid out.
By 2049 when the People's Republic marks its centennial, China's vision is to join the ranks of the developed countries of the world. What we would expect to see is that the already giant economy will once again transform itself in the decades towards that next centenary. This will not just be an economic target alone. China's leadership well recognizes that a pure economic target is not enough. A well-developed economy, a fair distribution of wealth, a decent living standard, a healthy environment, a civil and upright society and a just society governed by the rule of law -- this is China's vision for the next few decades.
So while China's vision is clear, how will it get there?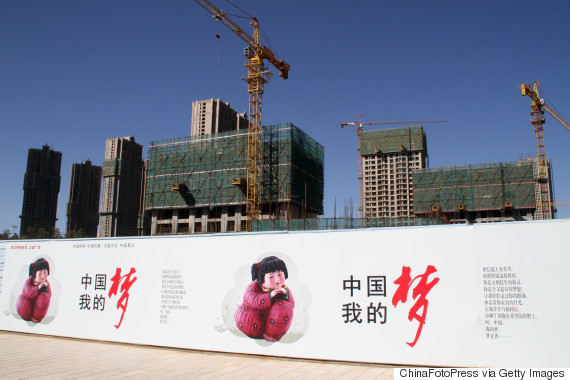 Photo shows a poster reading 'My Chinese Dream' in front of a construction site in Chenggong, Yunnan Province of China. ChinaFotoPress via Getty Images.
Roadmap And Blueprint For The Run-Up To 2020
These days, one often reads or hears about corrupt officials or executives of SOEs getting prosecuted. Indeed, the anti-corruption campaign is an important part of China's four-pronged nation building strategy and a critical part of its vision. The strategy is to build not only a well-off society, but also further reform the social and political institutions to ensure a fair, equitable society governed by law rather than individuals, and led by a party that's clean, conscientious and cares for its people.
With regard to the 13th Five-Year Plan, the timetable is for the National People's Congress to pass the plan in March of next year. In this plan, China expects its GDP to double by 2020, as compared to that of 2010. Chinese leaders understand that the 10 percent annual growth rate since reform and opening began in 1978 is unsustainable. Through this new Five-Year Plan, China will take a path of a "new normal," moving away from an overreliance on exports, investments, and cheap labor, to one that relies on consumption, on the services sector, and on science, technology and knowledge.
This "new normal" holds the key for future success. It is supported by five anchors. The first is innovation, which can move the economy forward; second is coordinated development of the provinces and regions to avoid national duplication; third is sustainable development; fourth is continued reform and opening-up; and fifth is the sharing of prosperity for all. For a country of this size, the "new normal" is a brave new world, but it is the only way to move forward.
The country is still faced with enormous challenges, particularly in the areas of industrial overcapacity, an aging society, the need for healthcare improvements and the eradication of poverty. All these challenges will be tackled. Indeed, the upcoming Five-Year Plan vows that the remaining 70 million people who still live in poverty in China shall be lifted out by 2020.
Realizing China's vision for 2049 is a realization of the Chinese dream.
Realizing China's vision, roadmap and blueprint is not easy. The road is fraught with challenges, predictable and unpredictable, domestic and international. However, there is reason to be optimistic:
China will benefit from the enormous size of its economy, a huge population, a large and maturing middle class market, together with progress in science and technology.
Chinese leaders clearly understand that only with persistent reform, the implementation of the rule of law, the building of a just society, the sharing of prosperity and leadership by a clean, conscientious party, will China be able to achieve its economic and social development goals.
Internationally, China will do its best to embrace peace and shared prosperity, growing together with its neighbors and beyond to achieve better standards of living. As the Chinese saying goes, "Peace with neighbors brings prosperity at home." For its own self-interest, China will develop and maintain a good neighbor policy while keeping amicable relations with other big powers based on the new concept of major power relationships. China will also continue its effort to deepen and to broaden its opening up to the outside world.
Realizing China's vision for 2049 is a realization of the Chinese dream. The year 2049 is still many years away, and the road forward will be full of challenges. But, given what China has achieved in the last 66 years since the establishment of the People's Republic of China, I am full of hope that there is a good chance to deliver that vision.
PHOTO GALLERY
New Year Migration
REAL LIFE. REAL NEWS. REAL VOICES.
Help us tell more of the stories that matter from voices that too often remain unheard.