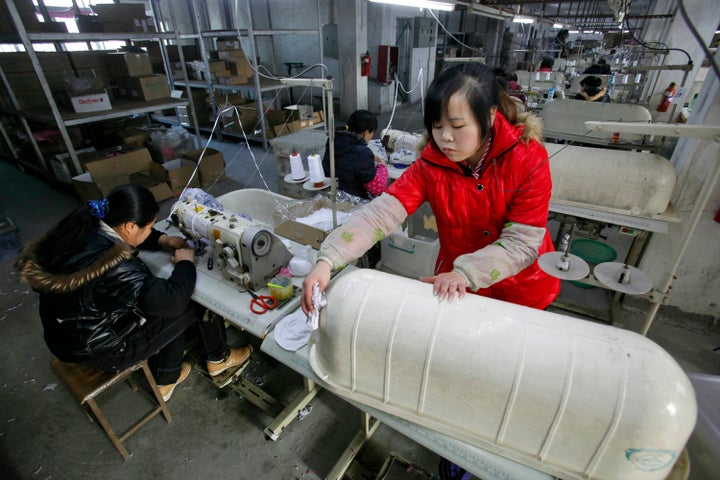 The explosion in Chinese exports in recent years has resulted in a flood of inexpensive goods for American consumers. It may have also come at a large cost to American jobs and wages.
With Chinese exports to the U.S. far outpacing American exports to China, U.S. manufacturing has suffered particularly, with 1.9 million jobs in that sector evaporating since 2001 as a result of the trade gap.
More than a third of the workers who lost manufacturing jobs ended up dropping out of the labor force, the EPI notes, while those who managed to find new jobs saw their average wages reduced by more than 10 percent.
This information comes from a recently published study conducted by three economists, who compared trade data for local U.S. markets on a county-by-county basis and found some alarming results.
Not only does trade with China push down wages and drive up unemployment, the study authors found, but it also takes a bite out of U.S. government revenue in the form of unemployment insurance and social-services assistance to laid-off workers.
These losses offset what has historically been seen as the major economic advantage from the U.S.-China trade relationship -- cheap goods for American consumers. Even that is not as sure a prospect as it once was, since rising wages for Chinese workers may eventually drive the price of exports up,
China's low-valued currency is also believed to have played a role in creating the housing bubble that eventually triggered the financial crisis and Great Recession, and today it's seen as a factor keeping the global economy from recovering more quickly.
Even though China's trade boom has had ancillary benefits for some other countries -- notably Germany, which sells China the equipment it needs for manufacturing -- its harmful effects on the U.S. labor market have been greater than previously realized, according to the authors of the study on trade exposure.
Calling all HuffPost superfans!
Sign up for membership to become a founding member and help shape HuffPost's next chapter