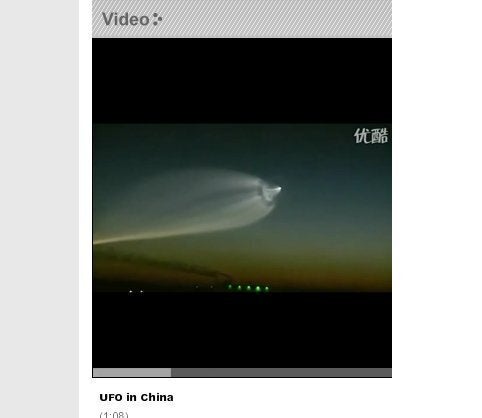 A second China UFO sighting has residents on edge, just seven days after an unidentified flying object shut down a Chinese airport.
The new UFO sighting took place in Chongqing in eastern China on July 15. Witnesses told Shanghai Daily they saw the same thing: "four lantern-like objects forming a diamond shape that hovered over the city's Shaping Park for over an hour."
Like the one before it, there has been no official explanation to date for this latest incident.
Last week, flights were diverted in Hangzhou -- also in eastern China -- after a mysterious object was seen hovering in the sky, People's Daily reports.
State-run Xinhua News Agency quoted a head of air traffic control as saying, "No conclusion has yet been drawn" about the UFO by the airport.
China Daily reported that a source with knowledge of the matter said there was a military link but made no further comment.
WATCH video of last week's China UFO sighting below:
UPDATE: HuffPost reader Terry Brown emailed in that the video above was actually from a June 30 "UFO" sighting in Central Asia, despite other reports claiming it was from July 7. There is no known video of the subsequent sightings on July 7 and July 15, says Brown, but this picture has circulated for the July 7 incident. In any case, that makes multiple China UFO sightings in the last several weeks, and they are alarming its residents.
Related
Popular in the Community