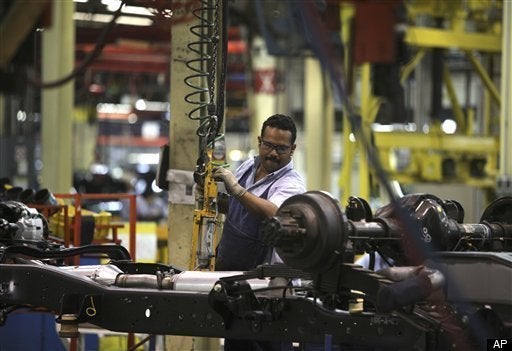 After over a century of dominance, U.S. manufacturing has dropped into second place behind China, according to estimates released Monday by IHS Global Insight.
After being ravaged by the recession, American manufacturing rebounded in 2009, and grew 12.6 percent in 2010, representing an estimated $1.95 trillion of the American economy, according to the report. IHS examined data from the U.S. Bureau of Economic Analysis, and the National Bureau of Statistics of China. The U.S. fell behind China in the total dollar value of manufacturing output, according to the report.
In China, the manufacturing sector grew 18 percent last year, contributing more than $2 trillion to the economy. The sheer scale of Chinese manufacturing, and the Chinese Yuan becoming more valuable as a currency helped tip the balance, according to IHS Global Insight.
"The U.S. went through a historically severe recession, while China continued to expand," said Mark Killion, economist at IHS Global Insight. "We knew that it would occur anyway, but decline in the U.S. and the rise in China brought this much closer," said Killion.
Analysts warned against considering the news a death knell for American manufacturing.
"The U.S. were world leaders for much of the 20th century, but there wasn't much competition," said Jack McDougle, senior vice president of the Council on Competitiveness, a non-partisan group of business and labor leaders. McDougle stressed that, the IHS Global Insight report found that the U.S. still leads the way when it comes to productivity, with 11.5 million American workers producing roughly the same amount of output as as 100 million Chinese workers.
McDougle said that this was, in part, because much of American manufacturing is focussed on higher value products, which mean high-tech manufacturing methods, better management and more skilled workers. "American manufacturing jobs pay, on average a total of $70,000 a year including benefits," he said citing figures from the U.S. Bureau of Economic Analysis. "The value that they create is much higher."
Manufacturers like General Electric, for example, were realizing this, and moving production of some household appliances back to the U.S., said McDougle, and many Chinese manufacturers still had to rely on U.S. technology, he added. "The sky is not falling."
And the U.S. still has a far larger economy than China, said Carl Weinberg of High Frequency Economics. "Our economy is two-and-a-half times the size of theirs," he added.China's gross domestic product for 2010 is an estimated $6 trillion, compared with an estimated U.S. GDP of $15 trillion.
The National Association of Manufacturers contend that the U.S. is still the world's biggest manufacturer. In a post on Shopfloor, a manufacturing industry blog, Fank Varago, vice president of international economic affairs at the NAM criticized the data used by IHS Global Insight:
"First, the report did not measure the physical quantity or volume of manufacturing, but rather measured current dollar output which is impractical due to price changes and exchange rate changes. Real Gross Domestic Product (GDP), and its manufacturing component, Real Manufacturing Value-Added, are the correct ways to measure economic output, because they are adjusted to remove the effect of price and exchange rate changes and measure real output."
Popular in the Community