The Washington state capitol put up the Chinese flag last week in honor of Gov. Jay Inslee's (D) trade meeting with Cui Tiankai, China's ambassador to the United States. But on Saturday morning, a small group of tea party activists went and protested the flag, outraged that it was flying alongside the U.S. and state flags.
A video posted by conservative activist Maria Bosworth showed the individuals -- some carrying the Gadsden flag that has become a symbol of the tea party movement -- watching as the Chinese flag was lowered. A man who appears to be a state trooper stands nearby and observes the proceedings.
The Oath Keepers is a right-wing group of current and former law enforcement and military officers who vow to disobey "unconstitutional" orders from the government. There is no evidence that the officer was actually an Oath Keeper.
Jaime Smith, Inslee's director of media relations, said it was simply a matter of protocol to fly the Chinese flag. State workers were lowering the flag while the protesters watched.
"The governor will often meet with dignitaries when they come to town. It's a matter of protocol to fly their home country's flag during their visit," said Smith. "Our state's Department of Enterprise Services was going to lower the flag shortly after that anyway."
Some Republican politicians were also not pleased with the flag's appearance.
"I was not amused to see this flag flying over our state capitol, particularly when our governor just made a big show out of 'shaming' Indiana for joining 19 other states with legislation to protect freedom of conscience," state Rep. Elizabeth Scott (R) told the conservative website PolitiStick. "So it's okay to threaten a flower shop owner in our state with the loss of her house, business, etc., and we can mock other states for their attempts to protect freedom of conscience, but we're totally fine flying the flag of a country that still throws people into prison camps because of their beliefs?"
CORRECTION: This piece originally stated that the tea party activists took down the flag. It was taken down by a state worker with the activists looking on.
Before You Go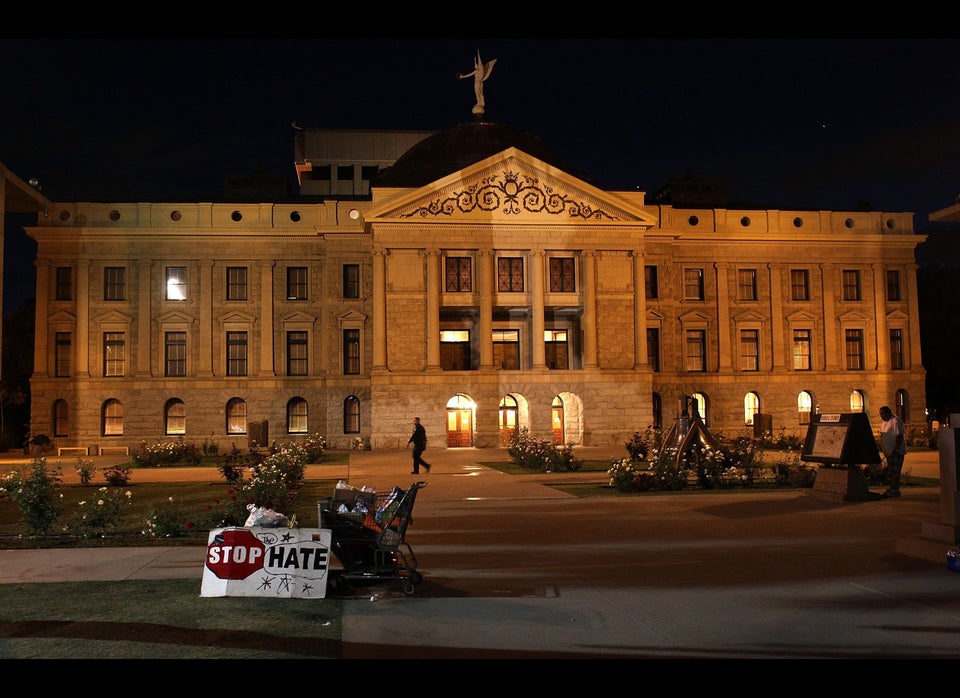 U.S. State Capitol Buildings
Popular in the Community