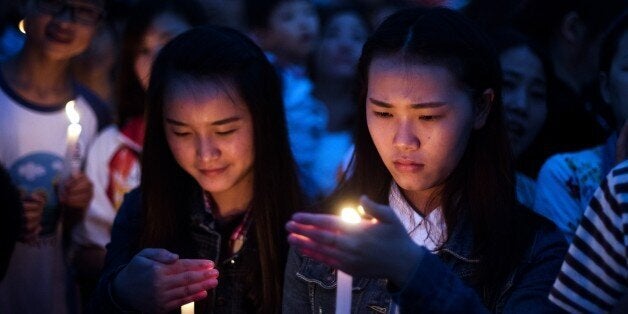 Jianli County, China -- When Wu Yuanxin's mother told him she bought tickets for the Eastern Star cruise on the Yangtze, he asked her not to go. She planned to bring along two of Wu's aunts and an uncle, but Wu felt that his 81-year-old uncle was too frail for the trip. "We asked her if she could return the tickets," Wu told The WorldPost. "The travel agency said we couldn't." So on May 28 they set off from their hometown of Nanjing for a scenic cruise up the storied Yangtze River, the longest in China. Wu's mother traveled a lot, but this trip was supposed to be a treat for his aunts and uncle. "They'd never really traveled before," said Wu. "It was their first time."
A week after their departure, Wu, a 38-year-old landscape designer, was in Jianli county, near the site of the ship that sank late Monday. Inside a tent set up for families across the road from the local crematorium, Wu spoke in calm and measured tones about the tragedy. He hopes that his relatives' bodies will be recovered and identified quickly.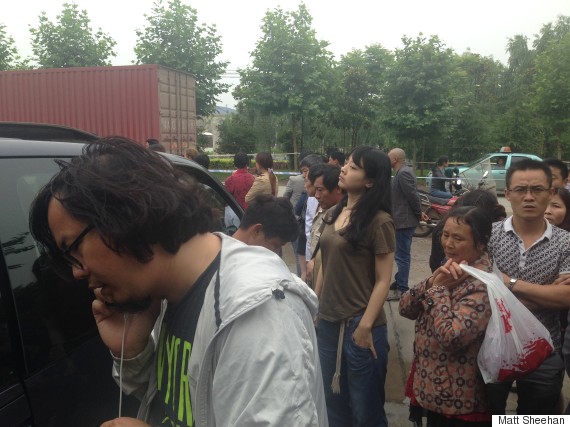 Wu Yuanxin takes a phone call outside a local crematorium as he awaits news about his mother and three relatives aboard the Eastern Star when it sank.
On Thursday night, teams were preparing to use cranes to right the ship. That action had been delayed for fear it could hurt any remaining survivors. The decision to move ahead appeared to be an implicit acknowledgement that the mission was shifting from rescue to recovery.
Fourteen survivors were rescued in the first 24 hours after the accident, but no more have been found since Tuesday. As of Thursday night, 77 bodies have been recovered. There were 456 people aboard the boat when it capsized. The accident is on track to become China's worst maritime disaster in seven decades.
Thursday evening, locals and family members who arrived in the area took part in a candlelight vigil to mourn the dead.
Questions arose that day over the actions the ship's captain took prior to the accident. A tornado reportedly struck the Eastern Star right before it sank, and experts have questioned why the captain sailed into the oncoming storm. Other boats in the area reportedly stopped and anchored as the storm grew more intense. At a press conference Thursday afternoon, local officials confirmed that the captain and the ship's chief engineer have remained in custody since Tuesday. They said this was a normal procedure following a major accident, and a decision on whether to charge the captain would be made after further investigation into the cause of the capsizing.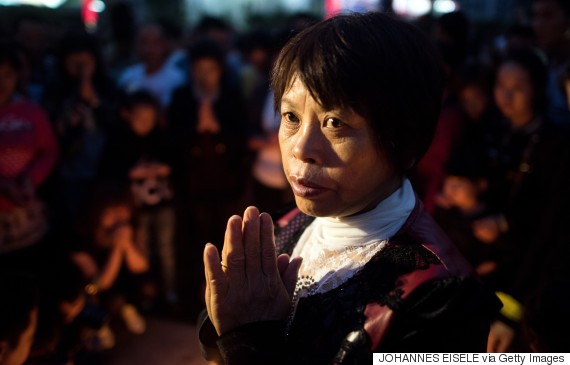 A woman participates in a candlelit vigil for the deceased in Jianli county Thursday evening.
Families continued to pour into Jianli county Wednesday and Thursday. The local government has already arranged for the accommodations of 1,200 family members in Jianli, according to a government spokesman. The spokesman said that around 100 psychologists and mental health professionals have been brought to the city as part of counseling efforts for survivors and families of the deceased.
But some family members remained upset over not being allowed access to the site of the accident. On Wednesday night, several dozen family members broke through a police cordon to get to the site of the accident. Reuters reports that the families were frustrated by a lack of information, and rented their own bus for the eight-hour journey from Nanjing to Jianli.
Officials at Thursday's press conference acknowledged the frustration, apologizing and saying that the demands of the rescue operation prevent them from granting full access to the site.
On top of local government efforts, the citizens of Jianli have come out to provide assistance to grieving families. Cars with yellow ribbons tied to their side mirrors criss-crossed the city on Wednesday and Thursday, offering free rides to family members, journalists and anyone else involved in the rescue. Government accounts say 200 taxi drivers and 1,500 citizens have volunteered their time and vehicles.
Wu Yuanxin arrived in Jianli Tuesday afternoon. After watching news about a vessel sinking on the Yangtze, he bought a train ticket even before he knew his family was aboard that boat. Upon arriving in town he went directly to the local government offices, where officials arranged free accommodations and food for him and other families, he said.
"They've done a great job taking care of us," Wu said. "They've really sympathized with our emotions."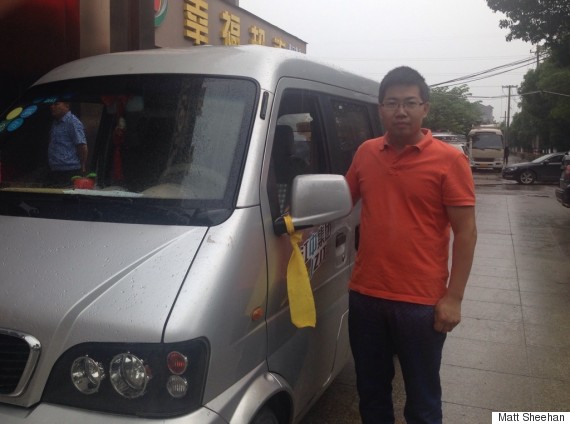 Local volunteers are hanging yellow ribbons on their cars and offering free rides to anyone in need. As of Thursday afternoon, Wu continued to wait on news about his mother and three relatives. Officials told him they would be carrying out DNA tests on bodies recovered, but he hasn't heard of any matches. He appeared prepared for the worst. "When I first heard the news I was really sad," Wu said. "Now it's been a few days and I'm feeling a lot better."
Calling all HuffPost superfans!
Sign up for membership to become a founding member and help shape HuffPost's next chapter
BEFORE YOU GO
PHOTO GALLERY
Ship Sinks In Yangtze River