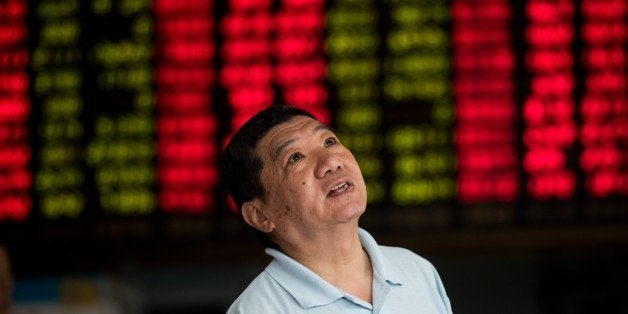 The Chinese decision to devalue the yuan (renminbi) brought a flood of memories of my years at the helm of the National Association of Manufacturers (NAM) when China's currency manipulation wrought havoc among U.S. manufacturers, driving thousands into bankruptcy and destroying an estimated 5.7 million U.S. manufacturing jobs.
The distress of manufacturing was vividly underscored twice a year when our government like clockwork declined to brand China a currency manipulator. It reminded me of that classic Chico Marx line -- "Who you gonna believe, me or your eyes?" But we depended on the Chinese to loan us vast sums of money so our government could continue to wallow in red ink without raising taxes. So we pretended not to see the currency manipulation.
Chinese authorities claim this latest devaluation is simply their effort to let their currency be guided by market forces, something the U.S. and other countries have sought for many years. But the timing and the magnitude of the change suggests China's leaders fear their economy is about to roll over. The devaluation will damage U.S. exporters and could well spark currency wars and increase protectionism in the global economy.
It's clear that the Chinese devaluation will dramatically hurt major exporters to China and we have already seen that in the stock market reaction. The sectors that will be most harmed are autos, technology, and heavy equipment. It will severely undercut the tremendous strides we have made to be more competitive.
The devaluation also will reduce commodity prices and damage emerging markets. Because commodity prices are denominated in dollars, which will increase because of the Chinese devaluation, and because this action reflects slower growth in China, the prices for oil, steel, copper, aluminum and other commodities are falling. Perhaps no nation will be more severely impacted than Brazil. China and Brazil have cultivated each other as trading partners in the last decade, but now the gloves are off. China's devaluation of its currency will be a hard blow for Brazil which is already in recession and political turmoil.
China's abrupt devaluation will greatly undercut the growth rates in South Asia and Japan. Many of the countries in the Asian region will have to consider devaluing their currencies in order to remain competitive. The tensions that have been building between China and its neighbors, especially Japan, will greatly increase.
The Chinese action has an air of panic about it. China has already tamped down its GDP growth projection to 7 percent and many analysts believe it is actually much weaker than that. China's real estate and stock market bubbles have popped. China has had a long stretch of astounding growth, but its day of reckoning has arrived. This currency move is a desperate attempt to stem the tide, but it's unlikely to work and will enormously undermine Chinese credibility on economy policy questions.
Jerry Jasinowski, an economist and author, served as President of the National Association of Manufacturers for 14 years and later The Manufacturing Institute. Jerry is available for speaking engagements.
Calling all HuffPost superfans!
Sign up for membership to become a founding member and help shape HuffPost's next chapter