By Hong Soon-do, Beijing correspondent, AsiaToday
The 19th National Congress of the Communist Party of China (CPC) opened Wednesday with Chinese President Xi Jinping's three-hour long speech at the Great Hall of the People in Beijing. From Xi's standpoint, it can be said that he has announced the opening of his second ruling power, which has become strong enough compared to that of Mao Zedong and Deng Xiaoping.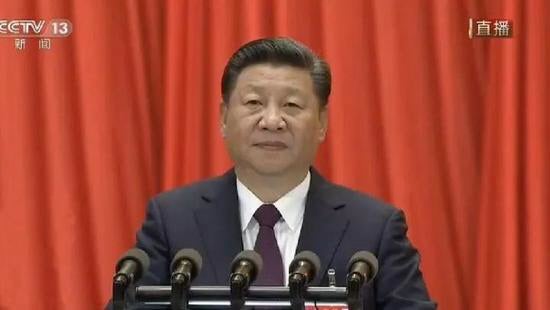 During the opening remarks, Xi Jinping delivered a 68-page report stressing that the achievements in the past five years, national ideals and guidelines have formed the thought on socialism with Chinese characteristics for a new era, state-run Xinhua news agency reported Wednesday. "The mission of the socialism with Chinese characteristics is to achieve the goal of socialist modernization and a great revival of the Chinese people," he said. "The socialism with Chinese characteristics is composed of "Five in One" system (economic, political, cultural, social and ecological development) and 4 main strategies (establishment of a 'xiaokang' society, strengthening reform, ruling by law, and strict management of the party)," he added.
He also mentioned the four 'confidences', referring to confidence in the nation's path towards socialism with Chinese characteristics, theory, system and culture. It seems to be a paradox for the superiority of the Chinese Communist Party, which celebrates its 100th anniversary in 2021.
What is noteworthy about his speech is that he emphasized that the CPC will realize socialist modernization for 15 years from 2020, and develop China into a great modern socialist country that is prosperous, strong, and beautiful in the second stage from 2035 to the middle of the 21st century. This is the blueprint already presented in his first term, which reflects his willingness to make a 'Xiaokang' (moderately prosperous) society - where all citizens can enjoy comfortable and affluent lives - and a 'Shengping' society - the highest level of life beyond the stage of Xiaokang.
Former leaders Jiang Zemin and Hu Jintao attended the opening session of the 19th CPC National Congress, garnering a lot of attention. Moreover, North Korea sent a congratulatory message to China on the opening of the congress, in what could indicate party-to-party exchanges are being kept despite strained ties between the two nations.
Related
Popular in the Community