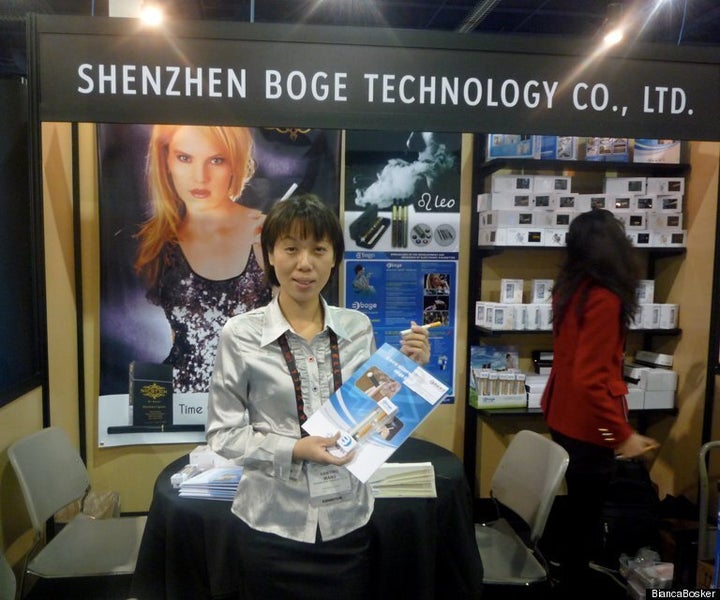 Amid global fascination with China's emergence as a world market force, it remains to be seen whether the country's feverish pursuit of a new era of economic growth -- one in which homegrown innovation complements its robust manufacturing base -- will pay off. While the Chinese government pours resources into education, sinks billions into research and sets ambitious patent goals, the nation so far has yet to develop a stable of truly global consumer-technology brands.
Cultivating the next Apple, Motorola or Samsung is, however, a national priority. China is determined to increase its annual number of patent filings from approximately 280,000 in 2009 to 2 million by 2015, a target the director of the U.S. Patent and Trademark Office has called "mind-blowing." The world's most populous country already has the manpower to build, code and conceive the next phase of its ascent: Chinese universities award hundreds of thousands of engineering degrees every year.
So far how along are they in their mission to create game-changing phones, cameras and other gizmos that consumers worldwide will ask for by name?
Last week's Consumer Electronics Show, the world's largest showcase for the newest, most advanced gadgets, offered an opportunity to check in on China's burgeoning consumer-tech industry. From the looks of it, the country still has far to go: the products exhibited by the Chinese companies in attendance were more imitative than innovative, reflecting the still-nascent character of China's idea engine.
While behemoths like Verizon and Sony had an army of booth babes and PR flacks to show off never-before-seen 4G smartphones and glasses-free 3D televisions, the Chinese brands offered up more pedestrian products. Aside from a handful of more established names, such as Lenovo and Haier, the 224 booths belonging to Chinese exhibitors belonged mostly to parts suppliers and accessory makers. There were heated mousepads and cushioned computer cases, iPad piano attachments and iPhone charging docks, bendable keyboards and diamond-encrusted headphones. A woman at the Shenzhen Boge Technology booth puffed electronic cigarettes. Some displays stood empty even among the throngs, their rows of transistors, cabling, plugs, batteries and bulbs attracting few passerby. Though many of these companies were peddling crucial components on which major manufacturers rely to produce their goods, overall China's wares still fell short of the sexy, pioneering technology others at the expo had to offer. Even as they supply commodity products and parts in high volumes, in terms of brand recognition and intellectual property, China's consumer-technology players are still small. They remain the sugar and flour to Samsung's and Sony's soufflés.
It is telling that not a single Chinese company was honored with one of technology-news website CNET's "Best of CES" awards. "Looking at the products in some of the Chinese exhibitors' booths, the level of innovation is not what you'd see from more globally recognized brands," said Jason Oxman, senior vice president of the Consumer Electronics Association, the trade organization that produces CES. "That does not mean there is anything wrong with their products, it just means that Chinese companies have some work to do, and they're doing the work."
Yet the diversity of China's wares at CES show the country is not far behind. To close the gap, Chinese firms are embracing a strategy that can be summed up as "research and development" meets "copy and paste." Ever-observant and with their fingers on the pulse of the tech world, Chinese firms are taking inspiration from abroad and using streamlined product-development cycles to quickly bring their own versions of the hottest new gadgets to market. Observers of China's growing technology industry see companies piggybacking off the latest innovation while simultaneously iterating, adding and adjusting to offer products that might be cheaper than the competition or offer subtle advantages.
It's an approach that Silicon Valley's biggest and brightest have regularly turned to, one they continue to embrace. Facebook, for all its accolades and growth, grew out of existing social networks like Friendster and Myspace. And it's no coincidence that a flurry of black, minimalistic, touchscreen smartphones came to market following the iPhone's phenomenal success. "Chinese companies, which stand in the shadow of giants, are very fast to copy," said Wei Song, president of the Great Wall Club, a trade organization focused on the mobile Internet. "We copy, but we also improve and add to make a project better." Though not the tech trendsetters of the trade show, a number of the Chinese companies at CES managed to keep pace with more established counterparts in delivering products in this year's most buzzed-about categories -- tablets, smartphones and Internet-connected TVs. However, these gadgets were generally far less polished than the competition.
It took major companies like Motorola nearly a year to unveil their answers to Apple's iPad, the disruptive portable PC that was the first to prove tablets a viable market. Yet virtually-unknown Chinese firms developed their own tablets in lockstep, debuting products like the Fuss, a tablet identical in shape to the iPad that is manufactured in Shenzhen and powered by Google's Android software. Samsung, LG and Sony dedicated prime real estate to showcasing their new generation of "smart TVs," sets that fuse cable television with online content. Similar products were on display at Hisense's booth: the Qingdao-based company had an engineer and translator on hand to demonstrate China's take on Internet-enabled television. It even had its own version of Microsoft's blockbuster new gaming peripheral, Kinect, which enables users to control their televisions using gestures.
China is taking cues when it comes to brand-building, as well. Though many Chinese booths still had hand-lettered signs and little fanfare, Oxman, who has attended CES annually since 2005, noted that the quality of the displays has been improving. "Hisense and Haier looked so much nicer this year than they did last year," he said. "They learned from their experience exhibiting at CES last year how to put on a display worthy of a global brand." Whether China can break new ground will depend in no small part on how the government's position on intellectual property evolves. The nation's lax IP protections have thus far discouraged many developers from seeking to pioneer their own products and software, as there is the sense that any good idea will quickly be copied and commoditized.
"It's a problem in the ecosystem," Song said. "We need IP protection. We need the government to protect developers."
Even if the status quo remains, though, the Chinese exhibitors were optimistic about their chances for success. While China's innovators still look abroad for direction, China's CES attendees predicted it may not be long until that relationship is reversed. "Apple won't be leader in 10 years," one said. "It will be some Chinese company instead."
Calling all HuffPost superfans!
Sign up for membership to become a founding member and help shape HuffPost's next chapter