By Hong Soon-do, Beijing correspondent, AsiaToday - China is making impressive diplomatic achievements by using its powerful economic power as strategic weapon. Besides, there is a strong possibility that China will be more active in the future. It seems that China will be a de facto candidate for G1, following hard after the US in terms of diplomacy.
This observation is well proved by a series of recent Chinese diplomatic achievements. According to the Dec. 22nd reports of the People's Daily and other state-run media outlets, one of the achievements will be African island nation Sao Tome's decision to cut diplomatic ties with Taiwan. On the eve of the day, Taiwan's presidential office said Taiwan regrets China using Sao Tome and Principe's financial woes to push its "one-China" policy. We can conclude that Sao Tome, who had asked Taiwan for financial aid in March, turned its back on Taiwan who refused to use money as a tool of competition in diplomacy.
We should also take a look at the recent relationship with neighboring Mongolia. According to Chinese media, Mongolia had been in conflict with China for a nearly a month after it allowed the Dalai Lama's entry to the country on Nov. 18. China had condemned the Dalai Lama's visit to Mongolia and canceled several bilateral meetings between executives of the two countries in retaliation. Besides, it also made it tougher for Mongolian cargo trucks to enter Chinese territory. Nevertheless, Mongolia took a firm stand did not offer an apology until Dec. 21 when it revealed that it will no longer allow the Dalai Lama to visit the country. We could say that Mongolia raised the white flag to surrender before its immediate economic gain.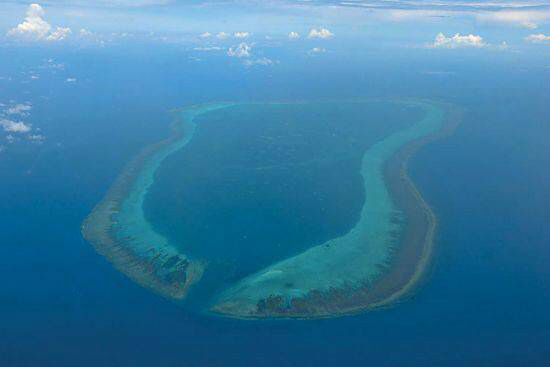 [An island in the South China Sea where the Philippines proposed joint development with China. This is a clear symbol that shows that the Philippines fell a victim to China's diplomacy armed with silver bullets./ Source: China Daily]
China's relations with the Philippines has become so close that it raises concerns among the neighboring countries that the Philippines could become one of China's allies. It seems that China's promise of an enormous investment of $13.5 billion during President Rodrigo Duterte's visit to China in the end of October finally became effective. This seems why Duterte is responding actively to China. He proposed China to jointly develop the South China Sea. This can be seen as the Philippine's actual acknowledgement of China's sovereignty over the South China Sea and its hope to get a piece of the action. China is responding positively. For instance, it expressed support for the Philippine government's campaign against the illegal drug trade in October.
In addition, we should also take note of the normalization of China-Norway relations on Dec. 19, and Vietnam's recent attempt to improve ties with China are the achievements of China's "silver bullet" diplomacy based on its economic power. So it might be not strange to see the birth of China as G1 in the near future.
Calling all HuffPost superfans!
Sign up for membership to become a founding member and help shape HuffPost's next chapter