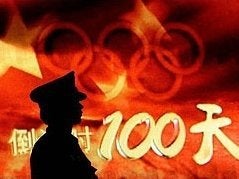 With China expecting an enormous influx of foreigners for the 2008 Olympics, they've helpfully issued an Olympics guide, which is filled with a wide range of do's and don'ts for incoming foreigners:
Do not bring any printed materials critical of China. Do not plan on holding any rallies or demonstrations in China. Do not think that you are guaranteed an entry visa even if you hold tickets to an Olympic event. And do not even think about smuggling opium into China...

...The advisory to foreigners, posted on the committee's Web site, but only in Chinese, provides answers for each question in a deadpan style (burning or soiling the Chinese flag or emblems is a criminal offense; food poisoning symptoms are to be reported to the local medical health department). Some of the rules, like a ban on religious or political banners or slogans at Olympic sites, appear aimed at preventing protests of China's crackdown in Tibet this spring and other Chinese policies...

...The advisory issued on Monday by the Beijing Organizing Committee includes a ban on bringing into China, "anything detrimental to China's politics, economy, culture or moral standards, including printed material, film negatives, photos, records, movies, tape recordings, videotapes, optical discs and other items." All rallies, demonstrations and marches, at athletic venues or anywhere else, are also banned during the Games unless approved in advance by public security agencies - a longstanding policy in China even when there are no Games or other big events being held.
China also issued a manual to thousands of volunteers who will help the Olympics run smoothly. However, the manual was apparently not thoroughly vetted, as the government has now apologized for some insensitive stereotypes when describing how to deal disabled people:
Beijing Olympic organizers have issued an apology for the language used to describe disabled athletes in a manual compiled for thousands of volunteers...

...A section dedicated to the disabled said that "paralympic athletes and disabled spectators are a special group. They have unique personalities and ways of thinking."

To handle the "Optically Disabled," the guide said: "Often the optically disabled are introverted. They have deep and implicit feelings and seldom show strong emotions. ... Remember, when you communicate with optically disabled people, try not to use the world `blind' when you meet for the first time."

On the "Physically Disabled," the guide said: "Physically disabled people are often mentally healthy. They show no differences in sensation, reaction, memorization and thinking mechanisms from other people, but they might have unusual personalities because of disfigurement and disability.