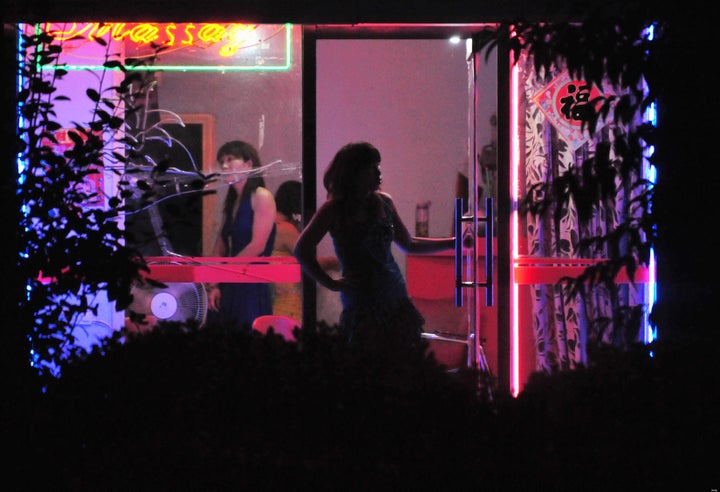 A recent crackdown on China's rampant sex industry has prompted a backlash among the country's ring of prostitutes and other sex workers, with many participating in what is being called the country's first rally for legalized prostitution.
A little more than a week after Chinese police banned "shame parades" as a method of punishment for illegal sex workers, a woman in the city of Wuhan was arrested for organizing and participating in the rally, the Associated Press reported.
Ye Haiyan, a sex worker and single mother in Hubei province, was detained Sunday by plain-clothes officers for several days for organizing the group, which carried banners, collected signatures and called for an end to the persecution of sex workers. She is being held at "a resort" for "two to three days of studies."
Having launched the Chinese Women's Rights Workshop -- which distributes condoms and HIV prevention brochures to local brothels -- Ye said legislation would protect sex workers' health and stem trafficking and corruption. "Brothels are not cheap places. Most consumers are quite rich and spend a lot usually. So where is the money coming from? If prostitution was legalized, such income could be more transparent," she told The Guardian .
The World Health Organization estimates that China has around 4 million sex workers, but other sources suggest the figure is higher, with many hotels, hairdressers, massage parlors and karaoke bars known to serve as false fronts for such activity. In June, Chongqing's Hilton Hotel was closed for several days after police raided a basement bar.
Chinese police have been known for humiliating prostitutes in an effort to deter others from entering the sex trade. Until recently, that approach included forcing prostitutes to parade through city streets, a practice which has since been banned by the Ministry of Public Security.
Related
Popular in the Community