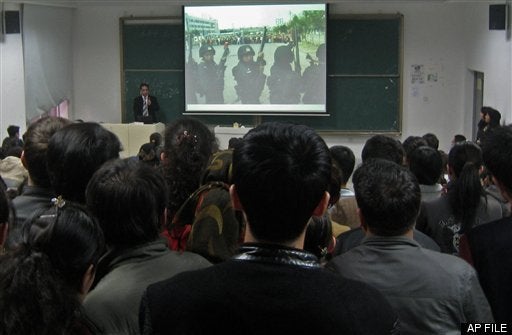 China is expanding a student spy network that works to ensure campus stability by watching students and teachers, a new CIA report (PDF) details.
The Student Information System was formed after the Tienanmen Square protests of 1989 to monitor and control political debate on campuses. Originally established at larger Chinese universities, the SIS spread in the last decade to provincial and lower-tier universities and even selected middle and high schools. It has also added an additional covert system of student informants who work directly for school security departments.
According to the unclassified, open-source report, obtained by the Secrecy News, the SIS has the power to punish students for something as simple as a facial expression. Penalties include revocation of scholarships and marks to academic records.
The group works by an Orwellian ethos. "The SIS employs traditional political spying and denunciation techniques, seeking to create a "white terror" (bai se kong bu白色恐怖) environment on campus -- in which students and teachers fear surveillance more than arrest -- to achieve and maintain influence and control," the report states.
Students and teachers have demonstrated resistance against the SIS but, the report claims, the Chinese government "appears determined to continue to use the SIS as a tool to ensure political stability on Chinese campuses, as evidenced by government studies touting its utility and effectiveness for improving education."