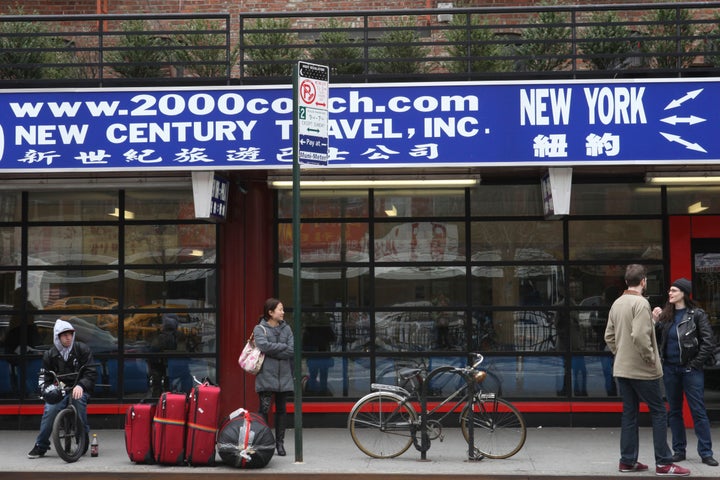 * Operators mostly serve "Chinatown" routes on East Coast
* Action a response to fatal crashes in NY and NJ
WASHINGTON, May 31 (Reuters) - U.S. transportation safety regulators shut down more than two dozen bus companies that predominantly run popular curbside "Chinatown" routes along the East Coast.
The action against 26 operators announced on Thursday stemmed from a broader investigation of the growing industry triggered by crashes in New York and New Jersey last year that killed 17 people. Shutdown orders were issued after those accidents.
U.S. Transportation Department truck and bus regulators served shutdown notices on Wednesday for alleged safety violations, focusing on three companies and their affiliates, officials said in a statement outlining the action.
Apex Bus, Inc., I-95 Coach, Inc and New Century Travel, Inc oversaw a network of motor coach services, the Transportation Department said.
Apex Bus and I-95 Coach are based in New York, while New Century Travel is located in Philadelphia. The companies could not be reached for comment.
Each of the other operators cited by regulators were associated with one of the three primary companies, according to the agency.
Bus operators transported passengers along Interstate 95 from New York to Florida, the agency said.
Some of the operators were still in business despite previous orders to halt service, and three other companies were trying to apply for operating authority, the agency said.
Regulators cited multiple safety violations. The shortcomings included drivers without a valid commercial license and vehicles not regularly inspected or repaired, transportation officials said.
Although the commercial bus industry overall has a good safety record, federal accident investigators have been pushing the Transportation Department to get tougher.
Local authorities last year launched a crackdown on curbside bus services to East Coast cities from New York's Chinatown. That action also was a response to the fatal crashes last year in the Bronx that killed 15 people and on the New Jersey Turnpike that killed two others.
Congress is considering legislation that would give U.S. safety officials more authority and tools to regulate commercial bus operators. (Reporting By John Crawley; Editing by Paul Simao)

Related