Tucked away on a side street a half block past the border of Chinatown and Little Italy and lovingly attended in one of the classic narrow spaces one finds in New York City, sits Aux Epices (French for 'with spices'), a re-invention of 'Chinese' food as Malaysian and French cuisine which turns a typical Chinese menu on its head. The restaurant proves that a narrow foot print, often a requirement in NYC, does not limit the quality or imagination food preparation and presentation can attain. The single row of tables along only one wall, as that's all the room the restaurant affords, extends deep inside and is where I've had one of my favorite meals in NYC. And shockingly only $25 for lunch for two and we were stuffed.
The front wall is removed, so that the café feels completely opened and the French accordion music inside creates a calm atmosphere so that the occasional honking from the world outside is no matter.
The husband and wife team behind the curtain, Marc Kaczmarek and Mei Chau, continue their successful gastronomic adventures in this new setting (opened here in 2013) after running the well respected Tribeca bistro Franklin Station (which was opened for years and closed in 2008). The cozy seating and well spiced variations of entrees and curries presented before you is somewhat unique in a city that has many offerings, many of which excellent as they may be, feel familiar.
Marc's Parisian elegance and charm hit us immediately as we watched him attend to each table with great care. As he offered us our water with slices of cucumber he suggested the Mango and Jicama Salad to start and did so with a comical shrug, his thick French accent purring; "you have to start somewhere." The salad, with a brown savory sauce, had mango, jicama, tofu, pineapple, bean sprouts and cucumber and was a fantastic taste combination and as far from what one would expect to be hit in the palate with in Chinatown as possible.
The Arugula and Pear salad, another light green and fruit combination balanced sour and sweet as well as being a nice palate cleanser. The Pork Buns, a more classic Malaysian selection were baked tender and flaky and the meat inside had a nicely spiced barbecue flavor, less sweet than you would expect for the American palate.
The Seafood Udon had a complex and flavorful broth and was well balanced with a generous assortment of fish, squid, salmon and greens. The Curry Chicken was a delicious coconut cream based sauce, the mint bringing out the notes of cumin and had a very velvety texture. Potatoes joined it on the side.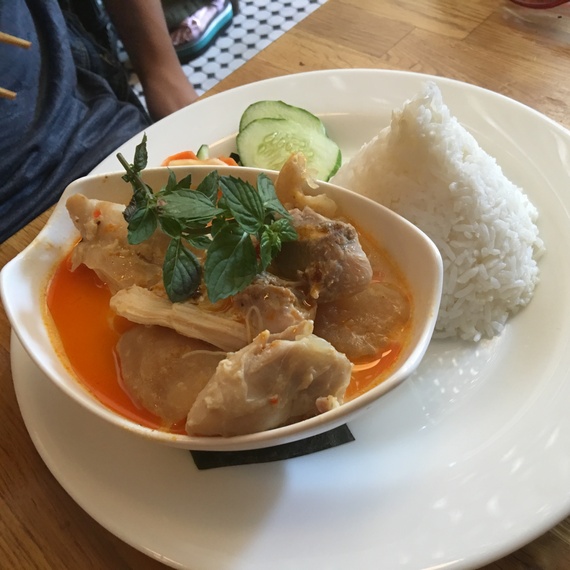 Curry Chicken

The lunch and dinner menu are filled with Curries, Big Bowls, French inspired salads and runs the gamut from standard Malaysian appetizers like duck rolls and pork belly buns to extremely creative creations you may not find anywhere else .
The symphony of spices and textures in my meal left me with a feeling of delight, well satisfied and put Aux Epices on my short list of restaurants to return to when travel next takes me back to the big apple.
Aux Epices; 121 Baxter Street, NY, NY, 10013. Open mon-sat 11AM-10PM. Lattes and wine are available as well as tarts and cakes. Happy hour available 4-7 m-f. For more information on Aux Epices.