By Hong Soon-do, Beijing correspondent, AsiaToday - There are quite a number of generals from ethnic minorities in the Chinese People's Liberation Army (PLA). Some of them are ethnic Koreans. But there was no female ethnic Korean general until August last year. Then 52-year old senior colonel Lee Hyun-ok was promoted to major general. This was the first time a female ethnic Korean to become a general officer. It's too early to be certain, but this will likely to last for a fairly long time. Perhaps, that's because military soldier has become a quite popular job among women from ethnic minorities while ethnic Korean women are turning their eyes towards Korea.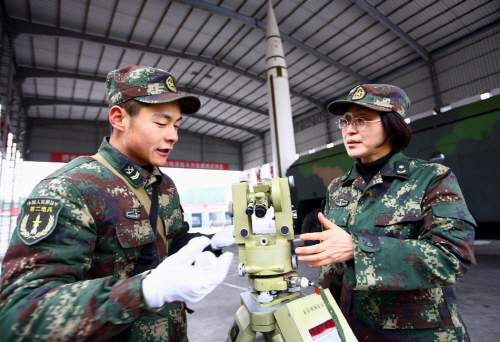 [Major general Lee Hyun-ok of the Chinese People's Liberation Army. She is giving instruction about missiles to a soldier./ Source:
PLA Daily
]
In the meantime, general Lee Hyun-ok is garnering attention. is garnering attention. She is now a woman in the public eye for being an ethnic Korean while South Korea has decided to deploy the US Terminal High Altitude Area Defense (THAAD) system in the country. What's more catching the eyes is that she is known as an expert in radar-related field, the key technology of the THAAD.
According to recent reports of the PLA Daily and China's other state-owned media outlet, Lee's grandparents are from Gyeongsang Province and Jeolla Province of Korea, respectively. General Lee was born in Mudanjiang, Heilongjiang. Since little, she has shown promise of success. When she graduated from high school, she got the best grade on gaokao, the annual college entrance examination in China, in Heilongjiang. Obviously, she was accepted to the prestigious Beijing University with excellent grades. Then she completed her master's degree. Obviously, many people thought she would become a competent scientist.
But she changed her direction to military. After looking at the Gulf War in the 90s, she wanted to become a missile expert. Ever since she received the master's degree, she has been chasing her dream for 25 years. The result was good. She was promoted to major general of the Second Artillery Force of the People's Liberation Army, China's strategic missile force in August last year. Currently, she is playing a key role with respect to missile development as the only female general of the PLA Second Artillery Force. This is why she needs a permission of the authorities when she meets foreigners, especially Koreans.
Calling all HuffPost superfans!
Sign up for membership to become a founding member and help shape HuffPost's next chapter