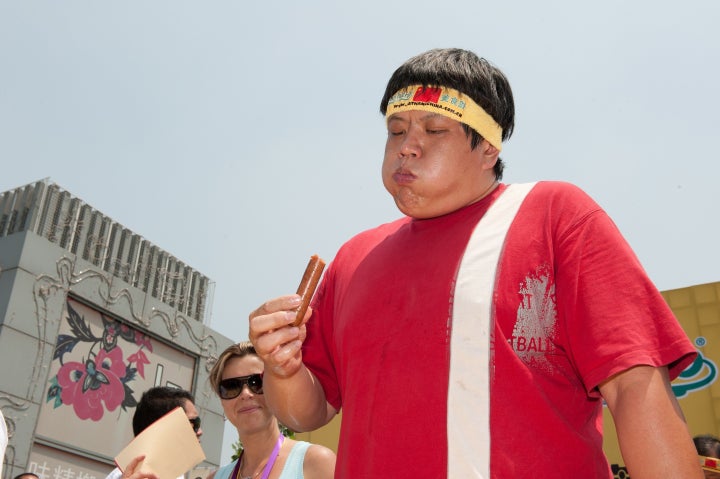 The question going into the year's preeminent hot dog eating contest isn't what the frankfurters are made of -- it's what to make of a group of Chinese competitive eaters who are stepping up to the plate for the first time.
A contingent of gluttons from China will take part in the Nathan's Famous International Hot Dog Eating Contest in Brooklyn, N.Y. on July 4, marking the debut of the world's most populous country on competitive eating's biggest stage.
But while their qualifying numbers are low compared to American record-holders, the lack of information about their gastronomical abilities has perplexed the sport -- sparking rumors among the speed eating community that the Chinese eaters, like their country's soup-filled dumplings, can hold deceivingly-large quantities of food.
"China is coming for the Mustard Belt," said George Shea, president of Major League Eating, the organization that stages the hot dog contest among other eating competitions around the world. "China wants the American Fourth of July icon in Downtown Beijing.
"They may not get it this year, but it's a wake-up call."
Tai Loi Mak, Lu Ming Kui and Yat Ming Lam earned slots in this year's Coney Island hot dog contest by putting away 8, 13 and 16 HDBs (hot dogs and buns) in ten minutes, respectively. Current champ and favorite Joey "Jaws" Chestnut consumed a record 68 HDBs in 10 minutes in 2009 and 54 HDBs last year, when his biggest rival, Takeru Kobayashi, boycotted the event over a contract dispute and was arrested for rushing the stage.
"The Chinese may be very savvy in that they don't want to alert us to the true power of their eating," warned Shea. "Their numbers were low -- but that's the rope-a-dope. They don't want to show their strengths, like Kobayashi in 2001. I believe they might eat upwards of 60 [HDBs]."
Shea wasn't alone in evoking Kobayashi's stunning arrival on the American hot dog eating scene a decade ago.
Former competitive eater Ed "Cookie" Jarvis told AOL Weird News that Kobayashi's camp downplayed his abilities in the days leading up to the contest.
"The year he showed up, they were like, 'This guy is unbelievable, he ate 30,'" said Jarvis. "The highest total at that time was 25. Then he got up there and ate 50 in a blur."
Considering it's common for serious eaters to qualify with as few hot dogs as necessary -- in his 2005 rookie year Chestnut secured his spot at Nathan's by eating 20.5 HBDs, then consumed 32 HBDs in the contest a month later -- Jarvis doesn't doubt that Chinese challengers could shake up the event.
"I believe they are going to eat a lot more than 16," said Jarvis. "I believe we are going to get sandbagged, as usual."
The Chinese competitors haven't yet cut their chops in international competition, but they've accomplished some impressive feats -- putting away 44 German sausages in eight minutes, 2.2 pounds of ice cream in three minutes and 25 pieces of sushi in two minutes, according to Major League Eating officials.
Lu, a towering 31-year-old eater from the city of Qingdao, told AOL Weird News that he's not heading to Coney Island to compete -- he's heading there to win.
"Because this is our first year participating in the competition, compared to Kobayashi and those perennial champions, we still lack some competition experience, but I will try [to win]," said Lu in an e-mail interview.
Competitive eating is far from the mainstream in China, but Lu sees it as an activity that is gaining fans and participants.
"Compared to other countries it's less popular," said the former rugby player and congee eating champ. "The Chinese people's eating habits are to eat slowly, so this type of eating large quantities of food in a short time seems weird. But as far as I know, China's Taiwan and Hong Kong have many such events and the public seems to really enjoy them."
That puts Chinese competitive eating in an interesting position. On the one side of its mouth, the sport battles a cultural and culinary stigma. On the other, it's being swept up by China's growing push for athletic prominence, according to Lu.
"The country is focusing its money and manpower to cultivate champions," said Lu, who almost missed the contest due to visa issues. "After the 2008 Beijing Olympics, Chinese sports are in the process of public and community sports development, this way there will also be more people participating in sports and liking sports, which in the long run, looks to be very beneficial to Chinese sports."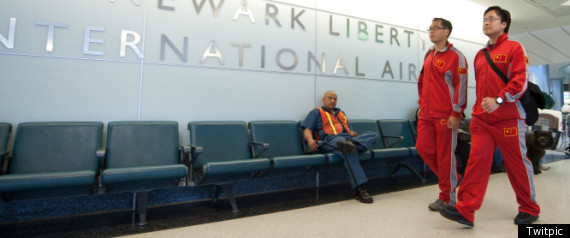 Lu and the other Chinese eaters are not state-sponsored, according to Major League Eating, though his two countrymen arrived at Newark International Airport on Friday in matching red tracksuits emblazoned with the Chinese flag.
Chestnut will once again face six-time Nathan's champ Kobayashi, who will be eating atop a Manhattan rooftop as the event is broadcast.
For his part, Lu remained coy on whether he's actually capable of toppling Chestnut or Kobayashi.
When asked exactly how many hot dogs he expects to eat, he responded: "Of course the more the better! Winning against myself is a victory, so wish me luck!"
Related
Popular in the Community