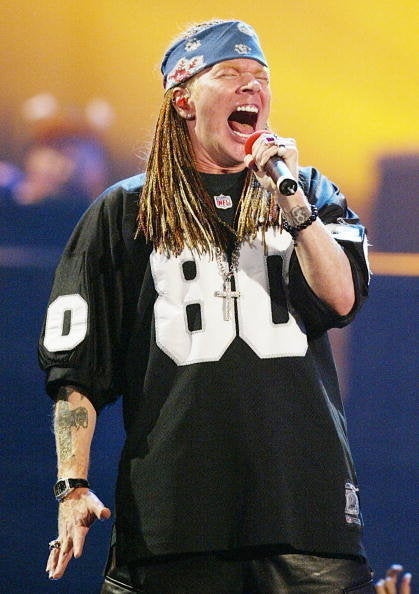 Come 11/23, we all finally get to hear Chinese Democracy. You know the new Guns N' Roses CD. The one we've been waiting to hear since the television premier of Dr. Quinn, Medicine Woman. I want to know why anyone cares, especially self-respecting Guns N' Roses fans. Axl Rose has embarrassed you and disrespected you for 17 years. 23, if you count the years he was actually in a band called Guns N' Roses. Now, we are supposed to be excited over this bogus new CD?
Shouldn't we all be more excited about the new Beatles album? I don't mean that unreleased, 14 minute psychedelic track that Sir Paul agreed to release. I mean, the new Beatles album, "Haymans Green" by Pete Best. What about The Kinks' album that came out earlier this year? You know, Working Man's Cafe by Ray Davies. Chinese Democracy is as much of a G N' R CD as these two CDs are Beatles and Kinks CDs.
It seems as if this mockery of a sham is accepted all over the music world. Thin Lizzy has been touring as Thin Lizzy since the late nineties, even though the its leader, singer, songwriter, bass player and poet Phil Lynott, died in 1986. What about Chicago? 3 horn players. That's it! All lead founding members, the singers and songwriters, nowhere to be found.
It's one thing to tour for nostalgia's sake. Or more accurately, money. There are bands on tour with no original members at all. (See: Molly Hatchet) But what really gets the agita in action is the way the media and the music industry is treating this new "project" from Axl Rose.
In fellow Huffington Post blogger Mike Ragogna's excellent piece, he says this:
Chinese Democracy, finally will be issued in a little over a week. However, this really, really long-awaited release had better turn out to be bigger than any November surprise Obama or McCain could have dropped since the weight of the music industry's future just might be resting on the shoulders of Axl Rose.
Maybe my head is in the sand, but 2008 had some of the best music released in years, and still the industry is struggling. It's a real sad state of affairs, when an entire industry is counting on some lunatic hermit and his fake band to save the fourth quarter.
REAL LIFE. REAL NEWS. REAL VOICES.
Help us tell more of the stories that matter from voices that too often remain unheard.