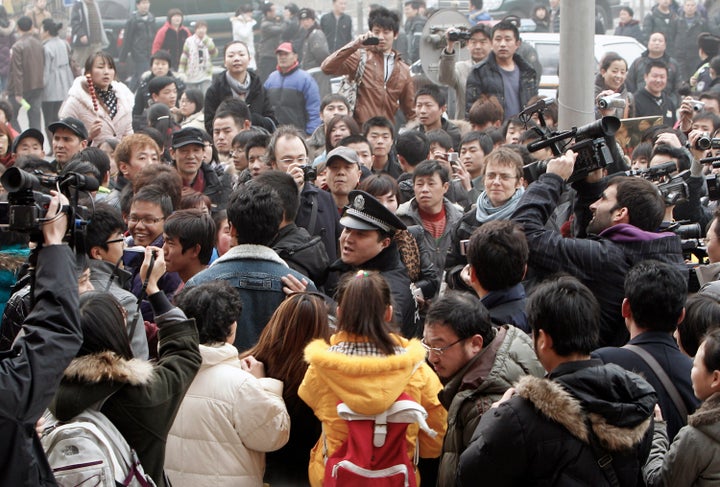 BEIJING (Reuters) - A 21-year-old Chinese man who attended a proposed pro-democracy "Jasmine Revolution" protest in Beijing was sentenced to labor re-education, in the first confirmed punishment for the Middle East-inspired gatherings that were squashed by wary authorities.
The man, Wei Qiang, was sentenced to 2 years in a labor re-education camp. He was a former art student who did some work at the studio of the detained artist-activist Ai Weiwei, according to two friends of Wei, who confirmed his sentence to Reuters.
That connection may be one element that helps explain why authorities moved against Ai, whose detention sparked an outcry from Washington and other Western capitals critical of the Chinese Communist Party's crackdown on dissent.
The Chinese Foreign Ministry said on Tuesday it was unhappy with foreign support for Ai, an internationally known artist, as well as a vocal critic of censorship.
Wei was seized by police in Beijing on February 25 for participating "in an illegal assembly and demonstration" at Beijing's downtown Wangfujing shopping street on February 20 and then held in a detention center in the capital, according to two of his friends who had spoken to Wei's father.
An overseas Chinese website had spread calls for pro-democracy gatherings in Beijing and other Chinese cities, citing uprisings across the Arab world as inspiration.
Wei's parents were told last week that he had been sent to a labor re-education camp in Yan'an city in central Shaanxi province, Yang Hai, a close friend of Wei's family, told Reuters in a telephone interview.
"He is full of integrity and has a strong sense of righteousness," said Yang, 43, who lives in Xi'an, the provincial capital of Shaanxi. "But to send someone to labor camp, it's such a pity. It's outrageous. For someone still so young, the mental blow will be too huge."
Another friend of Wei confirmed the labor re-education sentence. That friend spoke on condition of anonymity, fearing reprisals from authorities.
Chinese authorities have detained dozens of dissidents, human rights lawyers and bloggers following the calls for the "Jasmine" protests, which were poorly attended but quickly snuffed out by the authorities.
Wei's photographs of the gathering at Wangfujing on his Twitter account, which has more than 3,200 followers, showed a crowd of reporters and policemen standing guard outside the McDonald's restaurant.
"These two police officers shamelessly kept on telling me: 'Walk on, walk on, what's there to look at? Disperse, disperse!'" he wrote in a message on February 20.
China's "re-education through labor" system empowers police and other agencies to sentence people to up to four years' confinement without going through the courts.
It is a system that critics say undermines rule of law, and rights activists say it targets political prisoners, as well as prostitutes and drug users.
"This is very arbitrary, there's often no logic," said Wang Songlian of rights group Chinese Human Rights Defenders. "He's not a well-known activist so they might just want to send him to a labor camp and not bother with a trial."
The EU foreign policy chief Catherine Ashton said on Tuesday she was deeply concerned at the "deterioration in the human rights situation in China."
"Arbitrary arrests and disappearances must cease," she said in a statement. "I urge the Chinese authorities to clarify the whereabouts of all persons who have disappeared recently."
But Chinese Foreign Ministry spokesman Hong Lei said the detention of Ai Weiwei was dealt in accordance with the law.
"The Chinese people also feel baffled -- why do some people in some countries treat Chinese crime suspect as a hero? The Chinese people are unhappy about this. The handling of this matter will show that China is a country ruled by law."
(Additional reporting by Chris Buckley and Sabrina Mao; Editing by Alex Richardson)
Related
Popular in the Community