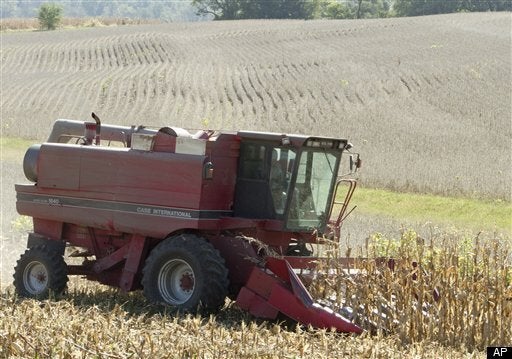 A world kept busy lately watching, first, the revolts in the Middle East, and now, the tragic aftermath of the tsunami in Japan, should keep an eye too on the weather in China, where widespread drought may soon make the emerging global crisis over rising food prices much worse worldwide.
The worst drought in sixty years is threatening the wheat crop in China, the world's largest wheat producer. Traditionally self-sufficient in grain, the Chinese may be compelled to tap some of their $2.85 trillion in foreign exchange reserves to import wheat to feed their hungry people. This could further roil an already restive world by driving up food prices in many poorer countries that rely of necessity on increasingly costly imported food.
Many in those countries are already desperate for grain. World food prices are at record highs. The soaring price of food is placing millions at risk of malnutrition and hunger, and is stoking social and economic instability worldwide. As with the French Revolution in 1789, the unfolding Arab revolutions of 2011 have been inspired in part by the rising price of bread.
Higher food prices have pushed more than 44 million people in developing countries into extreme poverty since 2010. Late-winter precipitation in China may yet make the wheat crop there better than expected. But if it does not rain enough in Shandong province -- the Chinese breadbasket -- the numbers of the hungry and the impoverished in China and worldwide will continue to grow as world food prices climb even higher.
Many answers are needed to help enable the world to confront what is likely to be a prolonged period of high food prices by ensuring food security. Curbs against price volatility. Better social safety nets. More development aid. New investments in sustainable agricultural technology and productivity in the developing world. More transparency in commodity markets. Concerted and creative global cooperation on the crucial nexus among climate, water, energy, and agriculture.
One essential answer for a world facing a prolonged period of high food prices is more international trade. As Pascal Lamy, the director-general of the World Trade Organization, has put it, "Trade plays or can play a better role in addressing the rise in food prices and tackling food insecurity. Trade is part of the solution, and not part of the problem."
The world is currently producing enough food to provide everyone on the planet with 2700 calories a day -- more than the 2100 calories most adults need daily. Many of those calories, though, are not going where they need to go in the world. The number of chronically hungry people worldwide is nearing one billion.
At the same time, the global demand for food is growing as ever more people populate the planet. World population is expected to increase from the current nearly seven billion to nine billion by 2050. World food production must increase by 70% between now and then to feed them all.
The global food crisis is thus a crisis of supply and demand, and trade can play a crucial role in matching supply with demand to ease the food crisis. Trade can provide a reliable source of supply for countries dependent on food imports, and a reliable source of markets for competitive food producers. It can do so best if the Members of the WTO move ahead quickly to break the impasse on agriculture that is the central obstacle to a successful conclusion of the Doha Development Round of global trade negotiations.
The Group of 20 leading economies has rightly made the achievement of food security a high priority. Food security cannot be attained by frustrating the fundamental price mechanisms of the international marketplace. Global markets must be open to food trade.
Domestic fears of food shortages are encouraging hoarding and a consequent turning away from the market in many parts of the world. A whole host of bans, quotas, taxes, and other restrictions on the export of food, and of other commodities and raw materials, is proliferating.
Export restrictions distort an efficient domestic response to changes in food supply, exacerbate both price hikes and shortages, and add to overall agricultural inefficiencies that leave hundreds of millions hungry.
At present, WTO rules are inadequate to deal with these multiplying export restrictions. The rules dealing with limits on imports are much better defined and much more developed than those dealing with limits on exports. A successful conclusion to the Doha round should include new global guidelines on food and other export restraints.
Moreover, it is long past time to put an end to the longstanding inefficiencies in world food trade caused by the extensive and expensive agricultural subsidies of the European Union, the United States, and other developed countries. As the World Bank has explained, "Decades of trade-distorting policies (such as tariff, quantitative restriction, and subsidies) are partly responsible for the current spike in food prices, having encouraged inefficient agricultural production in rich countries and discouraged efficient production in developing countries."
When launched a decade ago, the Doha round was supposed to be in large part about cutting these subsidies to eliminate distortions in food trade and to enable developing countries to have a fair chance at long last for market access. This would do much to help ensure food security worldwide. Instead, once again, in the wake of recession, agricultural subsidies in the rich countries are rising. This trend must be stopped and reversed through a global agricultural deal as part of an early and successful conclusion to the Doha round.
Against all logic, the debt-ridden United States continues to dole out $30 billion every year on wheat, corn, soybean, rice, dairy, and other agricultural price support programs that are largely antiquated artifacts of the New Deal. President Barack Obama has suggested cuts totaling a mere $4 billion in these programs over the next decade. The budget proposals of Congressional Republicans include no cuts at all in agricultural subsidies.
Surely this is one more area of shared global concern where the cooperation of the United States and China is both indispensable and urgently needed. A combination of concern over drought in China and debt in the United States ought to bring the two countries together to unite the world to do all that must be done in trade to help keep the global food crisis from becoming a global food catastrophe.