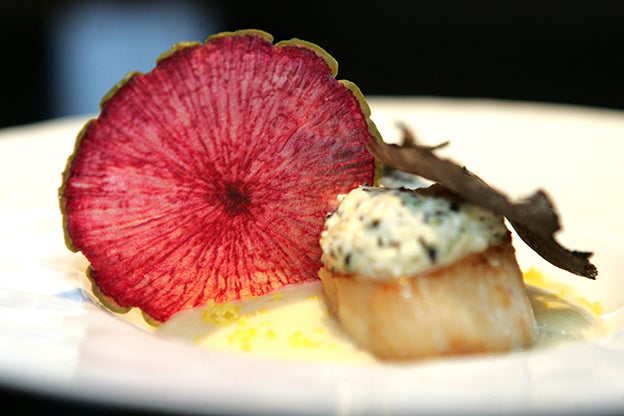 (Yicai Global) May 3 -- A variety of high-end foods that were traditionally imported to China from the west are being made domestically. The country makes 20 percent of the world's caviar and has become the third largest producer of foie gras.
Chinese consumption of delicacies has increased. The country's annual foie gras demand is 4,000 to 5,000 tons, industry data shows.
"In fact, there are two kinds of goose liver products. One is goose liver, which we call a raw material, and the other is foie gras -- a processed refined product," Dongda Pinzheng Holding Co. Chief Executive Wang Yijiong told Yicai Global at the Food Beverage Innovation Forum 2017 (FBIF2017). "The raw goose liver entered China as early as the end of 1980s, and the processing of foie gras started since 2000."
People frequently associate luxury foods with regions, such as French foie gras, Spanish ham, and Russian caviar. These types of foods are even more enchanting if they have a long-standing history and an interesting cultural story. Legacy, craftmanship, and refinement are important in food production.
Nearly 96 percent of foie gras in France comes from duck rather than goose. Rougie, a unit of French agriculture company Euralis Holding SA, is one of the world's largest foie gras brands, producing 30 percent of Europe's supply and 35 percent of North America's.
When China restricted poultry imports, Rougie moved its factory to Lianyungang in Jiangsu province. Rougie invested CNY108 million (USD15.7 million) in China in 2014 to establish a presence and set up the Lianyungang production center, the Shanghai distribution center, and the Beijing sales center. Rougie's share in the Chinese market has grown to 50 percent from 8 percent previously.
Local Chinese enterprises also started to produce high-end foods including foie gras. Beijing-based Dongda Pinzheng has developed integrated operations since 1990. The company breeds and raises birds to produce raw goose liver and foie gras.
The company offers four kinds of foie gras. "We cannot add varieties that we are not specialized in," Wag said. "Any addition of a product will involve more processes, more responsibility and more links, which will weaken our control capability. Hence, we should put our focus on what we can do well and invest all our capacity in the repeated business."
Although delicacies are a niche market, localization allows Chinese high-end food producers that offer fresh gourmet items at a low cost to be competitive.
"High-end food business contributes to about 5 to 10 percent of our catering revenue," said Lin Shuwei, kitchen operation chief of InterContinental Hotels & Resorts. "The majority of high-end food ingredients are home-made, such as foie gras, caviar, and ham. Domestic enterprises indeed boast an edge over their overseas counterparts in manufacturing level, and even a host of foreign catering companies choose to import premium ingredients from China."
Hangzhou Qiandaohu Xunlong Sci-tech Co., a Chinese-US joint venture that was founded in 2003 and is based out of China's eastern province of Zhejiang, boasts a 20 percent share of the global caviar market. The company supplies six caviar products and makes smoked sturgeon.
The firm introduced its international export brand Kaluga Queen in 2005. Kaluga Queen's breeding center is in Zhejiang's Qiandao Lake District. Sturgeons are cultivated in a 200,000-square meter aquaculture area there. The processing plant is in nearby Quzhou. In its infancy, Kaluga Queen sent technical experts to Europe to learn techniques. It invited masters with decades of experience from Iran and Russia to give production expertise.
Calling all HuffPost superfans!
Sign up for membership to become a founding member and help shape HuffPost's next chapter
This post was published on the now-closed HuffPost Contributor platform. Contributors control their own work and posted freely to our site. If you need to flag this entry as abusive,
send us an email
.