When many of us have a craving for Chinese food, we reach for the takeout or delivery menu and try to choose among our favorite dishes. It certainly makes for a cozy night in, but, according to registered dietician and author Sharon Palmer, there's something you may be overlooking when it comes to ordering Chinese food.
"Many Asian restaurants can pack in the calories through the oils and all these salty sauces we add," Palmer tells #OWNSHOW in the above video. "In fact, some vegetarian meals that you might think might be healthy could have over 1,000 calories -- and that's not even including the rice, which can add another 300 calories."
With the right recipes and a few key ingredients, you can make much healthier versions of your favorite Chinese dishes at home.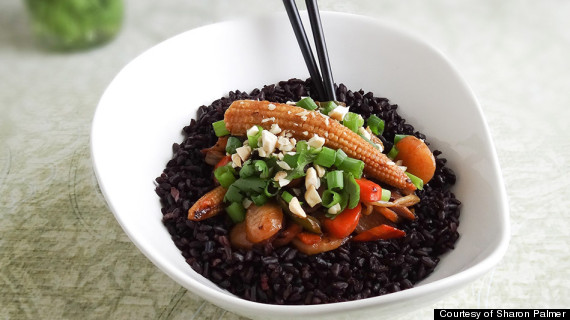 How is this possible? "I have a lot less oil added to the Shanghai Stir-Fry -- just enough to let it cook and season without sticking to the pan -- and lots of veggies, which really can help lower your calorie count," Palmer explains. "And Forbidden rice, which is a beautiful black rice rich in anthocyanins and fiber. Anthocyanins are the same things found in blueberries, so it's very healthy."
1 1/3 cups (240 g) uncooked forbidden (black) rice
2 1/3 cups (552 ml) water
1 Tbsp. sesame oil
1 medium carrot, sliced (see Note)
1 medium onion, coarsely sliced
3 medium garlic cloves, minced
1 1/2 tsp. minced fresh ginger
1 Tbsp. black sesame seeds
1 medium green bell pepper, coarsely sliced
One 15-ounce (425 g) can baby corn, drained (1. cups)
One 8-ounce (227 g) can water chestnuts, drained
One 8-ounce (227 g) can bamboo shoots, drained
3 cups (210 g) sliced Chinese (Napa) cabbage
1 cup (70 g) sliced mushrooms
1 cup (104 g) fresh bean sprouts
1/4 cup (4 g) chopped fresh cilantro
3 Tbsp. reduced sodium soy sauce
1/2 tsp. rice vinegar
1 Tbsp. agave nectar
1/4 cup (59 ml) reduced sodium vegetable broth
1 Tbsp. cornstarch
2 green onions, white and green parts, sliced
1/2 cup (69 g) coarsely chopped cashews
Place the rice and water in a small pot, cover, and simmer over medium-low heat for about 30 minutes, until tender, with all of the water absorbed.
Meanwhile, heat the sesame oil in a large sauté pan or wok over medium heat.
Add the carrot and onion and sauté for 3 minutes.
Add the garlic, ginger, and sesame seeds and sauté for an additional 5 minutes.
Add the bell pepper, corn, water chestnuts, and bamboo shoots and sauté for an additional 3 minutes.
Add the cabbage, mushrooms, sprouts, and cilantro and sauté for an additional 3 minutes.
Mix the soy sauce, vinegar, agave, broth, and cornstarch in a small dish until smooth. Add to the pan with the vegetables and continue to sauté for about 3 minutes, until the sauce has thickened and the vegetables are crisp-tender. Garnish the stir-fry with the green onions and cashews and serve with the rice.
If you want to turn this dish into a more robust meal with dessert (cherries sprinkled with granola) and a drink (green tea), here's the breakdown: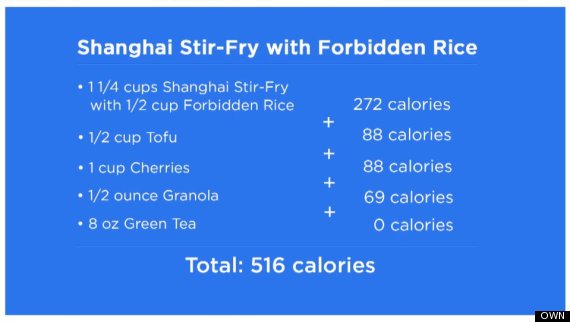 More meals under 500 calories:
Calling all HuffPost superfans!
Sign up for membership to become a founding member and help shape HuffPost's next chapter
BEFORE YOU GO