The concept of customer service is still fairly new in China. That's most noticeably true if you're traveling on business. Even the five-star hotels in Shanghai and Beijing struggle to train staff in such basics as English-language skills but also etiquette body language and a perennial -- when best to leave a guest alone and when to offer assistance.
For all-around reliably good service, I'd have to give the JW Marriott in Beijing the nod for tops in its league. When you're traveling solo -- as most do on business -- you notice little clues to what is good training, like does the housekeeping staff pay attention to the do not disturb notice on the door. At the Marriott, privacy is respected. I've stayed some places where it isn't.
You also notice the attitude of other guests. At the Marriott in Beijing, I've never seen such a cheery group of guests assembled as in the hotel's executive lounge, where insights on tech trends, travel tips and shopping were exchanged. Maybe it was the free-flowing liquor or the dim-sum or the free wi-fi, but I did not imagine the mood. Even Kobe Bryant, who checked into the lounge for breakfast one morning, seemed to appreciate it -- and the people there had enough sense to leave him undisturbed.
What also made this hotel exceptional is its location, next to a brand-new shopping complex, China Central Place, and a quick jaunt to the city's main east-west subway line.
A close runnerup is the Hilton in the shopping central district of Beijing, Wangfujing, close to the Forbidden City. The rooms are spacious, the service good, but maybe it's me -- I could use more light at my writing desk.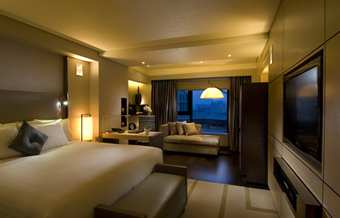 Check out the champagne brunch if your stay coincides with a Sunday. And if have a little R&R time, be sure to head to the spa for a terrific massage, then afterward dip into the pool -- it's a naturally sunny place with wonderfully cozy lounge chairs and a pool-side menu.
Yes, hotels in China are definitely on the upgrade. One of the most obvious signs of this is the arrival of boutique hotels in the major cities. These types of hotels, by now commonplace in Manhattan and San Francisco, excel with some sort of marketing twist. What they don't offer is the familiar brand name that executives traveling on business gravitate to when abroad.
In Shanghai, the URBN hotel exceeds expectations for boutique hotels with its positioning as a green hotel. The hotel features recycled bricks and stones from torn-down city sites in its decor, and prides itself on low-wattage bulbs. You can stay in one of the vaguely Japanese-style rooms here and imagine you are in a forest -- owing to the surrounding plantings outside picture windows and the bamboo floors. The food is organic style too and there's a nice contemporary artwork hanging in the lobby that gives the place a homey feel, along with the welcoming reception staff.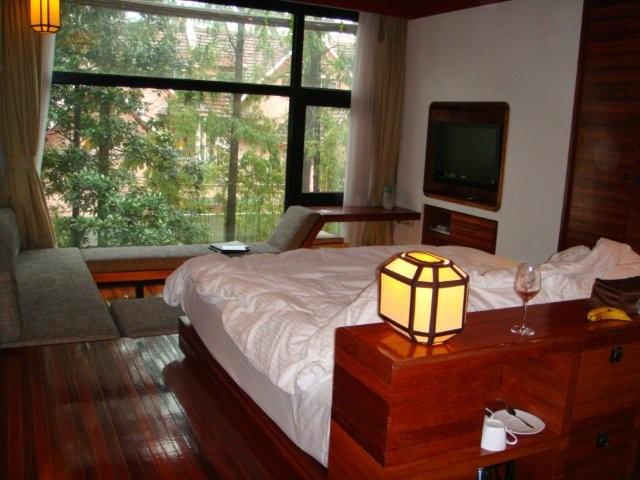 The Philippe Starck-designed JIA Shanghai is a study in contrasts with URBN. While it's definitely trendy and fashionable and couldn't be more central Shanghai, it does have a cool feel about it -- starting with the black-white color scheme and the staff who are not willing to bend to such requests as a high floor, non-smoking room. But anyhow, it is hard to be grumpy about it after you've had the tasty blueberry pancakes at the hotel's sensational restaurant Issimo.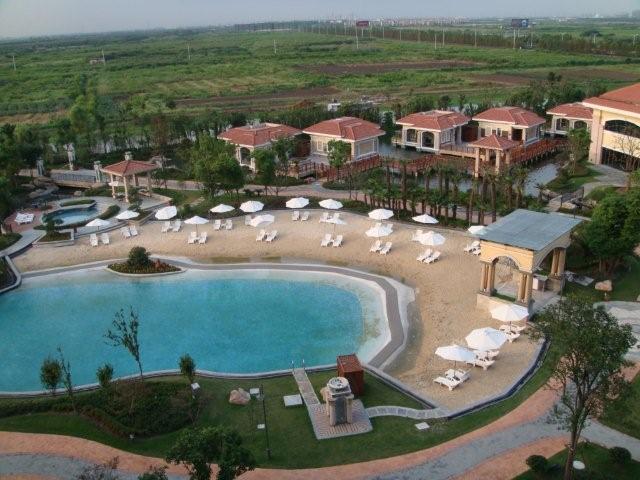 The concept of resort hotels is also starting to take off in China. One such notable is just outside Shanghai, in the ex-urbs, where expats on expensive compensation packages live in villas and enroll their kids in international schools. Here, a Mediterranean-style resort, that was built by a wealthy Hong Kong investor and is managed by the Sofitel hotel group out of France goes over the top with waterfalls, flowers everywhere and get this -- a pool with a man-made sandy beach. It is quite a contrast with the Sofitel Hyland hotel near the Bund, one of the earlier high-rise hotels in Shanghai and today, the tops in town for croissants and French-style hospitality. You can get startled by the bonjour greetings, but you grow used to it. Back at the resort, you have to check out the ground-floor rooms with a waterway entrance by moat.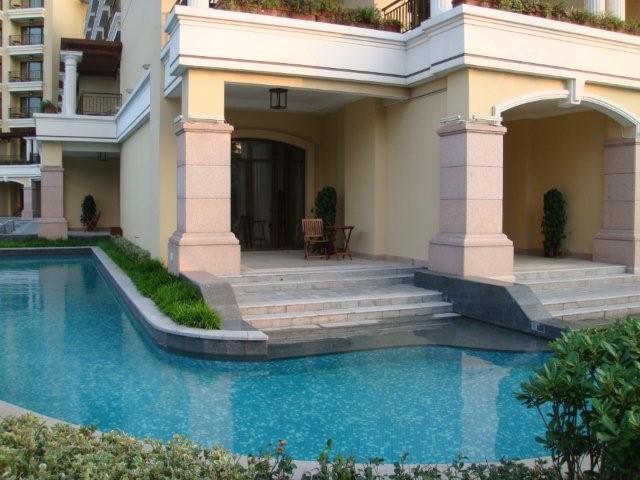 There are three decors to choose from for the rooms, and this one with its Southeast Asian feel, gets my nod. For Japanese visitors, in particular, there's a karaoke club. One of the highlights of the resort -- named the Sofitel Shanghai Sheshan -- is its Italian-born general manager, Tony Colella. He could make anyone feel welcome -- and does! And his enthusiasm about the resort is infectious, as he takes guests on a tour of the property by golf cart. With the villas and nearby golf course on this expansive property, the golf cart is no joke.
About the only thing missing from the hotel is more sights close by to visit. But that's coming. The Shanghai government is intent in building out this region into an entertainment area. Already, an amusement park has been constructed and word is that several more hotels are coming up.
Count on China to try and try again to get the formula right.

Related