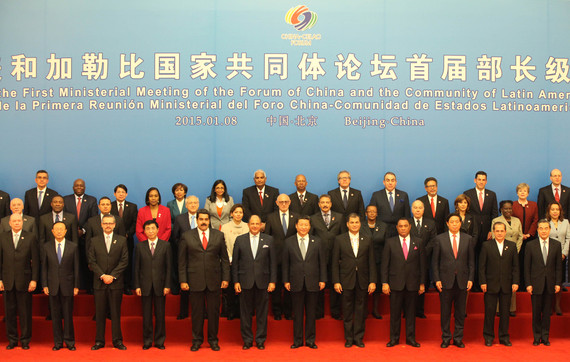 China-CELAC Summit in January 2015 - via presidenciaecuador
Move over Europe and North America, here comes China! Europe, Latin America's second largest trading partner and the U.S., the first, are set to be overtaken by China in the near future. It is predicted that in one year China will have surpassed the EU and in 12 it will have done the same to America. This year, China committed to a $250 billion investment program in Latin America to be dolled out over the next ten years. This major promise along with the 71 percent increase in investments in Latin America by Chinese banks last year points to the long-term plans China has for its growing influence in the region. But should Latin Americans rejoice? Not really, because as faulty as Washington's approach to Latin America has been over the last century, Chinese investment could turn out to be a poisoned chalice.
Chinese Premier Li Keqiang toured the continent in May, wallet wide open, signing deals left and right. In Brazil, the Premier proposed "investments and loans that could total up to $103 billion", including a controversial 3,300 miles transcontinental railroad to from the country's Atlantic coast to Peru's Pacific coast and across some of the world's most environmentally fragile areas. But money wasn't the only course in the menu. In Chile, after signing a currency swap arrangement worth $3.6 billion, the Premier laid out a new vision for Latin America, based on four pillars: "cementing traditional friendship and mutual trust, upgrading win-win cooperation, expanding people-to-people exchanges and improving overall cooperation mechanisms." In short, expect more of the same, as China is here to stay.
Li's visit followed hot on the heels of a January 8 conclave of the leaders of the Community of Latin American and Caribbean States (CELAC), made up of 33 states - not including the U.S. or Canada - and high level Chinese officials in Beijing. After the forum, President Xi Jinping said that it "gives the world a positive signal about deepening cooperation between China and Latin America and have an important and far-reaching impact on promoting South-South cooperation and prosperity for the world". This signals that the Chinese are obviously not only increasing their economic presence but also ensuring a diplomatic foothold within the region.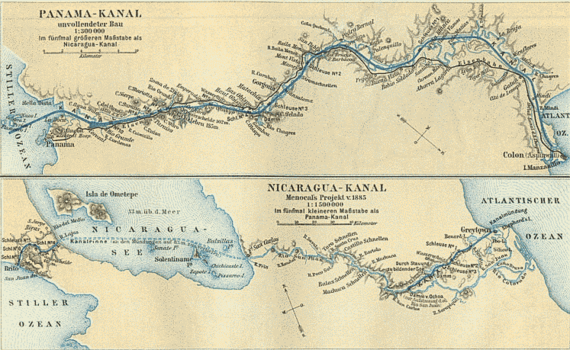 via Wikimedia
Take the Nicaraguan canal for example. Some 10,000 campesinos gathered over the weekend in the country to march against the $50 billion scheme that will connect the Atlantic and Pacific. Owned by unknown Chinese billionaire Wang Jing, the project is billed to be the largest infrastructure project in history. However, it doesn't mean the country will be actually reaping the benefits. Indeed, the 100 year concession, known as the Master Concession Agreement (MCA), allows the Chinese to have the sole rights to ''plan design, construct, and thereafter operate and manage the Nicaragua Grand Canal and other related projects, including ports, a free trade zone, an international airport and other infrastructure development projects''. For this concession, Nicaragua will be given a mere $10 million per year for the first ten years of the Canal's operation, followed by a 10 percent increase in government ownership every decade. Furthermore, the scheme is expected to leave a massive environmental footprint as ecosystems throughout the continent will also be threatened, creating ''an environmental disaster in Nicaragua and beyond'' according to Jorge Huete-Pérez, the foreign secretary of the Nicaraguan Academy of Sciences.
If Beijing's similar rise in Africa is any indication, Latin America should have serious cause for concern. There, most investment has been done solely with Chinese capital, companies and workers, leaving locals disenfranchised and unemployed. Indeed, more than a million Chinese workers have moved to Africa to take up high-skilled jobs, leaving the "menial tasks" to Africans.
Moreover, Africa offers a sobering lesson on how Beijing has managed to camouflage a military expansion under the seemingly benign cover of development aid. The May 10 announcement, by Djibouti's President Ismail Omar Guelleh, that talks with China are progressing on the creation of a Chinese military base in the country have spurred international fears, as the small African country had so far built a purely commercial bilateral relation with Beijing worth billions. Worse, as the influence of the U.S declines in favor of more lucrative ties with Beijing, Djibouti's move entrenches in power a President that has countless human rights abuses to his name. Could this pattern be followed in Latin America as well?
Sadly, yes. This type of deals, signed by China with unsavory political leaders, was dubbed by Foreign Affairs "dictatorship diplomacy". In exchange for access to the strategic resources of a country, Beijing offers the ruling strongman protection from the wrath of the international community by, say, blocking UNSC sanctions or by giving an embattled regime the financial lifeline to cling to power. For example, on June 17th, Venezuela announced it has secured a $5 billion loan from China for crude oil projects, that comes on top of the more than $46 billion loaned by Beijing to Caracas over the past decade. By propping up the Maduro government, China has significantly helped its ability to weather raging popular discontent. As commercial ties with China expand, Latin America could therefore halt its political development in certain key states.
Furthermore, with its plans to build the Nicaraguan canal, the Chinese are now getting their military foot-in-the-door. Foreign Policy wrote that there have been some reports claiming that the Canal is planned to be 28 meters deep, which would allow Chinese submarines to pass between the Pacific and the Atlantic Oceans undetected.
So far, Latin American leaders are enthusiastic and more than happy to accommodate a new player on the scene, one that could balance Washington. But if Africa is any indication, the continent might end up switching one neo-colonial paymaster with another.
Calling all HuffPost superfans!
Sign up for membership to become a founding member and help shape HuffPost's next chapter