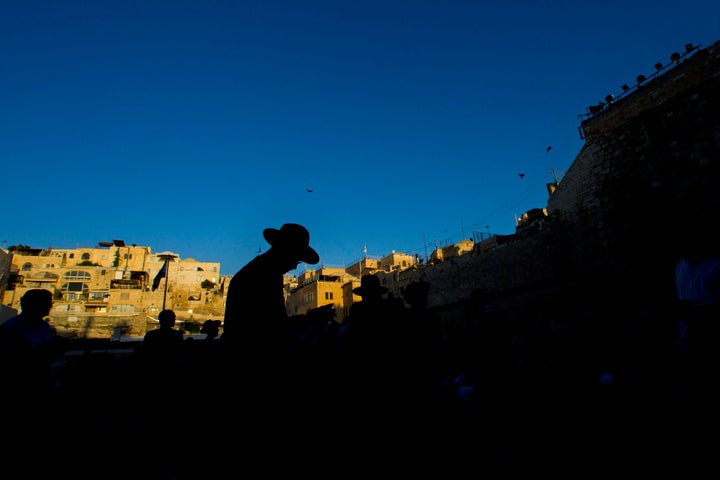 Reporting from Jerusalem and Beijing— As a child growing up in Kaifeng in central China, Jin Jin was constantly reminded of her unusual heritage.
"We weren't supposed to eat pork, our graves were different from other people, and we had a mezuza on our door," said the 25-year-old, referring to the prayer scroll affixed to doorways of Jewish homes.
Her father told her of a faraway land called Israel that he said was her rightful home, she recalls. But "we didn't know anything about daily prayers or the weekly reading of the Torah."
Jin has since fulfilled her father's dream. On a hot summer day in Jerusalem, where she works as a tour guide for Chinese citizens visiting Israel, Jin, who now goes by the Hebrew name Yecholya, wore a long khaki skirt, indicative of her conservative religious views, and Teva-like sandals, the national footwear of Israel.
Jin and her relatives belong to a community of Chinese Jews that was established in the 9th century by Persian traders who traveled along the Silk Road to Kaifeng, at the time China's capital.
Records documenting the group's history are spotty, but experts do know that some of the Jewish traders settled in Kaifeng and eventually built a synagogue with official recognition from the emperor. After the last rabbi in Kaifeng died in 1809, many began to forsake their religious practices while holding on to certain traditions, like the prohibition against pork and the celebration of a communal meal on Passover.
Then in 2005, Shavei Israel arrived. The privately funded conservative religious organization, based in Jerusalem, specifically targets descendants of Jews who have lost their connection to the religion, such as those forced to convert to Catholicism during the Inquisition in Spain.
"Chinese have a strong reverence for ancestry," said Michael Freund, founder and chairman of Shavei Israel. "Even though they don't know how to read the Torah, they know they're Jewish."
So far the organization has helped 14 Jews, out of an estimated 3,000 who live in Kaifeng, move to Israel. But Freund complained that Israel's bureaucratic and religious red tape has prevented Shavei Israel from bringing over more of these Chinese Jews.
Because the community intermarried and based Jewishness on patrilineal heritage rather than matrilineal, the norm in Judaism, Kaifeng Jews who want to move to Israel need to undergo Orthodox conversions under Israeli law.
The process takes a year or more of study at an Orthodox yeshiva, and requires a final examination before a rabbinical court.
Jin was brought to Israel with three others from her hometown by Shavei Israel specifically to begin the conversion process. Once converted, she was eligible to remain in Israel under the country's Law of Return. The statute allows Jews to claim citizenship, which she did along with her three Chinese classmates. Jin's father remains in China, although she said he hopes to join her soon.
At first, Jin and others were indignant about the need to formally convert to Judaism.
"According to me and my family, we were always Jewish," she said. "I was confused why we needed to go through the conversion process."
But after she started studying in Jerusalem, Jin said, she realized how little she knew of Jewish traditions and rules.
Jin eventually became such an expert in prayers before meals, Freund said, that she stumped him at a dinner with other Jews from Kaifeng at a kosher sushi restaurant, where they discussed which prayer should be uttered first: the one for the rice or for the fish.
"This is something that I, or most Jews for that matter, would never have given a second thought," Freund said. "It shows how much they can add to Judaism."
The first family of Kaifeng Jews to immigrate to Israel was almost sent back to China. Shlomo and Deena Jin (no relation to Yecholya Jin) had overstayed their tourist visas in 2005. As they faced deportation, Shavei Israel worked with authorities to allow them to stay after going through the conversion process. Shlomo, at the time in his late 40s, endured a circumcision to complete the conversion.
More recent arrivals have been in their early 20s and most have felt more at home in Israel than in Kaifeng.
Wang Yage said he stood out his whole life. His house was filled with Hebrew books, a language no one in his family understood, and even his name was different: It's the transliterated version of Jacob, a biblical name.
After studying one year at Henan University in Kaifeng, the 25-year-old jumped at the opportunity to move to Israel. He hasn't looked back.
"I feel Israel is my home and I'm more comfortable here," said Wang, who now refers to himself as Yaakov. "Israelis help you out when you need it; it's like belonging to a big family."
After his conversion, Wang plans to become a rabbi to help Kaifeng Jews immigrate to Israel. If he succeeds, he will be the first Chinese rabbi in almost 200 years.
Despite this progress, bureaucracy in Israel and China may prevent larger-scale immigration. According to Shavei Israel, the Israeli Ministry of the Interior has been reluctant to give visas to a group not officially considered Jewish by Israel's chief rabbinate.
Meanwhile, because Jews are not among China's 56 officially recognized ethnic groups and Judaism is not one of the five officially recognized religions, the Chinese government is suspicious of the Kaifeng community's efforts to organize.
"The government is still worried about religion and its negative effects," said Xu Xin, director of the Institute of Jewish Studies at Nanjing University. "They worry it will affect stability and encourage fundamentalism."
Ultimately, the government sees organized religion as a challenge to its power and state-sponsored atheism.
Along with a newfound freedom of religion, the 14 Kaifeng Jews are looking forward to stretching their political wings.
"The first time I went to vote, it was raining hard and three of us went together," Jin recalled. "I was so proud. For everyone else there it was just another election, but for us, it was the beginning of a new life."Haas is a news assistant in The Times' Beijing bureau.
Popular in the Community