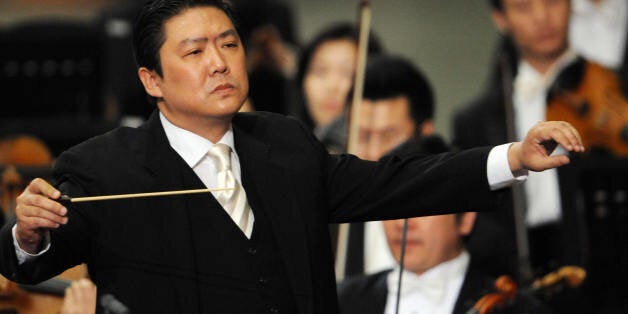 NEW YORK -- Those who attend the New York Philharmonic's Chinese New Year concert this weekend will witness China's top soloists playing Tchaikovsky, Rachmaninoff and Dvorak. It's a program that would have once given a Chinese conductor pause.
"When I went abroad in the mid-80s, in Cologne, in Munich, we were asked to do a complete Western program," China Philharmonic music director Long Yu, who is conducting the upcoming concert at Lincoln Center, said at a press conference Tuesday. "And [the conductor] said, why not do some Chinese stuff?"
The change in approach is a mark of how rapidly China's classical music scene has evolved since 1979, following the Cultural Revolution.
"Thirty-five years ago, China was a sleeping giant, and New Year's was celebrated in Chinatown," said Shirley Young, chair of the U.S.-China Cultural Institute. "Today, China is part of the world. Chinese New Year is no longer just in Chinatown -- it now is uptown, in the cultural part of New York City at Lincoln Center."
The move uptown is indicative not only of the changes in China's music scene, but also of the Western world's growing interest in Chinese classical musicians, with cellist Yo-Yo Ma, pianist Lang Lang and Oscar-winning composer Tan Dun among the most recognizable. Over the past few years, it has become common for classical musicians and critics to rattle off the popular view that China is the future of classical music, a genre many say is becoming increasingly irrelevant in the United States.
Cultural powerhouses in the West have shown an eagerness to play a role in developing China's talent. Lincoln Center announced in 2011 that it is partnering with a Chinese company to build a multimillion-dollar performing arts center in Tianjin, a city outside Beijing. The Julliard School in New York is building its first overseas campus, also in Tianjin. And the New York Philharmonic will begin a four-year partnership with the Shanghai Symphony Orchestra and Shanghai Conservatory of Music this fall.
"This is the first residency of any Western orchestra in China," Gary Parr, chairman of the New York Philharmonic, said Tuesday. "This is the longest residency agreement we have ever had -- that's how important this is."
Among the Philharmonic's goals, Parr said, is to teach Chinese musicians what it means to be part of an orchestra.
"In China we're trying to change our education system because we produce a lot of solo types, performers," Yu added. "We have to give them more skills, so they can play in orchestras and ensembles ... and that it's not the end of the world if they don't make it as a soloist."
The relatively young audiences who go to see classical music in China may give the country an advantage over the U.S., where, according to Young, the average age of attendance is 57. Young noted that 50 percent of classical music audiences at the Oriental Art Center in Shanghai are younger than 40, and 25 percent are under 30. At the Shanghai Grand Theatre, meanwhile, 62 percent of audience members are under 40.
In China, "they're a younger audience," Yu said. "Here, more gray hair."
"The [Chinese] audience is more expressive of their enthusiasm," Parr added, referring to their tendency to clap and shout during performances. "I think it's partly the youth, and maybe they haven't been trained to be too rigid."
Some think younger audiences and their energy during performances could be one of the reasons China will help save classical music in the West. But as for Saturday's concert, organizers are banking on the old guard.
"It's very difficult to reach a Western audience," Young said. "Because the New York Philharmonic is presenting this event, we will really reach the American cultural elite, who are the audiences that we need to understand Chinese music."
Related
Popular in the Community