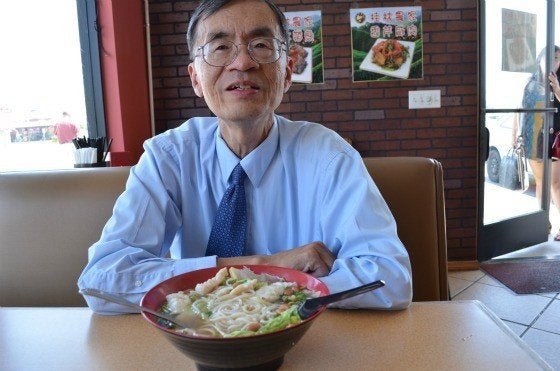 David R. Chan can't use chopsticks. "I can't hold them properly," Chan said. "It hasn't really been a problem though. Chinese restaurants usually have forks available." 6,090 Chinese restaurants to be exact -- a number that just keeps on growing.
An accountant and attorney by trade, Chan has been keeping a spreadsheet of his culinary conquests since the early 1990s when he bought his first home computer. "When I entered the work force in the 1970s, that coincided with the rise of what we think of as authentic Chinese food in North America," Chan said. "As such, my goal was to try every authentic Chinese restaurant in the Los Angeles area at least once."
It's a goal that he has consistently kept up with. He keeps a stack of several thousand business cards, menus and credit card receipts. His spreadsheets are organized by name, street and year visited. He has personally witnessed the introduction and spread of Chinese restaurants in Los Angeles from the beginning. The earliest restaurant visit recorded on his spreadsheet? 1951.
Squid Ink caught up with Chan over a bowl of Guilin noodles during lunch hour. He doesn't speak Chinese -- but can tell you the history and background of almost every Chinese restaurant in Los Angeles. Chan has been to so many Chinese restaurants in Los Angeles he can list right off the bat the restaurants he hasn't been to. "The only places I know I've missed are Little Sheep San Gabriel and Factory Tea Bar," he said. "I haven't gone to [them] due to low interest."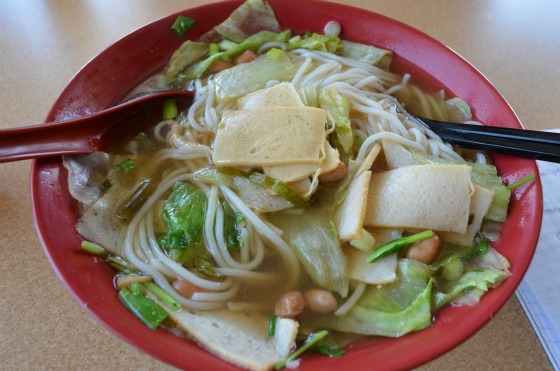 Photo by Clarissa Wei
"You need to tell me the street," he'll say whenever a obscure Chinese restaurant name is brought up. And you can almost see the wheels turning in his head as he mentally plots out the streets and figures out where the restaurant is. When he can't, he'll refer you to his spreadsheets. The restaurant is always on his spreadsheet.
His list isn't only limited to Los Angeles either. He's made considerable ground in New York, San Francisco and Canada. Currently on his radar -- Springfield, Missouri. "I want to try the Springfield, Missouri cashew chicken," he said. "It's a dish there that has crossed over from Chinese restaurants to American restaurants. It's breaded chicken mixed with cashews." In fact, he's been to most of the major cities in the states except for Charlotte, Pittsburgh, and Kansas City. "I keep a four to five page list on restaurants I want to visit when I get to a city," he said. And when he does make it to a city, he'll squeeze in five to ten restaurants in one visit. "I went to six dim sum places one morning in Toronto," he said.
In addition to documenting his restaurant visits, Chan is just as adamant about keeping track of restaurant openings and closings. "In the old days, there weren't that many Chinese restaurants. When one opened, everyone heard about it and rushed out to try it," he said, "Consequently, it's just a matter of keeping with what opens up on a current basis, which I've been able to do so far."
How he does it: Chowhound, the Chinese Yellow Pages and constantly driving around the area. According to his observations, there are currently around 600 Chinese restaurants in the San Gabriel Valley. He estimates that 200 of them are on Valley Blvd.
Yet for someone with such a vast and comprehensive knowledge of Chinese-American cuisine, Chan is remarkably humble. "There's plenty of people like me running around. They just don't post on Chowhound," he said. Chowhound has been a way for Chan to keep up with the community and exchange restaurant tidbits with fellow SGV food fans. He has been operating under the handle "Chandavkl" since at least 2000 and prolifically posts up news of Chinese restaurant openings. "Sometimes I try to lighten up my posts and write about a restaurant that has gone undetected for months," he said.
There are many ironies. He doesn't use chopsticks and doesn't speak Chinese. He has only been to Asia a total of five times. He's a third-generation American (his paternal Toishanese grandfather immigrated to the United States in 1900). He's been on a low-carb and low-sugar diet. And he's never once lived in the San Gabriel Valley.
Yet Chan's memory and passion for Chinese food and culture in America is unmatched. He visits the San Gabriel Valley roughly twice a week and avoids eating at the same restaurants over again. It's a hobby he's been at for more than four decades. "My last quarter at UCLA (in 1969), they offered the first Asian American ethnic studies class ever. To show you how long ago that was, the course was called 'Orientals in America' and it triggered a consciousness in me which continues to this date," he said. He's an amateur historian who was at the forefront of the Asian-American movement in the United States. Chan doesn't just eat at restaurants. He internalizes their history and significance.
"The opening of ABC Seafood Restaurant in 1984 was the launching of an era of Chinese food in the area," he said. ABC was the first authentic Chinese restaurant in Los Angeles.
Another main watershed event, which preceded ABC, was the opening of the Chinese shopping center on Atlantic in late 1980, where NBC Seafood is currently located. "The shopping center's importance was the solidification of the Chinese community in Monterey Park, and not just a matter of the development of Chinese restaurants and cuisine," Chan said. "It is significant in restaurant terms since I guess it was probably the first multi-Chinese restaurant center in the SGV, so it probably comes next in time and importance to the opening of Chinatown's Food Center in 1979."
Next came Focus Plaza in 1991, which was anchored by the opening of the 99 Ranch Market. "The opening of Focus Plaza turned the area into a mecca," Chan said. The most recent watershed moment: Sea Harbour in 2001, which brought the Los Angeles Chinese dining scene into the ranks of Vancouver -- a city Chan had always considered superior to the rest of North America in terms of Chinese food.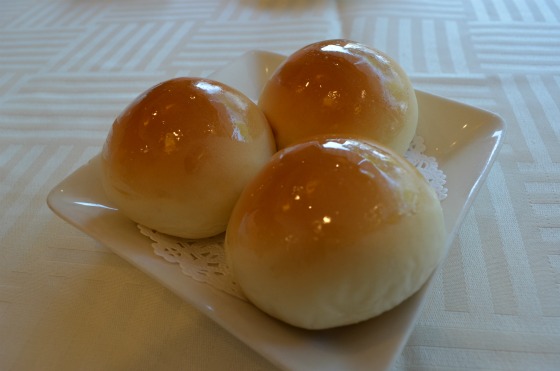 Photo by Clarissa Wei
"Between visits I used to dream of going to Vancover for their food," Chan said. "But last summer we went to Vancouver, and the food is only incrementally better than Los Angeles."
Chan's broad spectrum of Chinese restaurants allows him to pinpoint and theorize trends in the American-Chinese dining scene. Most notable is his observation of the movement of Chinese restaurants further east of Los Angeles.
"If you sort the Excel schedule by year you can see the the progression of Chinese food in Los Angeles, first centered in Chinatown, then openings in Monterey Park, Alhambra and Montebello, then further spreading to other communities like San Gabriel, Rosemead and later Rowland Heights and Hacienda Heights," he said.
Chan can pull out dates, restaurant and plaza openings off the top of his head. He'll reference newspaper articles, and if he doesn't feel like his words are sufficient enough, he'll forward you the evidence.
As for restaurants in Los Angeles, Chan admits it's difficult to pick a favorite. "I don't have a favorite because I'm always looking for a new restaurant," he said. But he does have a top three list: Seafood Village, Qingdao Bread Food and Xi Guan Noodle. "Qingdao and Xi Guan because they're good and cheap," he said.
Chan is impressively thorough. If he doesn't remember something off the bat, he'll go through his archives and provide you with the information afterwards. After our lunch meeting Chan sent over an email on Xi Guan, which he officially dubbed the most underrated restaurant in the San Gabriel Valley.
"Additional comment on Xi Guan Noodle House would be 'dirt cheap.' Full size orders start at a little under $4. Their specialty is noodles, and they have a real assembly line where a cook's helper puts the raw material in the styrofoam container (e.g., chow mein, chow fun) and then the cook takes it and cooks it up. But my favorite there is the fish in corn sauce -- as good as it comes in the SGV and only $7, tax included. Of course like every Chinese restaurant in the SGV, if you mention it you should probably check to see if it's still there. I haven't been there in about a month," he wrote.
Like most of his Chowhound entries, he concluded the post with an address: "8150 E. Garvey Ave., #117H in Rosemead." For the record, they're still open.
Related
Before You Go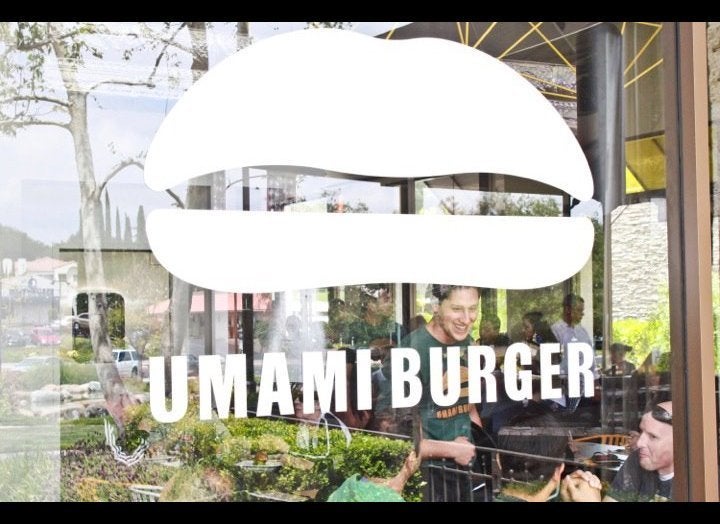 Best New LA Restaurants
Popular in the Community