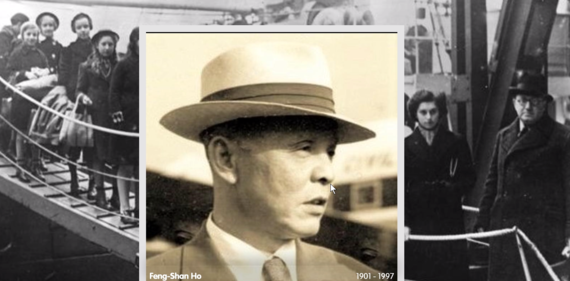 EDITOR'S NOTE: At a time when Americans are being encouraged to shun those whose beliefs or backgrounds are different than our own, and a wave of racial and ethnic hatred is poisoning our national discourse, it is uplifting to consider a man who risked his life and all he had to save others who were neither kin nor countrymen. Some 75 years ago, a Chinese diplomat named Feng-shan Ho silently used his pen to save hundreds of thousands from the Holocaust.
Defying orders, he granted visas to Austrian Jews under Nazi's noses
By CLAYTON HASWELL
Host, OurPaths,com
As a boy growing up in Hunan Province in Mainland China, Feng-shan Ho studied Chinese calligraphy and admired the work of philosopher and master calligrapher Yu Youren.
Years later, his own signature, elegant brush strokes in the pages of foreign passports, became the most sought after Chinese calligraphy in Austrian history due to their magical powers: they saved the lives of some 3,000 Austrian Jews.
And though he was honored as "Righteous Among Nations," by a Holocaust remembrance organization, he died with the taint of a trumped up allegation of petty theft hanging over him. His heroism remained a secret, even from his children, until near the end of his life. He died 19 years ago this week, on Sept. 28, 1997, in San Francisco.
Feng-Shan Ho was a hardworking student who earned degrees from several Chinese universities before enrolling at the University of Munich in 1932 to study political economics.
He received his doctorate in 1932 and three years later landed a job at with the foreign service of the Republic of China, He was posted to Turkey almost immediately. He was appointed consul general in Vienna in 1937, the year before Nazi Germany annexed Austria.
After Kristallnacht, the night on which Nazi thugs smashed the shops and windows of Jews across Germany, life for Austria's 180,000 Jews became unbearably dangerous and difficult. The only country willing to accept Jews at the time was the Dominican Republic, which offered to accept up to 100,000 Jewish refugees.
Defying orders from his superior in Berlin, Feng-shan Ho began issuing exit visas to Shanghai. The exact number of life-saving visas he granted remains unclear. Records show, however, that he issued 1906 visas in his first six months as consul general, and he continued issuing visas for two more years before being recalled.
A conservative estimate is that he saved some 3,000 Jews from concentration camps and death, or three times the number saved by Oskar Schindler. Despite working under the watchful eyes of the Gestapo, some Holocaust experts put the number he saved as high as 10,000.
A visa was not needed to enter Shanghai at the time. But without a valid visa to another country, Jews were not allowed to leave Austria.
After the Communist takeover of China in 1949, Feng-shan Ho moved with the Chinese Nationalists to the government in Taipei, serving as ambassador to Egypt, Mexico, Bolivia and Colombia. He retired in 1973 and moved to San Francisco, where he wrote his memoirs, "My Forty Years as a Diplomat."
But his trials had not ended. Shortly after retiring, he was notified by the Taipei government that his pension was revoked, citing unacceptable expenses under his regime totaling $300.
Although he vigorously denied misusing government funds, his reputation was besmirched and he was never cleared of the charges. There was widespread recognition that the false claims were a political vendetta.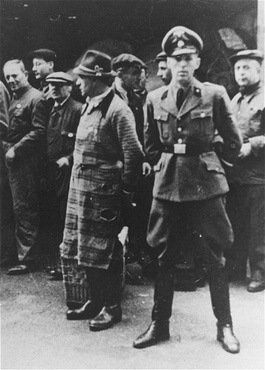 An SS officer guards Viennese Jews headed for deportation, 1941.

He died in 1997 in San Francisco at the age of 96, leaving behind a son who is an expert in microbiology and infectious diseases, and a devoted daughter. The Chinese consulate in San Francisco, representing Mainland China, sent a wreath to his memorial service. The Nationalists, for whom he had worked his entire life, made no mention of his passing.
Only after his death did his efforts become widely known as Jewish beneficiaries began giving testimony to the the Holocaust Remembrance Center Yad Vashem. In 2001, the organization presented him with its "Righteous Among Nations Award, which has been given to only nine others.
In 2015, the Taiwanese government that once censured him sent a letter of commendation to his family.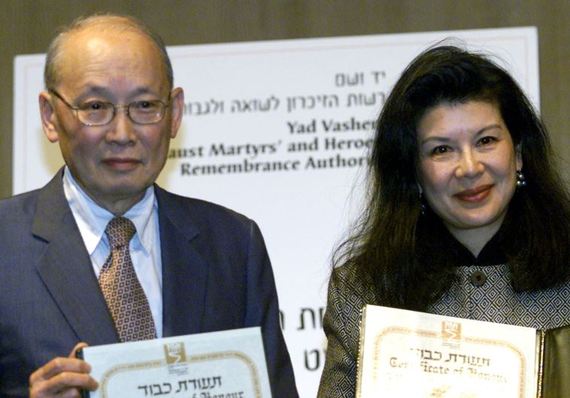 Children Monto and Manli receiving honors, 2015. Jerusalem Post photo
Jerusalem Holocaust Center honors Feng-shan Ho in 2015. You Tube video / AP.

OurPaths is a place to celebrate extraordinary lives - your own and those of others. Join us - it's free.
Calling all HuffPost superfans!
Sign up for membership to become a founding member and help shape HuffPost's next chapter