DES MOINES, Iowa -- First stop: Beijing, China. Next: Des Moines, Iowa.

Thirty Chinese high school and college students are braving the frozen tundra of Iowa to learn about the United States' electoral process and the Iowa caucuses.

The group, funded by U.S. Education Without Borders, will stay in Des Moines for two weeks while they attend rallies, forums and help candidates in their campaigning efforts.

Twenty-two-year-old Amy Wu, who works for a newspaper in China, said she is eager to experience a system in which people are active and engaged with their political leaders.

"Since we can't get into the politics in China, we are really interested in being here," Wu said.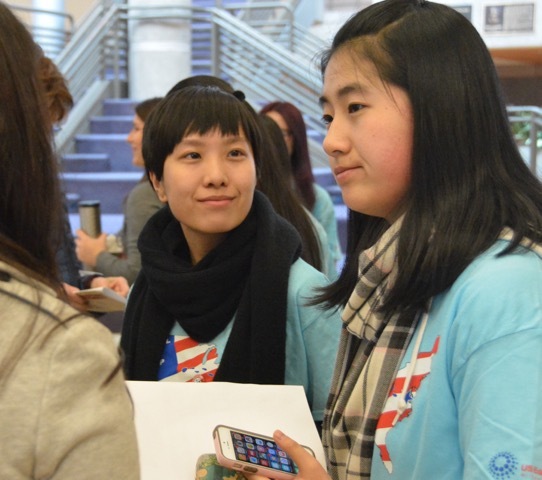 Students Amy Wu and Caitlyn Zhang discuss their hopes to learn about the United States' electoral system during their time in Iowa. Mashiur Rahaman/Huffington Post

The only direct elections in China occur at the local level. All higher-ranking officials are indirectly elected by the People's Congress, creating a hierarchical electoral system.

Trip leader Yuyan Liu, who has a doctorate in physics, said he believes China will develop a more democratic electoral process within the next 20-30 years.

"As I told my students, maybe in 20 years' time, China will elect presidents," Liu said. "It's the international trend for every country, not just America. It's already happening. Taiwan was one-party politics but 50 years ago, changed. China will also change."

Several students said that though there is room for progress, the Chinese government is working toward an electoral process that is more controlled by the people.

"There are many changes I want to see," said Midori Mo, international politics student. "We need to have more chance to know some details about our politics. The government is trying to make that possible. It's a big change and we're glad to see that."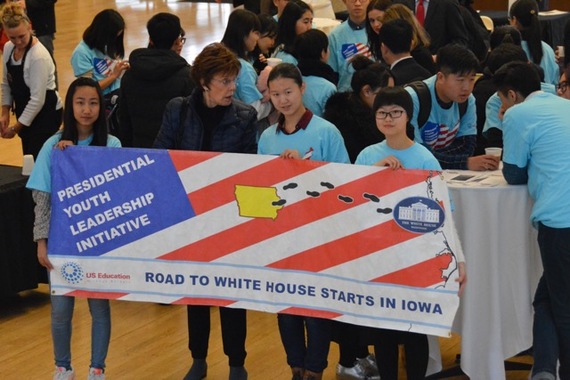 Chinese students hold a banner in State Historical Building of Des Moines, where they attended an immigration forum on Jan. 22. Mashiur Rahaman/Huffington Post.

Zhang Wnxuan, 16, said he sees America as a model for how China can develop in the future.

"America for China is a nearly perfect country...we are a developing country," he said. "I do not mean the Chinese government doesn't think about their citizens. They are trying. They are good. But (America) would be a type of reference so we can learn things."

Wnxuan hopes to attend college in the United States and then return to China and work to reform the education system there.

Though Liu acknowledged many positive attributes of American politics, he said it's also important for Western countries to understand Chinese philosophy, something he said could assuage polarization between the political parties in the U.S.

"Chinese philosophy is good for working on the middle way," he said. "The middle way is better. You don't really have the people on the right or the people on the left...That's called harmony."

While Liu said China should follow the United States in its emphasis of individual rights, he said it must also consider "other people's rights," too.

"We need to modify," he said. "I really want something to emphasize the peoples' individual rights in China, but we also want to consider other people's rights. So there should be compromises."

Swallow Yan, a mentor to the students, said he hopes that they learn about compromise during their time in Iowa.

"I want them to learn that the world is a diversity and that the political candidates have different opinions," Yan said. "None are absolutely wrong or absolutely right. We want them to learn that people have different opinions but we are looking for the common ground."
REAL LIFE. REAL NEWS. REAL VOICES.
Help us tell more of the stories that matter from voices that too often remain unheard.