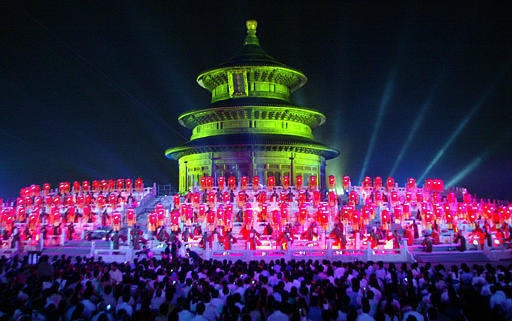 Who is more nervous on the eve of the Beijing Olympics? The host country China which has dealt with a litany of Biblical-like woes, or the thousands of athletes ready to put their lungs and limbs on the line?
During the past few months, China has endured earthquakes, smog, algae clogged aquatic channels, mass arrests of dissidents, gender police, political re-education for 300,000, Internet and press censorship, unrest in Tibet, terrorism in the western regions, closed businesses and factories, and urban hazing. It almost didn't require 40,000,000 potted flowers to add new color.
So let a thousand algae bloom.
Like many of you, I look forward to watching the Games on television, but since I lack cable or satellite, I am one of those poor saps who will be forced to endure NBC's coverage. That means endless viewing sessions of doll-sized female gymnasts who have figured out a way to delay puberty and gravity. Or the diving competition which awards those who can make the smallest splash. When we dived into the pool as kids, it was to see who could make the biggest splash!
NBC will also show way too much boxing-- this is for the men. And here we get to see guys bashing each other's padded skulls.
The marquee events will take place in the pool (the building where it's housed is aesthetically gorgeous and makes me thirsty) and in the track and field stadium. NBC's small army of reporters and cameramen will follow, hype, and dwell on swimming great Michael Phelps and swimming mom Dara Torres. For Phelps, there is such high expectations that anything less than a Midas-like haul of gold medals will look like a disappointment for Aquaman. Remember the hype that accompanied now-disgraced runner and long jumper Marion Jones in Athens?
The main problem with NBC's coverage of the Games is actually two-fold: It's too American-centric because it often seems that it's the USA competing against the world. Athletes from other countries are given such scant coverage that they almost seem not to exist. And then, every time an American does win, we get to hear the Star Spangled Banner as the athlete stands tall, clutching the precious disc in his or her hands. I can't remember how many times I heard the US national anthem being played during the Athens Games. I am patriotic and like to see America take the gold, but the identical musical coda to a fine athletic performance is pure schmaltz.
But not all is dire and bleak in couch-potato land. Here's several events that I will look forward to watching. I just hope that NBC feels the same way -- and gives us more than quick highlight reels of the action:
Trampoline: Athletes bounce their way to nose-bleed heights while doing more flips than McCain or Obama. How they manage to land in the center of the trampoline on each descent is remarkable--and scary.
Greco-Roman Wrestling: It gets good when the huge fellows in the heavyweight classes pirouette around the map together, clutching each other like sweaty, hirsute male lovers. It's "Dancing with the Bears."
Rhythmic Gymnastics -- I have never seen such elegance with a ribbon or ball.
All Running Events: What can I say about the speed in which these men and women tear around the track. I am always in awe.
Triathlon: Because I have done the Hawaii Ironman twice and was the founder of Tri-Athlete magazine way back in 1983 when it was a fringe sport and the idea of seeing the triathlon in the Olympics was far-fetched.
Dressage: I am no fan of horse racing, but I can appreciate the aristocratic bearing of these royal thoroughbreds astride their own thoroughbreds as they jump over fences and shrubs with complete equestrian grace.
Hammer and Shot Puts: Just to hear their grunts. Loud animal-like noises are okay in sports like these, but not in tennis (this is nearly moot, since Maria Sharapova won't be in the Games).
Outdoor Volleyball: Both men's and women's, though I can't understand why the women compete in tiny two-pieces suits -- doesn't the sand get inside and cause itching?
Men's Basketball -- Only if the U.S. gets a gold, and they demolish the competition. No replay of Athlens, please, when they limped to a bronze. They are called the "Redeemed Team" for a reason.
REAL LIFE. REAL NEWS. REAL VOICES.
Help us tell more of the stories that matter from voices that too often remain unheard.