By Hong Soon-do, Beijing correspondent, AsiaToday - The Chinese yuan, which once skyrocketed though, is sliding endlessly. Looking at the current situation, the currency might be weaker than the previous fix at 6.69 per dollar, the weakest level since October 2010. If this is the case, the yuan may even slide to 7.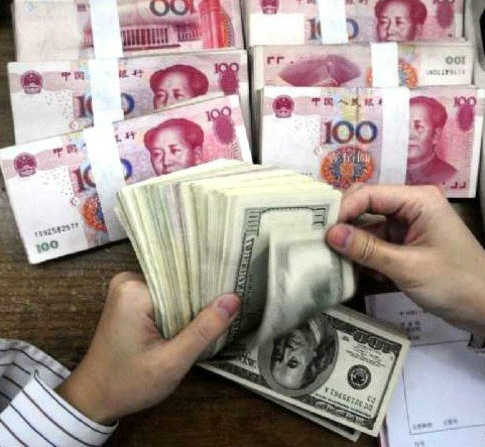 [Many bundle of Chinese yuan and US dollars are piled up in a bank in China. The Chinese yuan continues its devaluation./ Source: search engine Baidu]
According to a source well-acquainted with financial field in Beijing on Tuesday, the yuan was powerful in late October 2013, when it rose to its highest level in 20 years. The currency hit a record high of 6.08 per dollar by the time. Reaching below 6 per dollar seemed a matter of time as the Chinese economy had sky-high spirits.
However, the situation has changed completely. Besides, the situation surrounding the market is likely to add depreciation pressures on the currency. Most of all, the Chinese authorities have a strong will to devalue the yuan as they are facing difficulties in economic management due to weakened competitiveness in exports. They are committed to continue the devaluation as long as it doesn't affect the market. This decision is inevitable considering the reality where export companies complain that the yuan is overvalued.
Besides, Britain's decision to leave the European Union will naturally lead to yuan weakness. This can be seen well from the fact that the yuan is not having a big impact on the market while its depreciation continues along with the pound. This is why the currency may weaken to 7.
However, it seems almost impossible for the currency to weaken to 8. It's because the Chinese authorities believe that excessive devaluation does more harm than good. Besides, the US will not tolerate it. As a result, the 7 yuan level could be the Maginot Line.
Even if this is the case, the Chinese electronics, steel, and shipbuilding industries are likely to recover their international competitiveness over Korean companies and to increase the amount of export. This means that Korean companies and the government should pay special attention to the trends of the Chinese yuan.
Calling all HuffPost superfans!
Sign up for membership to become a founding member and help shape HuffPost's next chapter